Shimmer & Shine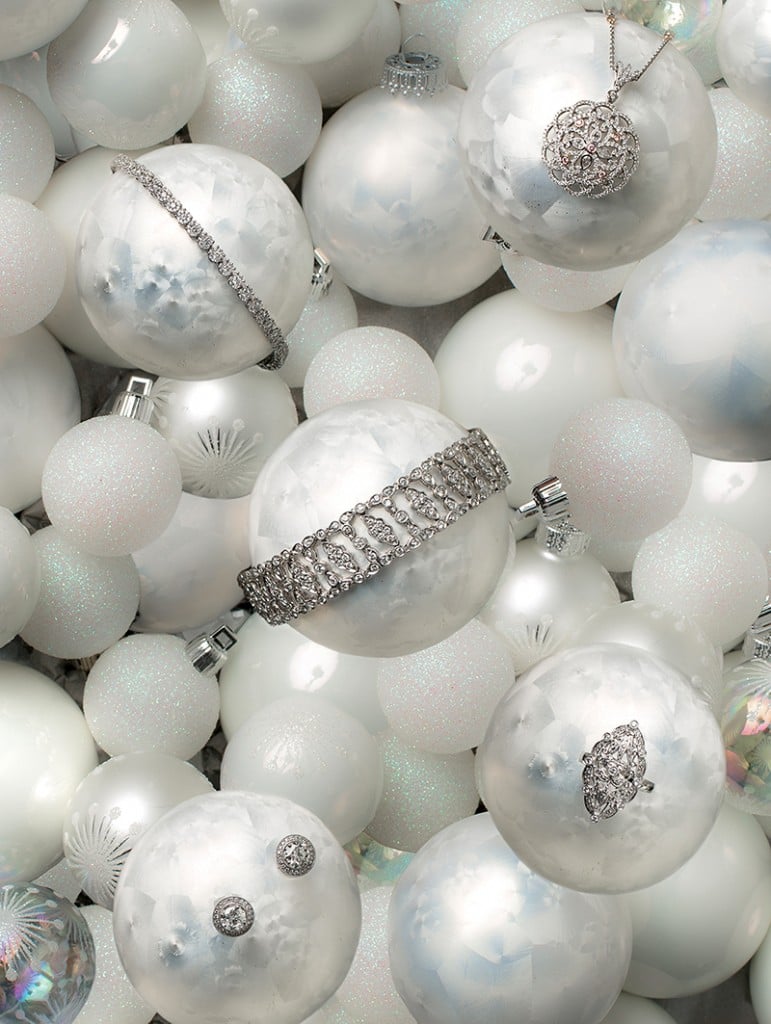 DIAMONDS
(left to right)
A classic diamond tennis bracelet is an excellent addition to her jewelry box. Wear it alone or stack it for a cool, playful effect. Lafayette Jewelers. This gorgeously ornate necklace is fit for a snow queen. The pendant evokes a snowflake's intricate patterns with tiny white diamonds accented by the occasional light pink stone. Paul's Jewelry. Two rows of diamonds are bridged by smaller rows of diamonds in two interchanging patterns. Its opulence is unmatched. Armentor Jewelers. Every woman needs — and deserves — diamond studs. These sparklers can be worn alone or, as pictured, with some diamond jackets for added brilliance. Both will quickly become staples. Dianna Rae Jewelry. This antique engagement ring showcases numerous tiny diamonds that have a starry effect. Its 1930s style would look beautiful on a bride in a vintage wedding dress or worn as a cocktail ring. Lafayette Jewelers.
---
WATCHES
(left to right)
Intertwined threads of gold form the band of this understated Citizen watch. Look closely, and you'll see the details that set it apart: the flash of pink on its hands and a diamond ombre print across its face. Lafayette Jewelers. The large face showcases a stone at each hour over a large mother-of-pearl face, which is encircled in diamonds. Its silver and gold band catches the light at every angle. Paul's Jewelry. This two-toned beauty from Citizen ticks all the boxes for a beautiful, feminine watch. Its dainty white face features gold lettering and a silver-and-diamond halo. Silver and gold links form its delicate band. Armentor Jewelers. This sterling silver piece from Citizen is decidedly geometric with its rectangle-shaped face and parallel lines of crystals. Each hour is marked by silver Roman numerals. Armentor Jewelers. A fresh alternative to silver-and-gold, this watch from Oris adds warmth with rose gold. It features an easy-to-read face and two-toned band. Armentor Jewelers.
---
PEARLS
(left to right)
Expect the unexpected. Pearls can have an edge, too. This ring lends a moody glamour with a single black pearl and rose gold accents. Diamonds line its band, ensuring a lasting impression. Lafayette Jewelers. Only the most refined, sweet freshwater pearls are strung along in this necklace. Perhaps the most ubiquitous of standards in jewelry, the pearl necklace is timeless. Dianna Rae Jewelry. For a dark and luxurious twist on the pristine and innocent string of white pearls, there is this Tahitian pearl necklace. This piece features stunning shades of gray on each flawless bead and is sure to add drama to any ensemble. Dianna Rae Jewelry. This pearl necklace is made with only the prettiest pastels. Ballet slipper pinks, peaches and creams combine in this sorbet dream. A truly romantic complement to any outfit. Dianna Rae Jewelry. What could be more feminine than light pink pearls? Pearl studs get a much-needed upgrade with these diamond-encircled studs. Armentor Jewelers.
---
GEMSTONES
(left to right)
No stone is as chameleon-esque as the opal. It holds fire and ice, and it gives off an ethereal glow that can't be ignored. This asymmetrical pendant hangs on opals strung like pearls in a truly unique and unforgettable piece. Dianna Rae Jewelry. Some stones, like the sapphire, come in unexpected colors. This cheery yellow sapphire ring is like a dollop of sunshine for your fingers. Its sunny stone is bolstered by a cluster of diamonds. Dianna Rae Jewelry. The variations of gemstones' colors and tones means great pieces come in classic shapes and an endless variety of colors. These mysterious drop earrings showcase smokey quartz stones encased in white diamonds. Framed in rose gold, these drops are sumptuously warm. Armentor Jewelers. This tourmaline necklace is a true fairytale piece. Its pendant is a rubellite teardrop of hibiscus pink that hangs from a row of matching pink tourmaline stones strung like pearls. Nothing could be more fit for a princess. Dianna Rae Jewelry. Confidence is best expressed in red. Striking rubies and white-hot diamonds are suspended in elegant and geometric drops. See sparks fly. Paul's Jewelry.
---