Shadows-on-the-Teche's Plein Air Art Competition: 2023 Winners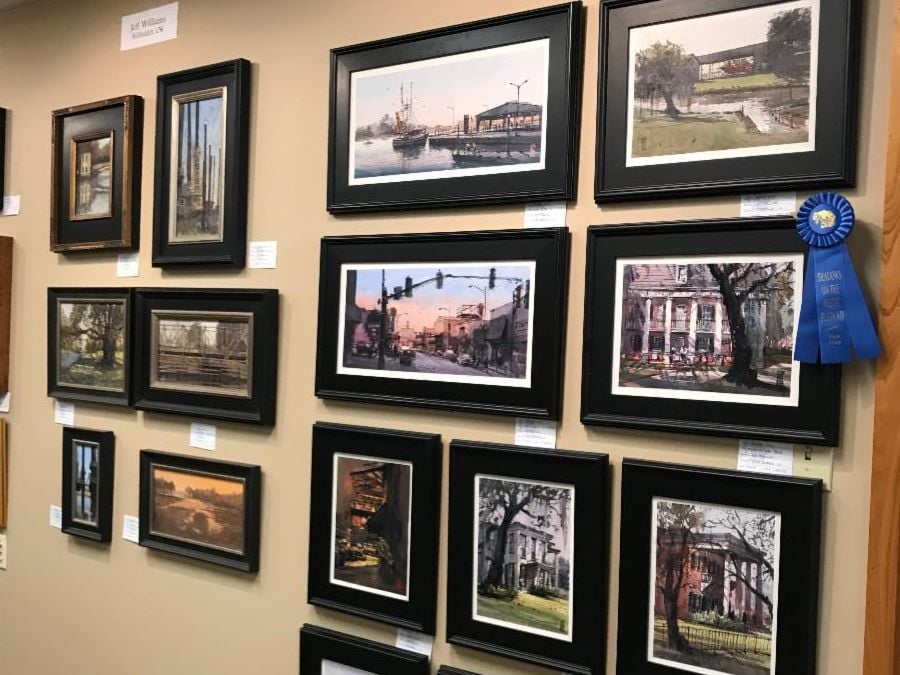 NEW IBERIA, La (press release) – The 9th annual Shadows-on-the-Teche Plein Air Painting Competition held its Awards Ceremony and Fine Art Sale on Friday, March 17 at the Shadows Visitor Center. Judge Dawn Whitelaw presented the awards for this year's winners.
Best of Show: Kari Ganoung Ruiz from Interlaken, NY for "Morning Search"
2nd Place: Phil Sandusky from New Orleans, LA for "White in Light"
3rd Place: Antwan Ramar from Orlando, FL for "Mechanical Tide"
4th Place: Richard Sneary from Kansas City, MO for "Mouton House"
Honorable Mention: Kathleen Gray Farthing from Alliance, OH for "Blue Moon Kitty"
Best Nocturnal: Jordan Zoscak from Candler, NC for "Andy's Porch"
Best Architectural: Marc Anderson from Wauwatosa, WI for "Alumni House"
Best Boat: Neal Hughes from Medford, NJ for "Delcambre Colors"
La Petite Peinture (The Little Painting): Beth Bathe from Lancaster, PA for "The Voice of the Gardens"
1st Place Quick Draw-Juried Artist: Karen Philpott from Thompson Station, TN
2nd Place Quick Draw-Juried Artist: Crista Pisano from Nyack, NY for "Cathedral Oak (Top)"
Mark your calendars! The 10th annual Shadows-on-the-Teche Plein Air Competition will be March 9-16, 2024.
Special Awards:
The Artist Choice Award was presented to Antwan Ramar of Orlando, FL for "Mechanical Tide." Artists participating in this year's competition submitted votes for their selection of best painting.
New Iberia Mayor Freddie DeCourt presented the Mayor's Award to Jeff Williams of Stillwater, OK for "New Iberia." The Mayor's Award, sponsored by Wyatt and Becky Collins, celebrates the beauty, culture, and history of the city of New Iberia. Williams' painting will hang in New Iberia's City Hall in perpetuity.
Iberia Parish President Larry Richard presented the Parish President's Award to Krystal Brown of Kingwood, TX for "Royal." The Parish President's Award celebrates the beauty, culture, and history of Iberia Parish.
Wendell Verrett, Director of the Twin Parish Port District, presented the award for Best Delcambre Painting to Beth Bathe of Lancaster, PA for "L'Ange Celeste." Ms. Bathe's painting was completed during the Paint Delcambre day, held Sunday, March 12, where the Delcambre Seafood & Farmers Market welcomed competing artists to a day of beautiful weather, painting, food from Dwight's, and music. For his award, Ms. Bathe will be receiving local seafood shipped directly to her front door and a cash prize sponsored by Representative Blake Miguez.
Cindy Herring, representing the Kiwanis Club of New Iberia, presented the Preserving History Award to Susan Bunce Ritter of Perrysburg, OH for "Restored Shotguns." The Preserving History Award, sponsored by the Kiwanis Club of New Iberia, is meant to showcase a building or landscape that is integral to the history of the city of New Iberia.
Representative Beau Beaullieu presented the Louisiana Natural Beauty award to Mary O. Smith of Steinhatchee, FL for "Taking a Load Off." Rep. Beaullieu sponsored the award, which is meant to highlight Louisiana's unique landscape.
Supporters/Sponsors:
The Shadows-on-the-Teche Plein Air Competition would like to thank the supporters and sponsors who helped make this year's event possible:
Event Sponsors: The National Trust for Historic Preservation, Iberia Parish Convention & Visitors Bureau, Plein Air Magazine, Community First Bank, Wyatt and Becky Collins, The Bazus, Delcambre Seafood and Farmers Market, Louisiana Direct Seafood, Twin Parish Port District, Bayou Carlin Cove, Hilliard Art Museum, and the City of New Iberia
Monet Sponsors: Cindy Herring Real Estate, Kiwanis Club of New Iberia, Cane River Pecan Company, Iberia Parish President Larry Richard, Atchafalaya National Heritage Area, Barnel's Art & Framing Gallery, and Raising Cane's Chicken Fingers
Van Gogh Sponsors: Representative Beau Beaullieu, District 48, Representative Blake Miguez, District 49, Golden Artist Colors, and Castaing Hussey & Lolan, LLC
Degas Sponsors: Blick Art Materials, Cheap Joe's Art Stuff, Holbein Artist Materials, Gamblin, Vasari, Wind River Arts, and Randal Bergeron
Friends of Shadows Plein Air: Greater Iberia Chamber of Commerce
Wyatt and Becky Collins, Cathy Indest, Suzy Shea Kimball, and Simone Guillory for providing food and hospitality for the artists
Viator & Associates for supplying linens and flowers
Ben Hickey, Curator at the Hilliard Art Museum, for judging the Quick Draw
Alexandre Mouton House, Lafayette Art Association, Moncus Park, South Regional Branch of the Lafayette Public Library, and UL Alumni Center for hosting demos by the artists
Avery Island Inc. and Rip Van Winkle Gardens for waiving entry fees for artists
Shadows Plein Air would also like to thank Beanie Bonin, Walteen Broussard, Burton Cestia, Dan & Kathy Chassee, Edward Duhe, Lawrence Eribarne, Jerri LeClair & Larry Hensgens, Simone Guillory, Cindy Herring, Stacy Pourciau, Jady Regard, Jeff & Margaret Simon, Elizabeth Terrell, and Jerome & Michael Weber for opening their homes to the artists throughout the week.