Saving a Newborn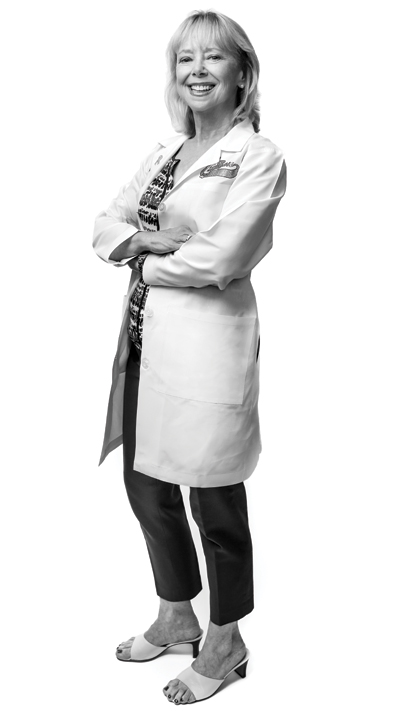 Name: Ruthanne Gallagher
Location: Gray
Specialty: Pediatrics
Education:
• USL (1974)
• LSU School of Medicine (1978)
Ruthanne Gallagher's most challenging case was a patient who was three days old.
Upon discovering that the infant had a significant fever and poor coloring, Gallagher grew suspicious. She performed a spinal tap, which showed signs of meningitis. While working with neonatologists at the hospital adjacent to her clinic, Gallagher confirmed her concerns. "He had a complicated course of a very serious form of meningitis with the development of brain swelling and seizures," she says. She sat with the infant through the first night, and he spent the first three weeks of his life in the hospital.
However, with care from medical professionals "today he is an active 9-year-old who attends fourth grade and is still a patient of mine," Gallagher says. "Although I don't usually care for very sick children myself, you never know what is going to come into the office or emergency room. This is one of the things that makes my job not routine and is gratifying when I see a good outcome and they come back to me."
Gallagher, who grew up in New Orleans and Lafayette, didn't know she wanted to be a pediatrician until college – indeed, she had originally considered architecture, city planning and civil engineering as possible career paths. However, her adviser suggested that she consider medicine instead, citing her achievements in math and science. "Once I started med school the decision of pediatrics was easy as I have always loved working with children," Gallagher says.
"I came to Houma seven months pregnant with my first child and had three children in four years while establishing my practice," Gallagher says. She was initially part of a three-physician practice. She then worked solo for some time before joining with five other pediatricians to form Bayou Pediatric Associates. In her heyday, Gallagher would see as many as 60 patients in a day from a six-parish area with ages ranging from newborns to 21 years old. "Electronic records and aging of myself and my patients – teens usually take more time – has slowed me down, so I currently see 20-30 patients in a day," she says.
When it comes to the changes Gallagher has seen in her 31-year career, she says she worries about the "erosion of the doctor-patient relationship and the decrease in the position of respect and esteem that the physician holds in our society." Between third party payers, increased regulations, and increased advertisements from drug companies, she worries about the lack of agency patients have in choosing their physician and the difficult in developing working relationships between doctors and patients. "I am optimistic that this will all work itself out, but my concern is that the career of medicine […] will become less appealing to our best and brightest," she says.
Outside of her practice, Gallagher is a member of the American Academy of Pediatrics, the Section on Adolescent Medicine, and the Terrebonne Parish Medical Society. In addition to her professional life, Gallagher has been married for 38 years and has three grown children, one of whom is a physician herself. She serves on the board of directors of TARC and enjoys traveling, gardening, and cooking in her spare time.