Sanctuary on the Water's Edge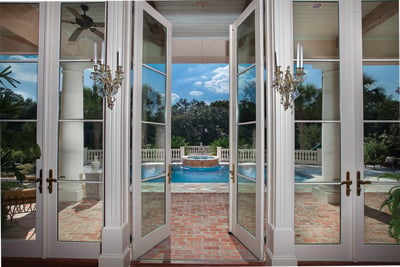 As much as Nicholas and Maria Doucet love to travel abroad and escape to their vacation house on False River in Point Coupée Parish for occasional jetskiing, they equally enjoy coming home to their elegant, three-story mansion in River Ranch. With highly demanding careers, the Doucets view their primary residence in Lafayette as a cherished haven for spending quality time with their three children, ages 15, 13 and 9. "River Ranch is such a great place to raise children," Maria says. "There are things they can do with their friends that are within walking distance. It's the house where all the kids tend to accumulate."
Situated on a graceful bend in the Vermilion River, the stunning 9,000-square-foot home is at once exuberant and appealing. It entices children of all ages with a massive all-glass great room featuring 26-foot-tall, coffered ceilings and a panoramic view of the river that spans the entire rear of the residence.
The duality between Old World and modern comes to life in the compelling architectural elements of the palatial home, which is child-friendly yet extravagant. Maria, a physician, relied on her innate flair for decorating and years of extensive research to design the house, which was completed in 2008.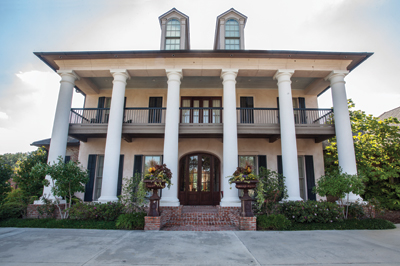 The stately residence combines Old World charm with modern amenities, including a sound-proof music room designed with 17-year-old musician-athlete Nicholas Doucet Jr. in mind.
"There aren't that many homes built like this in Lafayette, with that very broad, unrestricted view and the distinct architecture," says builder Gayle Carmouche, president and owner of La Fosse Construction. She has been designing custom homes in Lafayette and Baton Rouge for the past 30 years.
"The house really stands out. In the front, it's a classic plantation-style home, but in the back, it is more contemporary, so it is actually a mixture of two different styles. Maria was very organized with her concepts that she presented to me," Carmouche says. "There was never a hiccup from start to finish." Also on board for the project was architect Edson Davis of Edson Davis Design, Inc., known for his work with such traditional neighborhood developments as River Ranch and Sugar Mill Pond in Youngsville. To assist with embellishment of the interior, Maria hired Judi Bolgiano of Bolgiano Custom Homes and Finishes.
"I wanted to design a house that had something for everyone, something that could evolve as the children transition their interests while growing older," Maria says.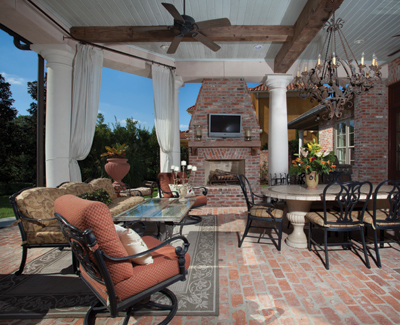 An antique iron chandelier adorned with 32 rose petal candelabras illuminates the gazebo/loggia.
Placing emphasis on creating a house that had a generous child-friendly living area, while retaining more formal spaces for elegant parties, Maria designed the great room, kitchen and breakfast room, guest wing and master suite wing to open onto deep porches that surround the back of the house. An expansive veranda gives way to a gated courtyard accentuated by lush foliage. It leads to an elevated outdoor kitchen complete with chandeliers, a fireplace, a flat-screen television and a dining area. A magnificent pool and winding gardens add to the relaxed outdoor living room ambience.
An electric gate at the front of the property opens onto an auto port and parking plaza. The stately plantation-style entrance and foyer lead to the formal dining room that is situated across from a study where Nicholas and Maria wind down most evenings. "At the end of the day, when the children are asleep, we are in the study at the partner's desk facing each other and working on different projects. That's probably our best quality time of all!" Maria remarks.
"This house is a wonderful place to enjoy as a sanctuary after a busy day. It not only reflects our individual personalities and interests, but also displays the many places we have traveled through the years," she says.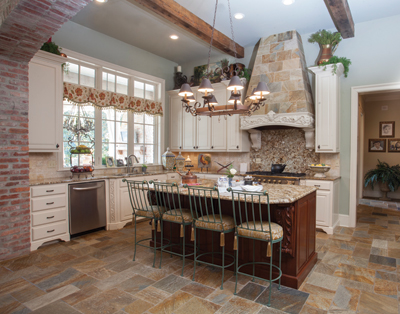 The open floorplan features a gourmet European-style kitchen that connects to a breakfast area and great room.
A prominent head and neck surgeon, author and television personality, Maria was elected as president of the Lafayette Parish Medical Society in November 2013. Nicholas heads the Lafayette satellite office of Barkley and Thompson, a distinguished New Orleans-based law firm. The power couple is devoted to regularly hosting functions at their home for numerous social and charitable organizations, especially around the holidays, when they erect a 24-foot-tall Christmas tree trimmed with Victorian angels, miniature chandeliers and fresh flowers.
Traditionally, the UL Lafayette choral gathers to sing on the upstairs balcony bedecked with garlands and ribbons for the Doucets' posh holiday galas. "I love our house during Christmas. It's so festive and magical. We always decorate early for the season. For the Carnival season, we celebrate with parties and are involved in several krewes, but we usually skip town right before Mardi Gras."
During parties, guests enjoy visiting in the large, open kitchen, with its charming French stove topped with a fanciful mantel that wraps around two corbels and an intricate clay hood that was custom-carved by a local artisan. "I love to cook and make bread from scratch when I have the time. But these days, I mostly use the stove for baking cookies! We bring in caterers for the parties."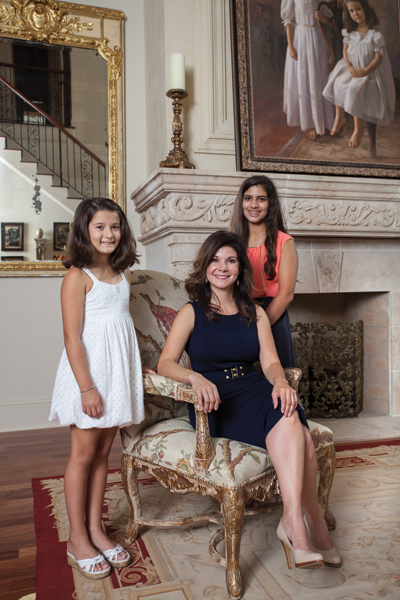 Standing beside the cast stone mantel (left to right) are 9-year-old singer-ballerina Katherine with her mother, Maria, and her nationally ranked equestrian-author sister, Alexandra.
Maria carefully pondered the décor of each room throughout the five-bedroom residence while construction was underway, starting with the dining room. "It's the most important room in the house," she says. "The dining room table was the very first piece of furniture I bought when we began building the house in 2007. It seats 24 people. I have an older sister and three younger brothers with 17 children between us." she explains. "When we all get together, we have our own football team and our own talent show!"
A dazzling chandelier, obtained from a cathedral, illuminates the room with candles. "We use the dining room frequently. I think it's important for my children to practice etiquette regularly, not just for special occasions. It's important that they know where the knives and forks go." A natural hostess, she began teaching each child how to set the table at a young age.
"It's wonderful that we have such a close relationship with our children," Maria emphasizes. "My husband and son are musically inclined, and one of my daughters has turned out to be a very good singer, so we now have a music room with a stage and around 15 guitars. They can play like they are rock stars! We put on skits and have a lot of fun laughing at ourselves. My middle daughter is an avid reader whose first book was published at age 9, so we created a large, floor-to-ceiling Beauty and the Beast style library and gallery that wraps around the upstairs of the house. For the ballerinas, we have an exercise room for practicing stretches and have now put all the dolls away that were in there. We've tried to incorporate everyone's interests as they grow older, so our house is continually evolving."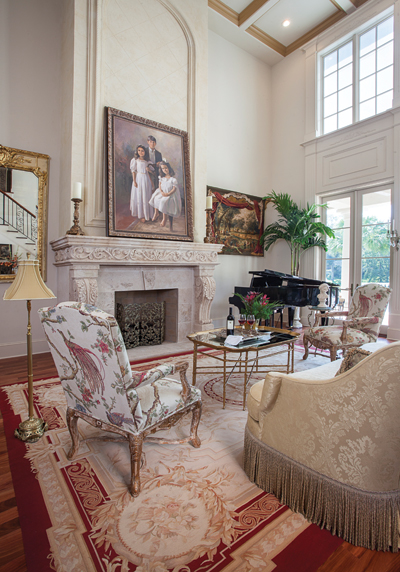 A gold-and-crimson Aubusson rug from Cyrus Persian Rugs complements a gilded mirror (left) and tapestry (right) that were recently purchased in Paris. Artist Khu Dan painted the portrait atop the mantel depicting the Doucet children when the home was built.
Other than the exquisite quartzite flooring from Brazil that Maria selected for the kitchen, and the travertine floors in the master bath, the house is fashioned with solid mahogany floors throughout. "I don't like the look of long leaf antique pine," she explains. "It's not formal enough for the look of the house."
Great attention was placed on the décor of the master suite, which includes an airy, hexagonal sunroom that overlooks the river. "I had our mahogany bed custom-made," Maria says. "The main bedspread is adorned with draperies that resemble valences; it is very Versailles. We went to Paris twice this summer and visited Versailles. The Hall of Mirrors was spectacular … For our bedroom, I couldn't go for the entire wall filled with mirrors, of course, but I liked the appearance of that type of wall, so I was trying to incorporate that look without being too overpowering." Maria designed similar panels for the master bedroom that recall the ornate antique originals as seen in France.
"My most cherished pieces of all are the books we publish from our family vacations every year as coffee table adornments," Maria concludes. "Our house is a home full of children, family, friends and enough wonderful memories to fill a lifetime. We find many reasons to celebrate life every day."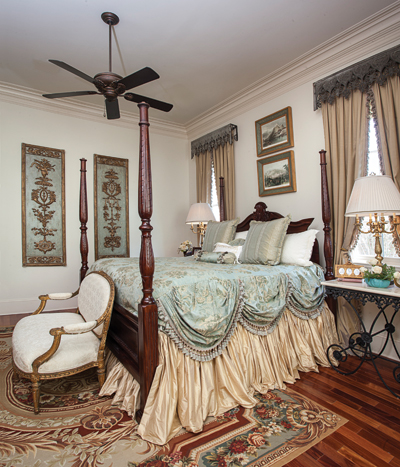 Intricate cornices constructed from Parisian antique grates were welded to accommodate silk custom draperies that flank an unusually tall custom bed by Maitland-Smith in the master suite. The off-white gilded loveseat from Brocante lends a regal touch. The custom Versailles wall plaques by Maitland-Smith herald a time-honored expression in French interior design.
---