Rooms with a View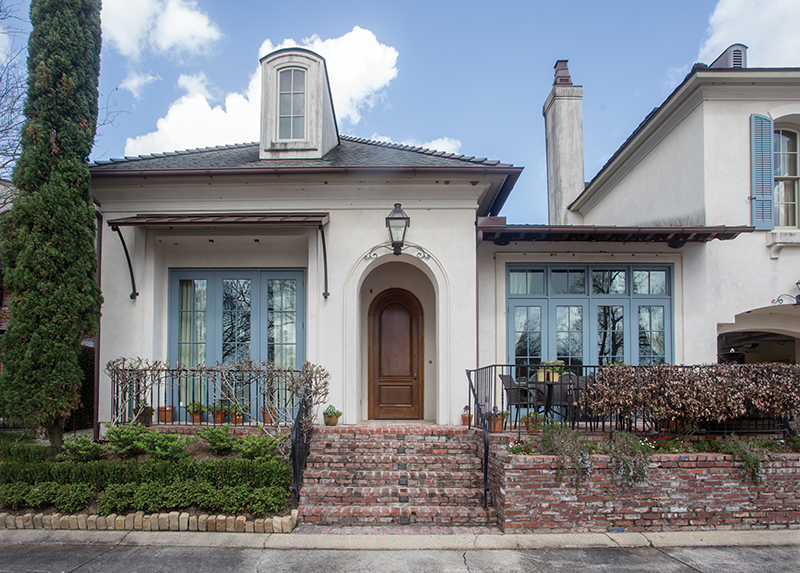 When planning her new home, a Lafayette businesswoman nearing retirement decided she wanted more than just a great kitchen and a pretty dining room for family gatherings.
A consummate hostess and a gifted cook, she envisioned a dining room with a view, and a gourmet kitchen that would be central to the flow between interior and exterior spaces. Her research led to the ideal location in a gated community bordering the Vermilion River.
---
Designed around a substantial limestone fireplace by François & Co., the living room was given a lighter color palette and updated elements that include a chic animal print ottoman and newly upholstered furniture by Entre Nous.
The dining room table is set with an antique embroidered runner and white chargers beneath a varied collection of Versace dinnerware and Strasbourg sterling flatware inherited from the owner's mother. An antique Persian rug and heavy linen embroidered draperies from Entre Nous add elegance to the graceful setting.
---
Designed by architect Edson Davis and built by Jeff Gossen, the four-bedroom, 3,200-square-foot residence with 14-foot ceilings offers riverfront views from the elegant dining space that flows into high-energy hubs near the open kitchen.
Interiors for the residence were crafted by the Lafayette design firm, Entre Nous, with the objective of creating timeless spaces. They worked with an open floor plan distinguished by splendid vistas across the entire front of the house, ending with the master suite.
Strategically situated in the very front is the dining room, which opens onto a terraced waterfront porch.
A beautifully manicured patio with an outdoor kitchen is just outside the kitchen, flanked by a cozy keeping room. Custom cabinetry concealing built-in kitchen appliances was designed to resemble furniture.
While the first-floor layout offers advantageous views for a gourmet matriarch who enjoys overseeing the culinary hearth and communal living areas, the second floor serves as an elaborate, inviting wing for overnight guests.
"I call this my family's bed and breakfast," says the owner. "Some of the grandchildren enjoy staying on weekends."
The ample outdoor kitchen is used for most meals, including weekly Sunday dinners that draw grandchildren of all ages.
"I'm always stepping outside to grill something, even just pita bread," says the owner. "I grill almost every time I cook."
After Lafayette's August 2016 flood, the walls had to be torn out and reconstructed due to the home's water damage. Once again, Entre Nous came aboard to assist, led by designers Rachel Harris and Mindy Gromer Bernard.
The antiques were saved, but the upholstery had to go. Harris and Bernard cohesively repositioned the owner's extensive collection of contemporary artworks and antique oil paintings into areas refreshed by updated lighting and furniture.
"[The owner] wanted the interior to be like it was before the flood," says Bernard. "We were able to get back with the original paint and paper company, Farrow & Ball, in England, and we recreated all the colors and hand-painted wall paper."
Farrow's cream and French gray define the neutral color theme.
---
Inspired by the seaside colors of Alys Beach, the master bedroom was assembled with an all-white linen headboard and white carpets juxtaposed with hand-painted aqua blue and gold-leaf draperies to evoke sun-and-sand reveries of the Emerald Coast. Custom hand-gilded lamps by Michael Clement reside on translucent acrylic side tables.
Chandeliers and sconces by Julie Neill illuminate rooms throughout house.
---
"To lighten and brighten the dark Duncan Phyfe-style dining room table, we painted it a high-gloss almond color, while also painting the legs of the dining room chairs to match," says Harris.
The designers also set a lighter tone for a newly adorned, serene master bedroom, while their numerous living room additions included new slipcovers to soften the antique needlepoint chairs.
"[The owner] has exquisite taste," says Bernard. "As a collector, she likes a mixture of antiques with a little contemporary pop."
"This is very much a lived-in house," says the owner. "I enjoy the area. On fall evenings starting in September, I can hear the lively Rhythms on the River concerts coming from the square."
---
Devoid of upper cabinets, the kitchen is appointed with a limestone hood from François & Co., custom island with gold accents and white Carrera marble, a fanciful Julie Neill chandelier and sheer café curtains.
---