Rocking It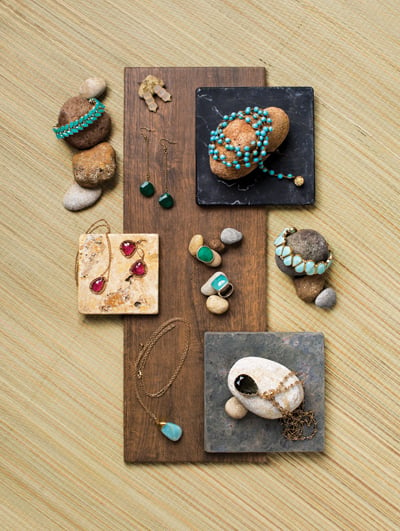 Crye and oval basic bracelet. Francesca's.
Marble tri-stone drop earrings. Maven Womenswear.
Tessa earrings in green by Shira Melody Jewelry. 7 Chics.
Turquoise Jewel Wrap Bracelet. Maven Womenswear.
Watermelon Tourmaline Rose Gold 14K Pendant & Chain and Watermelon Tourmaline Rose Gold Slice Earrings. Dianna Rae Jewelry.
Chrysoprase Ring Sterling and (below) Chalcedony Bezel Ring. Dianna Rae Jewelry.
Inverted teardrop bracelet, light blue. Francesca's.
Teardrop necklace. JuJu's Boutique.
Convertible short to long necklace, black. Maven Womenswear.

---
7 Chics. 201 Settlers Trace Blvd.#2019, Lafayette, (337) 704-2632 Dianna Rae Jewelry. 500 Settlers Trace Blvd. #1, Lafayette, (337) 706-7316 Francesca's. 5725 Johnston St., Lafayette, (337) 406-8123 JuJu's Boutique. 101 Settlers Trace Blvd., Lafayette. (337) 406-9300 Maven Womenswear. 201 Settlers Trace Blvd. #2021, Lafayette. (337) 704-2668