River Parish Murder Mystery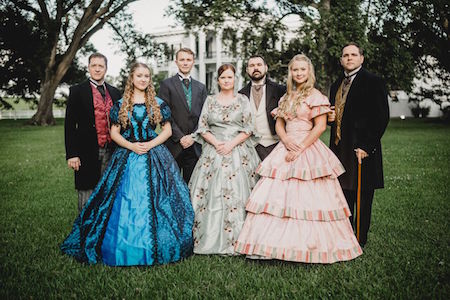 It's a 'whodunnit'… only guests can solve.
Iberville Parish is the site of a one-of-a-kind murder mystery dinner that, for the past five years, has intrigued and entertained visitors from all over the world. Organizers of the Murder Mystery Dinner Theater, held inside the Cypress Ballroom on the grounds of Nottoway Plantation Resort in White Castle, say the key to its success is its clever story line coupled with an audience set loose on a true fact-finding mission. The professional actors in this production are all from neighboring Ascension Parish, which makes this a true River Parish Murder Mystery.
If you like the idea of a four-course, mouthwatering gourmet meal, sparkling champagne upon arrival, your choice of red or white wine with dinner, and a murder to be solved that's both challenging and entertaining, this event is for you! (Tip: The $99 dollar price per person includes everything including the libations. Want more spirits? There is an open bar available to guests.)
The night begins with a cocktail hour, highlighted by a plethora of imported cheeses and champagne; once the hour is complete, dinner begins and guests are swept back in time to 1859. (Note: Food courses are served between acts.) The performers play the roles of real characters from the Randolph family, who controlled a massive sugarcane empire at Nottoway Plantation in Iberville Parish. Also taking stage are the Randolph's servants, business acquaintances and friends. Deeply woven facts mixed with a very clever and realistic mystery seem to capture the imagination of even the most discerning of sleuths.
The audience participates by working together with everyone at their respective tables to, not only figure out the identity of the murderer, but also to learn the how and why behind this most heinously enjoyable crime (not unlike the board game Clue). "It is not fluffy; we want people to work for it, so it is challenging but entertaining all at the same time," says talented script writer and history buff Larry Schexnaydre, who is also in the cast.
Love triangles, business deals and a genuine display of the timeless human spirit keeps audience members on the edges of their seats, and there are amazing details included in the script because of the extensive research done by Schexnaydre. "I interview doctors, lawyers, homicide detectives, historians and even sugarcane planters," adds Schexnaydre. "Because somebody in the audience will call you out if you have something wrong, and I am a stickler for details." Schexnaydre periodically rewrites the murder mystery script to keep loyal patrons coming back to solve even more thrillers. (Fact: Corporations regularly send employees to the Murder Mystery Dinner at Nottoway to help them develop team-building and strategy skills.)
Your tablemates are your teammates, and, periodically, each person gets to ask a character a question, look at evidence, and hear even more clues from the actors and actresses. Schexnaydre offers theater-goers some mystery solving tips. "It is very important to work together as a team," said Schexnaydre. "Use all the resources you have, and use the wild card, which allows you to ask a character a question, very wisely." He also warns guests that there are many red herrings throughout the show. Everyone at the winning tables gets a prize, namely, a coveted black T-shirt that reads: "I came, I saw, I solved!" (Big tip: Theater guests can stay overnight at the luxurious Nottoway resort at a special rate that includes a Southern-style breakfast for two). Performances of the River Parish Murder Mystery are held every three months.
For more information:
nottoway.com/murder-mystery-dinner-theater
visitbatonrouge.com/things-to-do/plantations