Recettes de cocktail: Party Gras Mambo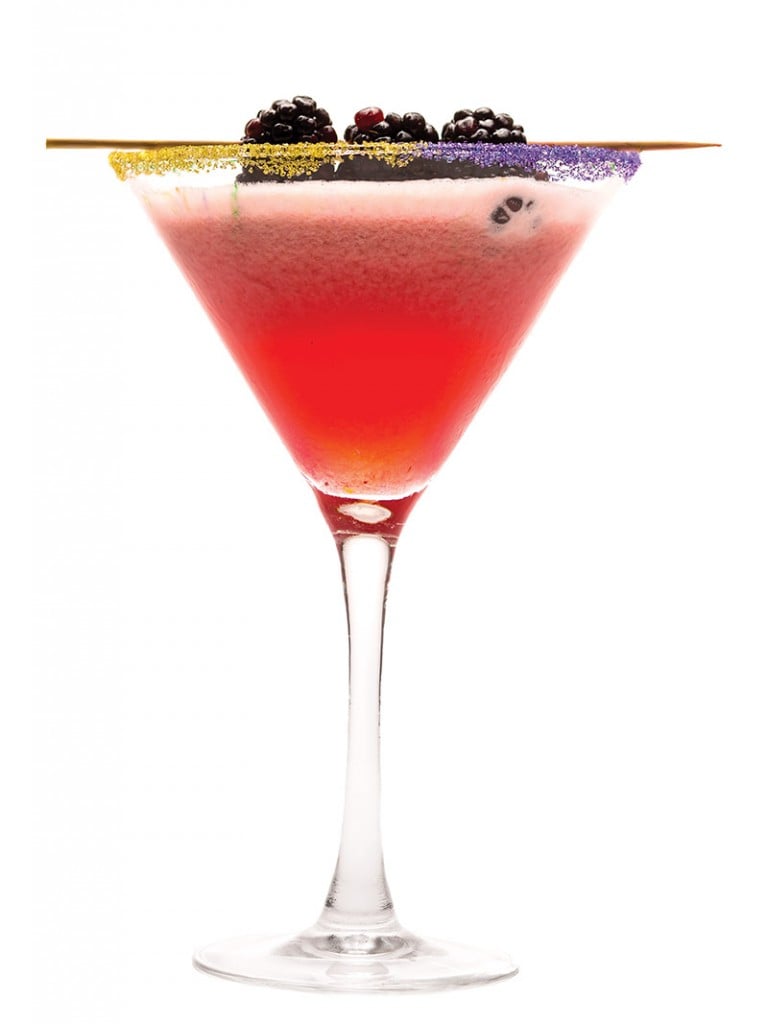 Acadiana's unconventional winter holidays of 2020 are undulating like Bach's celestial "Christmas Oratorio" trumpets that crescendo and decrescendo until the Epiphany on Jan. 6, when Twelfth Night signals Carnival king cakes and cocktails. Revelers can step up their Mardi Gras game with the festive new Market Mambo, an easy-to-make libation distinguished by a light, airy texture nuanced with herbaceous notes of sweetness and citrus.
"Frothy smooth with a little kick of whiskey, the Market Mambo is a new take on an old-school whiskey sour," says Market Eatz manager and mixologist Seth Aymond, a 16-year veteran of top Lafayette dining establishments.
Developers Bryan and Sylvia McLain opened the 3,500-square-foot Market Eatz in February, just before COVID-19 brought government restrictions. Owners of the McLain Companies, Bryan and Sylvia are beloved as the builders and designers of the annual Acadiana St. Jude Dream Home Giveaway, a pet project since 2010.
"We were able to overcome it because of my other businesses," Bryan says. "There was an amazing outpouring of the community because of St. Jude. I got a call from a client who asked us to provide food for National Guard soldiers, so we prevailed. I also found a terrific chef who could execute all of my original recipes, New Orleans native Chris Sadofsky, a graduate of Johnson & Wales. We grew so fast that we had to build a 40-seat outdoor deck. Now we're having over an hour's wait on Sundays for brunch."
One of the perks at Market Eatz is the curvilinear bar with killer cocktails, full-service dining and late hours on weekends. A grab-n-go cooler is stocked with Don's boudin, pork roast and kebobs while the menu's fast-casual concept includes creative bowls, tacos, salads and gourmet burgers. The chef gets fancy on Sundays, when Steen's boudin biscuits, shrimp and grits and specialty cocktails attract crowds.
---
This updated, and festive, take on a whiskey sour will level up your Mardi Gras celebrations.
RECIPE
Market Mambo
❶ Make blackberry basil syrup: Add 1 cup sugar, 1 cup water, 2 cups blackberries and 6-7 fresh basil leaves to a sauce pot and boil until syrup thickens, stirring often. For added flavor, blend the ingredients before straining with a fine mesh strainer into a container.
❷ Add 2 ounces Buffalo Trace Bourbon, ½ ounce fresh lemon juice, 1 ounce blackberry basil syrup and egg white from one large egg in a cocktail shaker and dry shake (without ice) for 45 seconds or longer for more froth (from the egg white). Add ice and shake for another 30 seconds.
❸ Rim a martini glass with green, purple and gold sugars. Strain cocktail into martini glass and sprinkle with more colored sugars on top.
---
Market Eatz

McLain Marketplace
819 E. Broussard Road, Lafayette
337-565-EATZ
marketeatz.com