Raising the Bar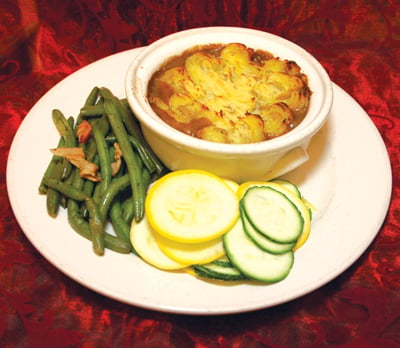 MacFarlane's Celtic Pub
417 Ann St., Lake Charles
337/433-5992
Lake Charles may not be the obvious choice for a Celtic pub, but four years ago, it came to be nonetheless. And despite its out-of-placeness, the MacFarlane's faithful will tell you that it works.
MacFarlane's Celtic Pub does its best to offer a full Celtic experience to its patrons with its menu, its beer selection, the occasional bagpipe and the fact that all the waitstaff wear kilts – girls and guys.
Which naturally leads to the question, "Just how authentic is MacFarlane's kilt-wearing?"
James Bittner, the owner, has an answer for that oft-asked question.
"That's what everybody wants to know," Bittner says with a laugh. "The saying goes that if you're not wearing anything underneath, it's a kilt. And if you are wearing something underneath, it's a skirt. We do make our staff wear things underneath. So while they're here, the guys are wearing skirts, I hope – but we don't check!"
Aside from the beer, the most popular item on the menu, according to Bittner, is the shepherd's pie, which is made with lamb, carrots, potatoes, peas and creamed mashed potatoes piped on top — all in a thick dark gravy.
"It's very filling," Bittner says. "For the price, you get more than enough to eat."
---
Legends Annex
110 Polk St., Lafayette
337/504-3252
While many people head to downtown Lafayette for the local bar scene, the number of people heading to one of the bars specifically for its food is growing. Legends Annex's attention to detail and its decision not to serve traditional bar food has earned a faithful following.
Legend's Annex serves healthier options, along with fantastic burgers. The wraps – particularly the tuna wrap – are local staples.
---
Social Southern Table and Bar
3901 Johnston St., Lafayette
337/456-3274
socialsouthern.com
Talk about a transformation.
Tens of thousands of people passed the tired Chinese restaurant at the corner of Johnston and Marilyn in Lafayette every day for years. Few could have the vision to believe the dull brown building had the potential to be renovated into a super-cool, exposed-rafters hip eatery.
But the folks at Southern Hospitality Kitchens, partners Jody Ferguson, Charlie Goodson and Marc Krampe, did have that vision – and Social Southern Table & Bar has opened with much enthusiasm on the Acadiana restaurant scene.
Krampe, Social's chef, is full of passion and vision for his work. He says he didn't always know he wanted to be a chef. "I went to college to be a chemical engineer … always been intrigued by how molecules work under pressure," he says as he encourages Ferguson to try an appetizer of local chicken liver with mint-cilantro-chile glaze he and Bill Schwanz, the chef de cuisine, put together for an evening in early February.
Krampe moved back to Lafayette two years ago after a stint in Austin, Texas, where he fell in love with the gastropub concept.
"I took Jody and Charlie to Austin so they could really take in the gastropub scene," he says. "We visited 16 restaurants in two days, and they got it and agreed with me that the style would go over well in Acadiana. The thing I like so much about the gastropub concept is you can do any kind of cuisine and it works in this environment. You take food from all over the world and make it work in this concept."
Ferguson wants to take the concept even farther, starting with the attention to detail evidenced in their cleverly designed menu in a Kraft folder with metal binding at the top and ending with info on the Social Club option. Each member of Social Club will receive a key to one of the antique bronze post office boxes by the door. Every month members will receive something special, hand-selected by Krampe.
"We want people to feel a part of it," Ferguson said. "They should be prepared for something new in the dining scene and know that everything is made from scratch. We're using as many local ingredients as humanly possible."
Ferguson describes the restaurant as being "pretty beer-centric" with an ever-evolving assortment of dishes designed by the chef specifically to go with certain beers or limited-edition beers that come out.
Thus far, the Social team is enjoying their creation as much as patrons are appreciating the food, including pastry chef Amy Salsman's creations.
"The other night I stepped back and looked around," Krampe says. "The vibe is warm and welcoming – that's what we're trying to accomplish. We want it to feel like a dinner party in a restaurant setting, and that's what we've got going."
---
Pamplona
631 Jefferson St., Lafayette
337/232-0070
pamplonatapas.com
Pamplona's beautiful bar and highbrow drink selection make it a great choice for happy hour or special occasions.
With a wide selection of delicious tapas including crab fritters, escargot, mushroom-spinach flatbread and the marinated olives standby, it's hard to go wrong. It's all good. However, even though it's not the healthiest choice, you've got to splurge every now and then, and when it's time to indulge, the duck fat fries are unbeatable.
---
Morvant's Bar and Grill
200 Lafayette St., Youngsville
(337) 856-7469
Morvant's Bar & Grill is a greasy spoon hole in the wall that's been around for decades. But doing a piece on bars that serve food and not mentioning Morvant's hamburgers would be against the law. Everybody needs to have a Morvant's burger.