Pottery: A Love Story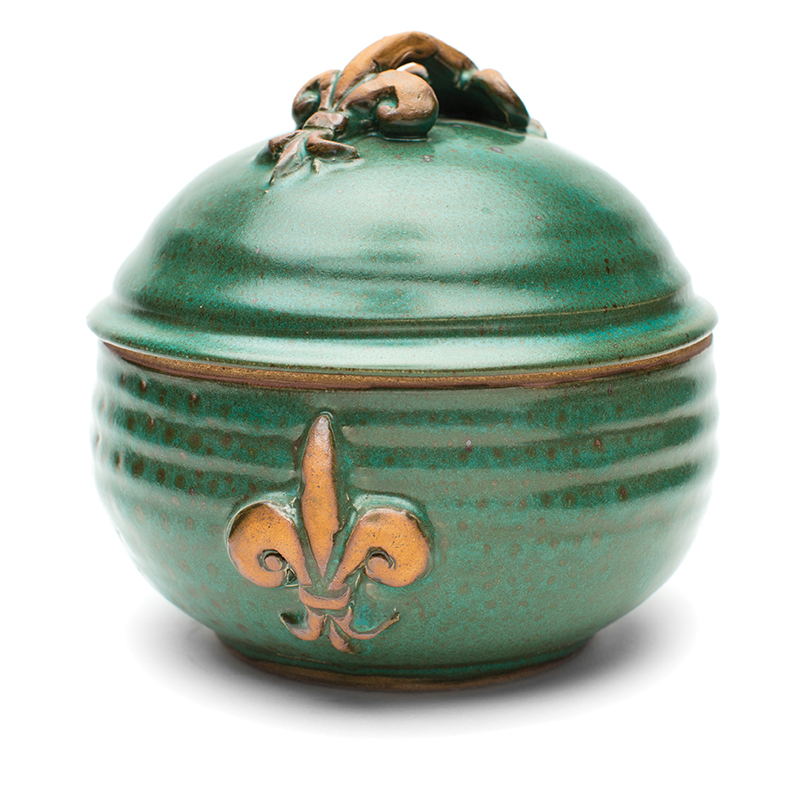 Authenticity begins where the pavement ends, down a bumpy gravel road that's hell on rental cars but easy on adventurous souls. It seems silly looking back now, what with countless visitors who've stepped foot in the Wortman Pottery showroom over the years, but owners and creators Emily and David Wortman actually worried about tourism logistics like that 10 years ago when they wrestled with the notion of ditching their nomadic art show life for something stable and permanent.
Turns out, those concerns were unwarranted. A little dust on the tires or dings to the undercarriage of your $39-a-day Chevy Cruze isn't much of a deterrent for those seeking something real, a place that isn't cookie-cutter Cajun.
Rice fields and crawfish farms are nature's guardrails on both sides of the road, as indigenous Louisiana birds fly overhead like they were lifted from the John James Audubon book on your grandmother's coffee table. The wood-frame pottery studio sits on a slab of land that's been in David Wortman's family for more than a century. Shelves of nationally-renowned handcrafted pottery, much of which is accented with ceramic regional ornaments and decorations like crawfish or oyster shells, cover every wall of the showroom — the physical manifestation of a relationship both personal and professional.
As if this whole scene couldn't get any more Rockwellian, out back, there's an old plumber who's fishing in the pond. But, don't count on him being here when you come around. He's not a featured attraction of this rural tourism destination. He's just waiting to get paid.
"It's very country," Emily says through laughter.
For the entirety of their relationship, David and Emily have made pottery together, dating all the way back to when they met as students at Tulane in the mid-1970s. Once regulars at weekend art shows and craft fairs throughout the Southeast, the artistic power couple now lets patrons come to them, offering the type of hospitality and tokens of Cajun country that can make the trip worthwhile.
"You know, we are 3.3 miles from I-10, from the exit," David says. "But having the shop is still relatively new to us. Why we didn't adopt this style — selling out of a showroom — early on, I don't know, but everyone was doing art shows and making money doing it."
Emily interjects.
"We really broadened our horizons and in addition to art shows we did wholesale to craft galleries, so we stayed at home making a lot of pots and shipping those out," Emily says. "And when we got into that, we thought, 'Well, do we really need to be on the road this much? Maybe it'd be better if people came to us?'
"Then, you get into the rural tourism mindset: Do people really want to drive down a little gravel road? Well, turns out they do!"
The Wortman's Pottery is art for everyday use. The bowls, pots and pitchers that come from Duson and are shipped throughout the country are inspired by work of famous Mississippi master potter Peter Anderson of Shearwater Pottery in Ocean Springs — pieces that David says he's been eating out of and drinking from since he was six years old.
"With pots, handles have to work, knobs have to work," David says. "Handles on pitchers and mugs have to feel good in your hand. Spouts need to pour properly and not drip too much. So [there are] a lot of considerations when you're making pottery. Yet there are potters out there who follow all those rules, and make things functional, who create pots that are vastly different from the other guys' pots. There's room to make a pot have a style and a feel."
Wortman Pottery is crafted using multiple techniques, including wheel-thrown, slab and hand-built pieces. Many of the molds used are the same molds Emily designed in the 1970s.
"Within the first week of us making pots, we realize we had to divide up things or else we were going to get divorced," David says in a humorous tone but with more than a sprinkle of sincerity.
"We really divided it up so that David is the pure potter and I'm the hand-builder," Emily says. "I'll make things and attach them to his pots. And then, I load kilns and do other things that he can't stand to do. We both glaze pieces. But all of our work, we both touch at some point. So it's always hands-on. It's all collaboration, from beginning to end."
---
Q&A
Emily and David Wortman
1. Was opening a pottery shop always the dream when you two started seeing each other? David: The plan was for me to get a university teaching job. That would have been the easy path. And so the first big push was to do that, although that was nearly impossible for all the newly-minted MFAs, let alone the older-minted MFAs.So it was two choices, and when it looked that May that I wasn't getting a teaching job, we started making pots full-time.
2. If teaching was the easy path, does that make pottery the hard path? David: Well, working for a university you got a salary, a retirement, health benefits. Emily: But we did do some art shows while we were at Tulane, so we had an idea of what this world would be. We did Jazz Fest while we were at Tulane (in 1976). So this life wasn't a complete shock to us.
3. Has there been an evolution in your pots? Emily: Oh yes. People will show us pictures of pots we made and they'll tell us that it's their favorite piece and so on, and we'll just say to ourselves, 'Oh no.' Because you know you're doing so much better work now. Our glazes have changed, David's pot shapes have changed. It's different, in a good way.