Port Invests in the Dream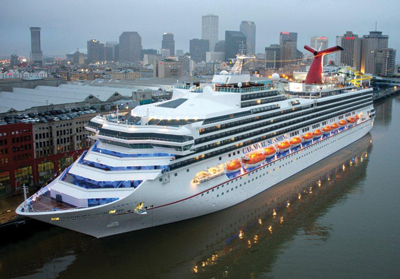 The idea of traveling for travel's sake may seem foreign and easy to forget as we buy faster cars and fly in even faster planes. For the cruise ship industry, however, the old adage still holds true: Half the fun is in getting there. Residents of New Orleans, especially those who live downtown, are no strangers to cruise ship traffic and cruise ship tourists. The latter are always a source of a mild curiosity – tourists whose final destination isn't New Orleans? According to Carnival Cruise Lines, that particular percentage of visitors to the Crescent City is about to rise. On Mon., April 14, New Orleans' largest cruise ship to date, with a capacity of 3,646 passengers, arrived in the Port of New Orleans to begin year-round Caribbean departures. Predicted to carry more than 400,000 passengers from the port annually, the Carnival Dream commemorated its debut with the presentation and exchange of traditional maritime plaques between Carnival Cruise Lines and Port of New Orleans officials. Immediately after, the ship launched its maiden voyage on a six-day cruise through the Caribbean. To accommodate a vessel of Carnival Dream's unprecedented size, the Port of New Orleans invested $2.3 million in upgrading and expanding the Erato Street Cruise Terminal.
At 130,000 tons and 1,004 feet long, the Carnival Dream provides additional luxuries, such as: a 303-foot-long water slide; a 23,750-square-foot Cloud 9 Spa; more than two dozen bars, restaurants and lounges; a half-mile outdoor promenade circling the deck; and 1,823 staterooms and suites serviced by a staff of 1,367 crew members.
The Carnival Dream builds on Carnival Cruise Lines' position as the No. 1 cruise operator in New Orleans, with two year-round ships. In 2012, the Cruise Lines International Association conducted a study that found spending by Carnival and other cruise operators in Louisiana topped $399 million, generating 7,548 jobs and $294 million in personal income. Cruise Lines International Association also ranked New Orleans the sixth largest cruise port in the country.