Planter Like a Pro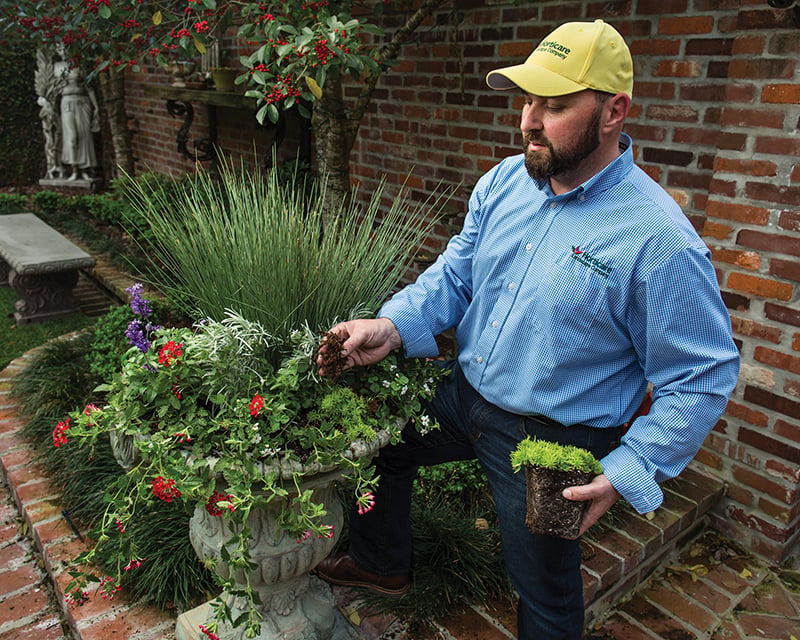 The right planters can boost your home's curb appeal or add a wow factor to your garden. But what's the difference between a planter that pops and one that flops? Horticulturist Brooke Inzerella says it's all about the prep work.
"Start with a good base — that's drainage," he advises. "People don't realize planters are just a reservoir if not prepared correctly."
Inzerella says prefers resin planters — which offer a durable, high-end look, but can still be moved around easily — with about a 24-inch mouth. His first step is to prepare the pot's drainage system. That could include something more technical like inserting a drain pipe and syncing it up with your lawn's irrigation system or simply drilling a hole in the bottom of the pot and adding a base layer under the soil.
"It's a great way to recycle plastic water bottles," says Inzerella. "Fill the bottom one-third of your pot, then cover with geo-texture fabric so water can drain out without soaking the soil."
Inzerella says one of the biggest mistakes people make is opting for bagged topsoil instead of potting mix. This shortchanges your blooms from both a nutrition and drainage standpoint.
When your pot is ready, Inzerella is "a proponent of really stuffing" and recommends three to five types of diverse, indigenous plants per planter. Some of his favorites include:
• Anchor Plants: Flax, Fiber Optic Grass, Blue Dart Grass (Juncus), Tall Caladiums, Tall Zinnias, Upright, Rosemary, Cordyline, Boxwood
• Substance: Coreopsis, Joseph's Coat, Coleus, Angelonia, SunPatien, Pentas, Coneflower
• Draping Plants: Lysimachia (Creeping Jenny), Mandevilla, Calibrachoas, Mint, Wave Petunia, Ivy
• Fun Additions: Succulents, Sedum
And to keep those blooms in fresh-from-the-nursery shape, water as often as possible, preferably in the morning hours. Inzerella's baseline suggestion is two to three times per week, depending on rainfall.
[Plants featured in photo: Juncus, Sedum, Verbena, Helichrysum, MegaCopa, Salvia]
---
STEPS
Decorating the Mantel
1. Select your pot, something with at least a 24-inch-wide base.
2. Make sure you have the right kind of drainage and soil.
3. Choose three different types of native plants.
4. Water at least two to three times per week in the morning hours.
---
ABOUT THE DESIGNER
Brooke Inzerella is a licensed landscape horticulturist and owner of Horticare Landscape Company, where he specializes in one-of-a-kind landscapes and outdoor living spaces.
---