Perfect Landing
A couple finds their sweet spot off of a gravel road in Carencro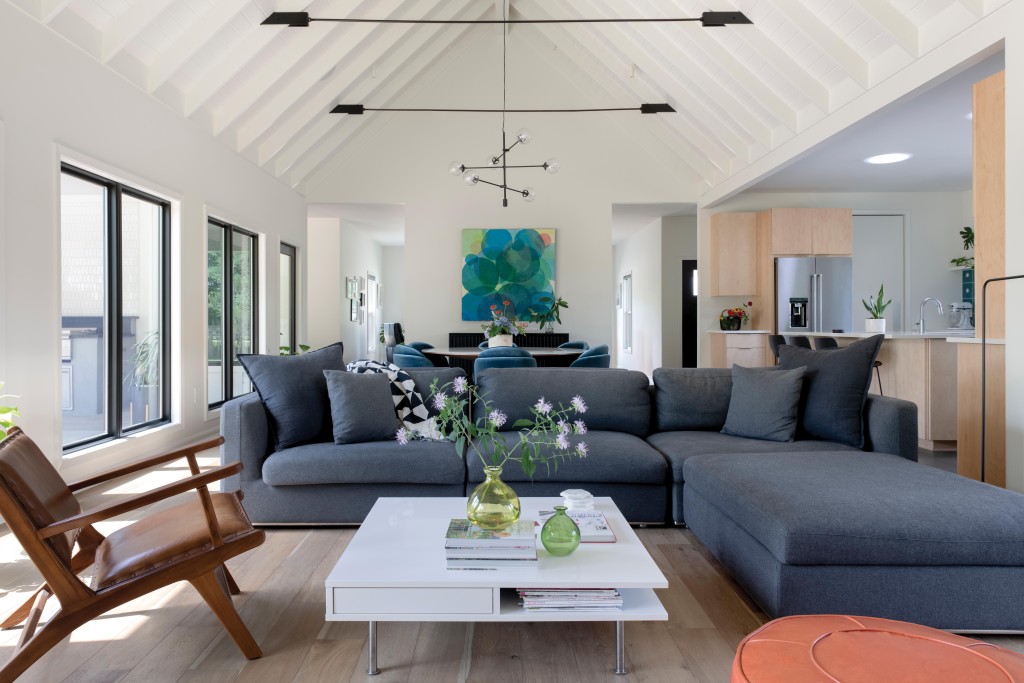 Sara Ashy has always had a soft spot for oak-lined country roads.
She and her husband, Brooke Inzerella, were looking for real estate on Lafayette's Southside when she heard about a piece of property in Carencro that bordered a horse farm. Once they saw it, they knew they couldn't pass it up. Later, Ashy's mother told her the land once belonged to her great-grandfather. A "happy coincidence," she says. But, that wasn't the only thing that made it feel right.
"We had found an inspiration photo for a home we loved in Napa Valley. Minimalist, modern, Scandinavian, traditional," says Ashy describing the design. "When we saw the property, we knew it would fit."
Inzerella is the owner of Horticare Landscapes + Pools and a licensed contractor. He took on managing their new build, and they brought on architect Lisa Bourque to help bring their Scandinavian-style dream to life. The home itself is U-shaped, hugging an expansive courtyard and outdoor kitchen. Bourque says the couple's main goal was to have access to the outside from as many rooms as possible. Once they figured out where the home would sit on their property, she worked with Ashy and Inzerella to map out their daily rituals.
"In all my houses, I want to know how people have lived before, but the deep hard work is where do you want to live?" says Bourque. "Let's make a home that honors who you really want to be."
A spacious hallway connects the home's living and entertaining space to its more private owner's suite. Bourque designed this space to highlight the beauty of the natural vistas, as well as the couple's eclectic art collection. She says most people think of halls as utilitarian spaces, but if it's something you're going to walk through multiple times a day, why not make it feel more like a gallery?
Ashy's background as a graphic designer shows up throughout the home, from the pattern play of the tiles and bold textiles to the colorful, custom canvases she created for the walls. All the while, she's focused on editing and letting the natural landscape take center stage.
"I have tried to stay as true as I possibly can to that whole minimalist vibe," says Ashy. "It's a lot harder than you realize."
Design
Lisa Bourque, lisabourquedesign.com
Contractor and Landscape
Horticare Landscapes + Pools, horticarelandscape.com
Builder
F&J Builders, LLC, fjbuildersllc.com