Nouevelles de villes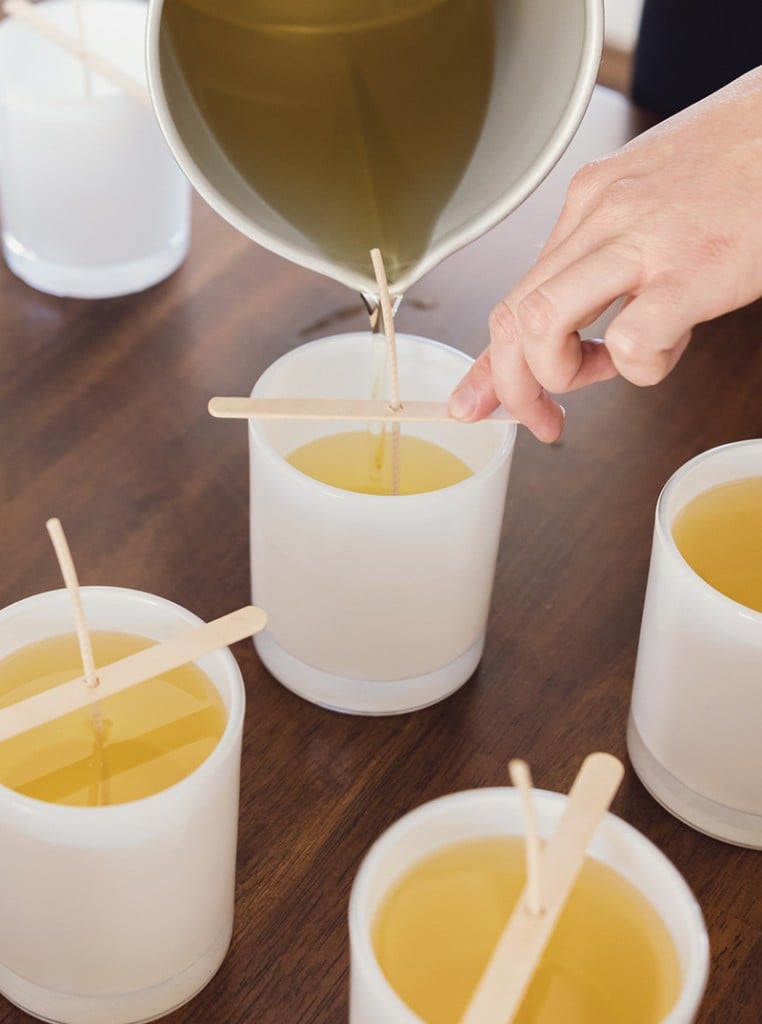 LAFAYETTE
Of Wax, Wine and Wicks
If you enjoy giving or receiving scented candles, then make a party out of it. Kick back with friends and create candles while sipping vino at Bougie Bar, a new custom candle-making, BYOB concept for downtown Lafayette (with over 500 fragrances and pottery containers). Ideal for holiday and other concept parties. It's the latest project by the founders of the Scott-based Bourbon Royalty Candle Company (bougiebarlaf.com).
---
NEW IBERIA
Fresh Face for Teche Fest
The annual Books Along the Teche Literary Festival (April 3-5, 2020) announced it will feature Osha Gray Davidson (author of The Best of Enemies, Race and Redemption in the New South) as its keynote Great Southern Writer. Davidson's book was made into a major movie, "Best of Enemies," released in theatres in April. The biopic film starring Taraji Henson and Sam Rockwell will be shown at the Grand Theatre throughout the fest (booksalong-thetecheliterary-festival.com).
---
ARNAUDVILLE
Suds and Spice
Just in time for gumbo weather, Bayou Teche Brewing introduced its new Gumbo Stout beer in November. Made in partnership with Tony Chachere's Famous Creole Cuisine, the beer's roasted, smoky flavor, accented with cayenne, utilizes elements of Tony's Creole spices that are similar to those found in Tony's instant roux mix and Creole gumbo base (bayouteche-brewing.com).
---
LAFAYETTE
Major Hospital Merger
Lafayette General Hospital announced it is seeking a merger with Ochsner Health System that would result in the largest health system in the Gulf South. If approved, the merger is expected to be finalized in the spring of 2020. As part of the agreement, Lafayette General will become the regional health care hub in southwest Louisiana for the statewide health system. In return, Ochsner will invest $365 million in additional capital and resources in Acadiana over the next 10 years, $240 million of which is expected to come in the next five years. It will bring 48 new residency positions to add to the 75 positions at University Hospital and Clinics along with numerous other jobs throughout the system.
---
SCOTT, DUSON
Love That Boudin
The Best Stop Supermarket in Scott announced a new, 15,000-square-foot, $6 million production facility (to be built behind the current, 33-year-old flagship location) as part of an expansion that includes offering their award-winning boudin and other smoked meats to restaurants, bars and stores throughout Louisiana. Following the success of The Best Stop Express in Duson, the owners are planning to open new stores throughout the state, either as company-owned locations or franchises. The original Best Stop in Scott is famed for its pepper jack boudin egg rolls, fresh deer and brisket sausage with Steen's syrup and stuffed pork chops (beststopinscott.com).
---
YOUNGSVILLE
New Medical Health Spa
After years of working in the ER and dealing with patients' pain and stress, Dr. Lee Lenahan decided to bring relaxation and happiness to patients with the opening of Serenity MedAesthtics, a 4,500-square-foot medical health spa in Youngsville, with Family Nurse Practitioners, Leilani Gibbens and Christy Lenahan. The team of specialists is offering medical and spa services ranging from various massages to novel injection techniques, cool sculpting, laser hair removal and IV hydration (serenitymedaesthetics.com).
---
BREAUX BRIDGE
A Shout-out to Dirk Powell
After musician Major Handy's suffered a devastating house fire in August, Buck & Johnny's owner, Coatney Raymond, hosted a fundraiser for him with the help of such zydeco stars as Corey Ledet and Geno Delafose plus Grammy-winning fiddler/banjoist/record producer Dirk Powell, who surprised the gravelly-voiced blues and zydeco legend with a vintage Coronet accordion (named Janice). After 10 years touring with Joan Baez, Powell returned to Acadiana, where he has been seen at local gigs while also recording celebs at his Cypress House studio near Breaux Bridge.
---
JEANERETTE
Plantation Transformation
Built in 1850 as a sugar plantation for Francis D. Richardson (a classmate and friend of Edgar Allan Poe), Jeanerette's storied Bayside Plantation has been sold to a New Orleans family. They hope to remain anonymous until their open house with tours in December, 2020. Surrounded by a magnificent grove of live oaks, the 169-year-old Greek Revival treasure (featuring the largest screened porch in Louisiana) appears in Julia Reed's 2019 book about New Orleans. After an upgrade, Bayside will serve as a private family home with five children and as many dogs.
---
ERATH
Hot Off the Press
Check out Warren and Mary Perrin's latest book, Seeking an Acadian Nation, the 1930 Diary of an Evangeline Girl. Released in Canada during Le Congrès Mondial Acadien in August, it is based on the diary of Corinne Broussard. She was among the 25 Evangeline Girls led by Senator Dudley J. LeBlanc during an epic 1930 journey to Grand-Pré to commemorate the 175th anniversary of the Acadian Deportation. This was reportedly the first group of Cajuns to make a pilgrimage back to their ancestral lands in Nova Scotia since the deportation (books can be ordered via acadianmuseum.com or by visiting the museum).
---
ST. LANDRY AND EVANGELINE PARISHES
Expansion Underway
Working in tandem with Boyd Gaming, the Gateway to Acadiana project that is planned for the area near Evangeline Downs in Opelousas will feature an RV resort, stores, a multi-use expo and event center and cultural community center. According to Bill Rodier, executive director of the St. Landry Economic Development office, the project will generate hundreds of jobs, and will take 18 months to complete once they break ground. The potential for growth is along the I-49 corridor from I-10 up to Evangeline Parish. It will include a food hall, a boardwalk along the marshland retention area and a pedestrian plaza (asla.org).
---
BROUSSARD
For Emerging Visionaries
Relance Acadie, a new program to develop a long-term vision for revitalizing rural and suburban areas in seven adjacent Acadiana parishes, was announced by the Broussard Chamber of Commerce. The new program seeks emerging leaders with overarching regional economic development goals. Launching in March, it will include monthly sessions through November, 2020. Enrollment is limited. Ideal for graduates of related programs: members@broussardchamber.net; 337-837-6001.
---
GONZALES, THIBODAUX
Brew News
The first brewery in Ascension Parish, Gilla Brewery Company, opened in October, featuring a rotating stable of small-batch beers on tap (facebook.com/gillabrewingco). Nicholls State University has joined the beer-branding biz with the release of Colonel's Retreat, a smooth, crisp lager crafted by Bayou Teche Brewing (named for a former popular hangout) to benefit the university and its alumni federation (nicholls.edu).
---
CROWLEY
Let Them Eat Cake
Shantee Gott Manual and her husband, Mardy, have moved their Moss Bluff pastry biz, Cakebar, to a new storefront in Crowley. Their award-winning, custom cakes can be ordered in just about any shape and color, from delicious king cakes to birthday confections and miniature specialty treats (cakebar.us).
---
YOUNGSVILLE
All in the Family
Toot Toot's Kitchen in Youngsville, which currently prepares family-size, pre-made meals to go, has announced expansion plans that will include adding new front and back dining spaces featuring separate areas such as a kids corner with toys and a separate area conducive for date nights with a full-service bar, plus an outdoor patio with stringed lighting and games, designed to fill the needs of parents dining with kids in tow (toottootskitchen.com; facebook.com/toottootskitchen).
---