Not as Crazy as That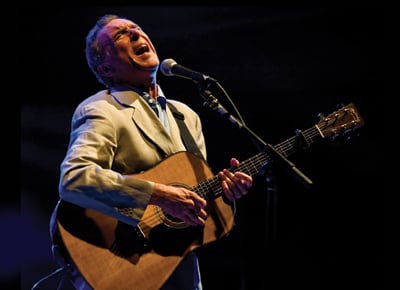 Zachary Richard, Ralph to his close friends, has come a long way since his birth in Scott, where the West begins, the boudin capital of the world. He could have remained his father's son, playing in bars in the area, or even in New Orleans from time to time, or taking his Tulane history degree to get into law school and pursue a different career. The enormous talent and creative impulse that seems to have always inhabited him decided otherwise. And yet, his musical career, especially in French, almost never took place. The story, today passed into the realm of legends, goes that the young Ralph, with $100 put forward by a patron who told him to seek his fortune in Quebec, accompanied a friend who rode by car to study at McGill University. At the border, the customs officer, seeing the musical equipment on the rear seat, asked them what they were coming to Canada for. The driver shows his student visa and justifies the reason for his stay. In turn, and still according to legend, Richard tells him, "I come to sing and become famous." When the customs officer, not impressed by the boldness, asked him to show his Canadian work permit, he could not. Turned back at the border several times after other similar attempts and days in hotels, Richard finally manages to find a sponsor who sends him a contract proving that he has the right to work in the country of these "few acres of snow" as Voltaire said. The rest, as the saying goes, is history. After all this trouble, isn't it an ironic coincidence that his first hit was "Travailler, c'est trop dur" (Work is too hard)?
This long hard work turned Ralph in Zachary, significantly more rock 'n' roll, but also in honor of an ancestor whose name was given to him as his middle name. It is somehow with this second birth that he became the man of the Acadian renaissance in Louisiana. Like the migratory birds of his songs, poetry and ecological commitment, he goes back and forth between two languages, two continents, three countries and many cultures. A true world citizen as much rooted in the swamps of the Atchafalaya as the Saint Laurence, the Petit Codiac or the Poitou. Like Northern Gannets, Canadian geese and French ducks, he disregards borders, those artificial lines that men have drawn on the world map. Respect for the past, traditions and nature, combined with a quasi-genetic perseverance (it is not for nothing that they say hard head Cajun) that borders on stubbornness have informed all of his work which blows out its 40 candles this year, if you start the meter in 1973 with the recording of his first album, "High Times." Long lost in a legal black hole, Richard was able to take it out only in 2001. Nevertheless, the long arc of his art draws a line that connects his passions, loves, hopes and fears. Richard understands the intimate and fragile connection between nature and men as well as the courage it takes to maintain it.
With this last record, "Le Fou," a loop is buckled, without it being an end, we certainly hope not, to his artistic and ecological activities. Deeply touched by the twin disasters of hurricanes Katrina and Rita and the Macondo Oil Spill as testified in his three previous albums, Richard finds a Zen tranquility facing foul weather in Laisse le vent souffler (Let the Storm Winds Blow), a redoubled determination to live his life in Les ailes des hirondelles (The Wings of Swallows), and an eternal desire for a return to the source in La Chanson des migrateurs (The Song of the Migrators) without losing his passion. It is seen as big as life itself, this rage to live, in La Ballade de Jean St. Malo (The Ballad of Jean St. Malo), where he tells a story that is little known but just as important to us as that of Beausoleil Broussard of the marron Jean St. Malo, an escaped slave who abandoned his chains and helped others to do the same.
Like him, Richard does not accept the reasoning of the strongest and creates his own identity. If you call that crazy, so am I.