New Iberia Food Subscription Box Available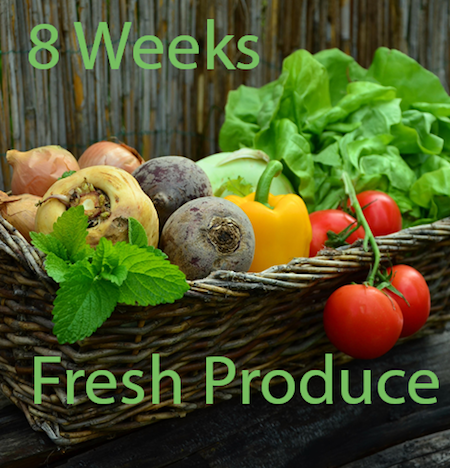 NEW IBERIA, La. (press release) – The Community Supported Agriculture (CSA) program offers weekly to members top-quality hand selected produce from the Iberia Community Garden and Acadiana Growers Alliance affiliate farmers/producers.
In addition to receiving locally grown produce you'll be supporting a community garden that teaches local residents and youth the importance of healthy eating and basic garden skills, and provides direct access to fresh foods to an under-served neighborhood. This membership runs from Oct. 12 – Nov. 30. Sign up here.
What is the program?
The 8-week Community Supported Agriculture (CSA) membership includes a weekly produce bag of locally grown seasonal crops during the growing season during which your membership falls. Participants choose between two pick-up days (Wednesday or Saturday) to collect their groceries. The pick-up location is at da Berry Fresh Market at 520 S. Hopkins St., New Iberia. Deliveries happen on Wednesday only. In store pickup is available on your chosen designated day during normal business hours 10 a.m. – 6 p.m. Bags must be picked up within 2 days.
What is the cost?
There are two options of one-time payments. Full bags for four people are $200 and half bags for two people are $100. Delivery options are available and include New Iberia (additional $40) or Youngsville, Broussard and Lafayette (additional $80).
What produce is included in the box?
The variety of crops provided will be based on availability of produce at the Iberia Community Garden. You'll get a mix of late summer and early fall produce, which can include but are not limited to the following: tomatoes, cherry tomatoes, radishes, salad mix, mustard greens, sweet peppers, hot peppers, eggplants, squash, lettuce, cucumbers, kale, beans, beets, herbs, and mushrooms every other week. These items are hand-picked for best quality at the discretion of Iberia Community Garden farmers. You can customize your order by letting Envision da Berry know what you'd prefer not to have or have more of in your bag.
Refunds?
If the garden has a crop failure or low production of any sort (i.e. weather-related disaster, theft, disease, pests), participants will be informed by a manager at the da Berry Fresh Market immediately and will be given a credit for the remaining unclaimed produce for this season towards the next growing season's membership. No refunds will be issued.
Click here to sign up. For more information, contact Envision da Berry by email, call (337) 492-3859 or visit DaBerry.org.