My Toughest Case – Bringing Compassion to The Law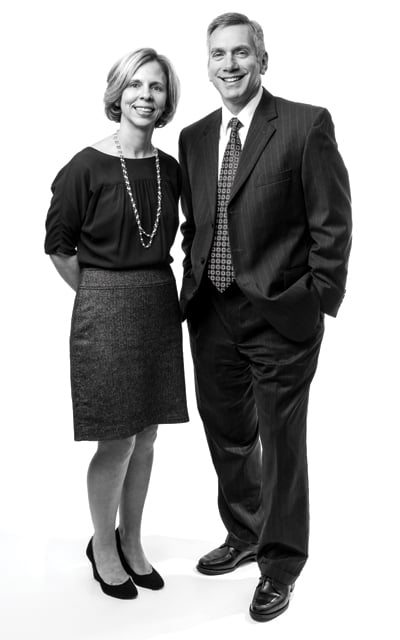 Hometown: Lafayette (Angie)/Baker (Cary), Louisiana
Alma Mater: LSU
When asked what sets Bryson Law Firm apart from others, the consensus between co-founders Angie and Cary Bryson is their compassion.
"Our clients are often in a pretty dark place, and being able to bring them through that and bring some joy back is just tremendous," Cary says.
"We want our clients to feel like they're part of a family," Angie agrees. "They can look back to and depend on us when things are difficult. Our staff listens, our lawyers listen, and we train them that way."
Angie cites their shared drive to help people as what drew them both to law. "I know it sounds very cliché, but, especially in our business, we see a lot of people who don't understand their problems and how they got there because taxes can become so complicated," she says.
According to the Brysons, one of their toughest cases was one of the most typical: a family illness affecting the operations of a small business. In this case, a father and son, both military veterans and former Baton Rouge police officers, had opened a body shop, but closed it down to attend to a family illness.
Despite a Congressional taxpayer's bill of rights, Cary says that revenue officers "routinely" ignore proper procedure, and the officer in this case was especially "relentless." While they successfully called her on ignoring applicable time frames and trying to turn a business liability into a personal liability, they were unable to prevent her from committing a wrongful seizure of the property, even after their clients secured a loan to pay for their liability.
On the day the Brysons appealed the revenue officer's actions, "within 30 minutes her supervisor called us and apologized and said [the property] would be released," Cary says. "He ordered her to deliver to us in person the release of seizure and apologize."
"That never happens," Angie adds.
"And now it's past the time," Cary says. "So now the government instead of getting eighty thousand dollars, the government gets zero dollars."
Cary notes that most of their clients understand their liability and are willing to pay, but that government officers won't let them work it out. Further, they run into difficulties with their competitors, which he says are frequently marketing companies that "take advantage of vulnerable people."
Despite these obstacles, Angie believes that there is always a solution to a tax problem, even if it isn't "painless."
"Just do something," Cary says. "[The problem]'s not going to go away, but it's not hopeless. There's a way to work it out."