Michel Varisco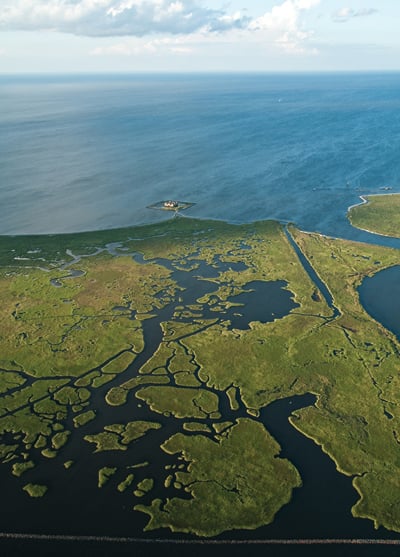 South Louisiana's swamps and coastal wetlands have lured generations of artists who have sought to capture their natural beauty on film and canvas. Photographer Michel Varisco is drawn to those same landscapes not simply to document their splendor, but to explore the balance and harmony in nature as it encounters the man-made world.
"As an artist," she says, "I study the human relationship to nature through architecture, engineered and wild environments. As a native New Orleanian, of primary concern to me has been the endangered wetlands and the cultures affected by the loss of these lands. My work celebrates nature and human ingenuity, while shedding light on both sustainable and unsustainable practices."
Inspired by the Great Depression photographers of the 1930s who documented poverty in America, Varisco has created portraits of Louisiana wetlands threatened by global warming, rising sea levels and destructive human intrusion. Yet her work is not a message of doom but one of hope and faith, faith that we have the capacity and imagination to restore "what seems permanently lost."
Varisco's interest in photography as a tool for social advocacy began as an art student while attending Loyola University where she earned a bachelor's of arts. She also studied art and photography in Italy and France before earning a master of fine arts degree in 1995 from Tulane University.
"I have always found a way to blend environmental and social justice in my work," she says. "I see art as a way to create a dialogue around important subjects and to break out of the status quo. Art asks the simple questions. Where it leads us is sometimes blissful, sometimes painful."
Over the last decade, Varisco's photographs have been included in major public and private collections from New Orleans and across the nation to Paris and Moscow. They also have appeared in local, national and international exhibitions and publications. She is a founder of the New Orleans Photo Alliance and mentors students at the New Orleans Center for the Creative Arts. In addition, she has received important grants for her work, including one in 2012 from the prestigious Joan Mitchell Foundation.
Blissful or painful, Varisco's work is a masterful and timely response to South Louisiana's endangered natural landscape. Her photographs are artistic and poetic responses to what she sees. They are to her what words are to poets. As such, they help ordinary people see the landscape around them through Varisco's lens.
In her series Shifting and Fragile Land, Varisco explores the destructive effects of rising sea levels and the positive results of coastal land restoration projects. In other images, she captures cloudy oil sheens floating in the Gulf of Mexico, the result of catastrophic blowouts like the 2010 BP disaster. We also see an oysterman living in complete harmony with the sea. In recent years, her work has taken her to China, Mexico, France and Italy where she photographed intersections of the natural and man-made landscapes.
Varisco began Fragile Land after Hurricane Katrina devastated the city and Gulf Coast in 2005.
"I was photographing everything to get my mind right," she says. "My home and city were wrecks. I photographed trees and the new life I saw coming back in them. That helped me feel more hopeful. It was so bleak for a long time. I found peace in City Park. It had become a wild savanna again. There was sadness in these images but there was also a metaphorical sense of hanging in there."
Photographing Katrina's destruction and nature's rebirth led to her Shifting series and a desire to learn more about the natural landscape and how to live in harmony with nature. Beginning in 2008, she spent weeks each season of the year, living on houseboats in the wild Atchafalaya Basin, photographing the landscape and life there. At times she chartered planes to fly over the coastal wetlands and mouth of the Mississippi to capture her images of the changing coastline.
"I took it in, absorbed it, treasured it," Varisco says. "I took photographs of Delacroix Island, Hopedale, Chauvin, Barataria, Lafourche Parish, Port Fourchon, Eads Jetties at the mouth of the river and oil rigs on the horizon off Grand Isle. I was thinking about the interaction between the engineered and the natural. Even the houseboats are engineered. As the series grew, I was having a conversation with nature."
Varisco's next adventure was on the Mississippi River. With the help of a river pilot friend, she rode aboard freighters steaming up and down the river capturing images for her new Fluid States series. There she took photographs under water as well as industries, forests and life along the river. Last April, she joined a group of adventurers canoeing down the Mississippi from Minnesota. She canoed a stretch of the river from Helena, Arkansas, to Arkansas City, paddling 50 miles a day for four days.
"We camped on islands, made coffee from the river and did everything we were taught not to do with river water," she says. "I gained so much respect for the river as the mother of all things. I'm in awe and can't get enough of the river."
Photographs in her Ruminations series are her immediate responses to the sculpted geometry of man-made architecture against the natural world.
For example, we see an automobile junkyard with crushed vehicles stacked one upon another on the edge of a cypress swamp. Another shows waves breaking on a beach with oil platforms looming on the distant horizon. In more uplifting images, she captures the precision of a plowed sugarcane field or a roll of hay lying in the middle of a pasture much like Claude Monet's famous paintings of haystacks.
In addition to photography, Varisco is a sculptor, printmaker, video and assemblage artist with a major installation, "Prayer Wheels for the Mississippi River," scheduled to be unveiled this November in New Orleans at the citywide art exhibitionProspect. 4. Based on Tibetan prayer wheels she saw during a 2013 visit to China, her multi-media installation is a meditation on how people have lived with the river from prehistoric times to the present.
"I am trying to find any discourse on how we live with nature," she says. "I don't have all the answers. It's a journey."
For more information about Varisco, visit michelvarisco.com.

Over the last decade, photographer Michel Varisco has documented Louisiana's receding coastal marshes. In her post-Hurricane Katrina Shifting series, she has sought to learn more about the endangered wetlands and the cultures affected by the loss of these lands. Images of Fort Proctor, once located on dry land, and the vanishing marshes in St. Bernard Parish are vivid examples of how far the Gulf has encroached upon the state's imperiled coastline.


In images such as the Mississippi River Bridge and Plaquemines Parish oysterman Judge Williams, Varisco documents human relationships to nature through architecture, engineered and wild environments. She approaches documentary photography as an art form not only to give viewers visual information but also to create an artistic response to the landscape. Varisco's images create portraits of Louisiana wetlands threatened by global warming, rising sea levels, and human intrusion. Her work also celebrates "nature and human ingenuity, while shedding light on both the sustainable and unsustainable practices."
---
Exhibitions and Events
Through Aug. 26
Alexandria
Alexandria Museum of Art, "Painting a Nation: Hudson River School." These singularly American Hudson River School landscapes explore the romantic and idyllic glory of rural 19th-century America, 933 Second St., 318-443-3458, themuseum.org
Through Sept. 3
Baton Rouge
Louisiana Art and Science Museum, through photographs and personal memorabilia, "Faces of the Flood" documents the devastation, survival and hope in the wake of the historic 2016 Baton Rouge flood, 100 River Road South, 225-344-5272, lasm.org
Through Sept. 3
New Orleans
New Orleans Museum of Art, "The Pride of Place: The Making of Contemporary Art in New Orleans," showcases a selection of 20th-century art recently donated to NOMA by prominent art collector Arthur Roger, City Park, 1 Collins Deboll Circle, 504-658-4100, noma.org
Through Nov. 11, 2018
Shreveport
R. W. Norton Art Gallery, "Enlist! Art Goes to War, 1914-1918." See what life was like in Shreveport and Caddo Parish during World War I and how artistic posters were used to urge men to enlist, women to become nurses and join the Red Cross, 4747 Creswell Ave., 318-865-4201, rwnaf.org
Through Dec. 9
Lafayette
Paul and Lulu Hilliard University Art Museum, Francis Pavy's compositions unfold as dream-like symbols or stories. "Lake Arthur Lotus" is a psychedelic swampscape created in the wake of the BP oil spill in 2011, 710 East St. Mary Blvd., 337-482-0811, hilliardmuseum.org