Low-key Brews in Lake Charles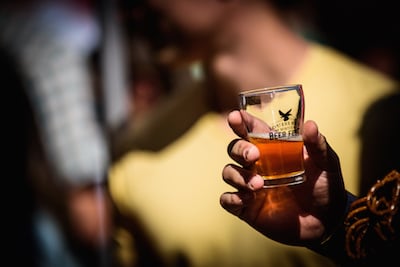 This year's Louisiana Winter Beer Festival in Lake Charles will feature 130 different beers from nearly 50 different breweries across the state.
This marks the third year of the festival and the first year of Beer Week, a week of beer deals and specials at restaurants throughout Lake Charles.
The Louisiana Winter Beer Fest Brewers Ball will serve as a pre-party of sorts the night before the festival.
Festival co-organizer Nick Villaume has noticed a significant increase in Louisiana breweries over the past year and is excited to show off the local growth at the festival.
"The first year we did the festival we had six Louisiana breweries and this year we're expecting 16 or more," said Villaume. "I work on a site called americancrafbeer.com, where we talk about the craft beer industry, and over the past 10 years we've seen a 20 percent growth in the industry. Louisiana was a little slow to catch on, but with our food oriented culture it was just a matter of time before we started leading the pack in beer."
During Beer Week, festivalgoers will get to enjoy brews exclusive to the event, such as a blood orange infused beer by Abita Brewing at My Place American Pub.
On the day of the festival, attendees will be among the first to taste a brew being launched by Lake Charles based Crying Eagle Brewing in collaboration with the band Foreigner.
The brew is an IPA called "Hop Blooded," and is a play on the band's hit song, "Hot Blooded."
The festival will take place in a courtyard outside the historic Calcasieu Marine National Bank in downtown Lake Charles, where beer connoisseurs can walk amongst the sampling tents to the tunes of bands like the Blaggards, a Houston based Celtic rock band, and several others.
Waitr and various food trucks will be on site for any beer lovers who get a hankering for some grub as they work their way through the tasting tents.
Villaume is eager to for attendees to get a taste of the different flavors breweries throughout the state have to offer.
"Each brewery in Louisiana is very representative of the part of the state they come from," said Villaume. "Great Raft Brewing out of Shreveport has a taste unique to the area, Courtyard Brewery has more of a New Orleans style and Bayou Teche Brewing is more Cajun-centric. They even have a brew specifically designed to be paired with boiled crawfish." 
Leading up to the festival, Beer Week will feature events like a beer tasting and a growler fill at Hokus Pokus Liquors, half priced beer specials at Botsky's Premium Hotdogs and a Saturday morning Zydeco Bruch with Rusty Metoyer  and Zydeco Crush at Sloppy's Downtown.
The night before the festival the Louisiana Winter Beer Fest Brewers Ball at Crying Eagle Brewing will serve as a thank you for breweries and merchants from out of town and a pre-party for festivalgoers. 
The ball is a low-key mix and mingle event that does not require ball gowns, but will provide plenty of food from local restaurants, paired with various beers and music from The Chris Shearman Experience.
Proceeds from the event will go towards non-profits from three different categories in the Lake Charles area, the Lake Charles Civic Ballet, The Literacy Council of Southwest Louisiana, Inc. and the Partnership for Healthier Southwest Louisiana.  
For more information about the Louisiana Beer Festival, Beer Week or the Louisiana Winter Beer Fest Brewers Ball visit lawinterbeerfest.com or call 404-822-5847.
---
Events
This afternoon reception at Basin Arts is your last chance to enjoy the work of Dee Dee Lantzy before it leaves the studio.
These works represents the beginning of Dee Dee's artistic journey. All ages are welcome.
Acadiana Symphony Orchestra presents a special evening of Sinatra's greatest hits with original 22-piece orchestra arrangements paired with a multimedia presentation paying.
The show will pay homage to Sinatra's legacy and 20th century scientific discoveries.
Come peruse over 100 vendors selling handcrafted items on Main Street in New Iberia. 
Food and beverages will be available for purchase.
This Baton Rouge city-wide charity brunch benefits the fight against breast cancer.
Proceeds go to Susan G. Komen of Baton Rouge and participating brunch spots include Capital City Grill Downtown, Mestizo and Galatoire's Bistro, among others.