Louisianians of the Year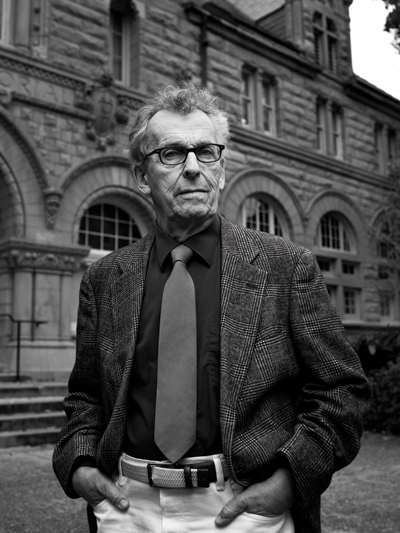 Every year we come up with a list of Louisianians of the Year, and every year it's difficult. There are so many worthy candidates. Our state is full of people who serve the greater good whether it's through art, philanthrophy, education, business, activism, health care, humanitarian efforts and many other fields that can enrich the Louisiana experience. Here, we've narrowed it down to eight individuals who have impressed us over the past year and make us look forward to seeing what they'll accomplish next. These are the people, representing our state's diverse small towns and big cities, who make us exceptionally proud to call Louisiana home.
---
Professor Peter Cooley
Louisiana State Poet Laureate; Tulane University professor, New Orleans
Professor Peter Cooley's accomplishments and accolades bespeak an immense career, one interested in the written word and its ability to capture intangible and observed truths.
With 10 books of poetry, three chapbooks, a former editorial role at North American Review and a current editorial role at Christianity and Literature, as well as the staggering 700 publications where his poetry has appeared, he's made quite the name for himself in the poetry world.
In July, all of Cooley's work added up to the Louisiana Endowment for the Humanities appointing him Louisiana State Poet Laureate (2015-2017). But learn a little about the writer's past, and one quickly discovers he's not from Louisiana. "I'm sure in fact there are some people who feel I shouldn't have gotten the poet laureate position because I'm not from here," he admits.
Cooley was born, raised and educated in the Midwest, where he stayed to teach at the University of Wisconsin – Green Bay, before accepting a position at Tulane University. He now serves as Director of Creative Writing.
Being born in the South certainly makes one a Southern writer, but that doesn't mean others can't contribute their legacy to the state's storied literary traditions. Cooley says, "The words have to come from within to express something one observes without."
Still, that didn't mean writing about Louisiana came so readily. "When I came here the process was very gradual," he explains. "I thought at first I would be able to write all these Southern poems, but it wasn't as easy as that. I had to percolate. It took a while for me to figure how to do it intuitively."
Like anyone with such a prolific repertoire, Cooley's work spans all manner of topics, but he does come back – time and again – to a sense of faith, of wonder. "I think a lot of the wonder in Louisiana is the wonder of the natural world."
He continues, "I think the light here is so beautiful and inspirational. It shines on things and it's as if they have a light from within that corresponds with the light outside." He picks up on that very theme in his poem "Café in Amsterdam," which finds the poet wandering the streets, amazed at the way people shimmer as though they themselves were the historic paintings he's just come from seeing.
Picking up on Louisianians' inner light, Cooley adds, "The other thing would be the warmth and generosity of people themselves, and the way they relate to one another as individuals in a very personal manner. They will sit down and tell you a story about themselves. People here have that narrative sense."
by Amanda Wicks
---
Linda Lee
Administrator at Mary Bird Perkins Cancer Center, Baton Rouge
Peering down through a pair of ruby-red reading glasses, Linda Lee's voice halts before she finishes reading from the handwritten note sent to her by a woman who recently toured the Mary Bird Perkins – Our Lady of the Lake Cancer Center, which recently completed a vast $23 million expansion and renovation aimed at treating patients better and serving them in new ways altogether.
"'My son would have been so comfortable here,'" Lee reads aloud. The letter's author had lost her child to cancer. That loss is as deeply embedded in the ink of her pen as it is in the tone of Lee's voice. In 2007, Lee, then an administrator with a local pediatrics program, lost her mother Barbara to metastatic renal cancer.
"I think the same thing," Lee says. "It's natural to think, 'Is my loved one in good hands? Are they good enough for my mom?' She received treatment elsewhere, but my mother would have been better off at Mary Bird."
It was her experience at her mother's side that inspired the LSU alum and native of tiny Buckeye, Louisiana, near Pineville, to join Mary Bird as its administrator in 2011. A year later, plans for revolutionizing the patient experience and environment at the Baton Rouge facility were well underway. "No one should have suffering pain [today]," Lee says.
With ample parking spaces, a concierge-like greeting and assistance down a paved walk below hanging flora and modern lighting, each detail of the patients' experiences seem like they are designed as the antithesis of the traditionally sterile medical aesthetic.
The treatment center is newly filled with vivid artwork, delightful distractions made by a dozen Louisiana artists that complement the programs and offer patients comfort through hands-on creative expression. A soaring atrium welcomes visitors, dominated by a joyously grand stained-glass piece by Baton Rouge glassworker Stephen Wilson which conceals a rainbow-bathed meditation room.
"You see stone, you see water, you see light – natural light," Lee says of the work done by Chicago architecture firm VOA. "It's filled with the theme of Mother Nature, which is something that everyone connects with."
As administrator, Lee oversees the work of roughly 500 employees. But what's more important, she says, is her privilege of connecting with each person who walks through the door. Hers is the business of empathy, and at Mary Bird, business is good.
With a 14,000-square-foot, 56-bay infusion suite – the largest in the state – Mary Bird treats 500 patients each day, and 3,000 that are newly diagnosed each year.
But Lee doesn't view them as patients. They are people who just happen to have cancer.
"We are not done with you when the cancer is gone – or your family," Lee says. "Our survivorship program remains there to help with re-entry into life without cancer. We are interested in the whole person."
Last year the 57-year-old stood atop Mount Marcy in the Adirondacks – a 20-hour trek, her first major achievement in her new hobby of mountain climbing. But her professional challenge has been even more rewarding: getting two longstanding legacy institutions to work best together. She is just the woman for the job.
"That blending of cultures and communication took time, but it proved easier than I expected once we put the patient in the center of the room," Lee says. "Suddenly, that was all that mattered."
by Jeff Roedel
photograph by Romero & Romero Photography
---
Steve & Michel Gleason
Activists and Co-Founders of Team Gleason, New Orleans
Since Sept. 25, 2006, former New Orleans Saints safety Steve Gleason has been hailed as a symbol of recovery and resilience, following his famous punt block during the team's nationally anticipated return to the Superdome after Hurricane Katrina. He retired from professional football in 2008 and married his girlfriend Michel, whom he had met at Jazz Fest a few years prior.
But in 2011, at just 34, Steve received the grim diagnosis of amyotrophic lateral sclerosis (ALS), a progressive neurodegenerative disease for which there is still no cure. Realizing that every moment matters, the Gleasons viewed the diagnosis as an opportunity to make a positive difference.
Later that year, Michel gave birth to their son, Rivers, and the couple, along with friends and family, launched The Gleason Initiative Foundation (better known as Team Gleason). The nonprofit organization aims to provide ALS patients with services and technology; create global awareness; and ultimately find a cure.
"I think staying productive and purposeful are avenues to overcome adversity," says Steve, who uses a wheelchair and speaks through a sophisticated communication device controlled by eye movement.
Team Gleason also joined the research initiative Answer ALS, "the largest coordinated and comprehensive research effort ever proposed for ALS," he says.
Named as a 2014 Sports Illustrated "Inspiration Of The Year," Steve also helped change the law. When Medicare initiated rule changes that negatively impacted those in need of a communication device, the nonprofit "worked closely with Louisiana and Washington legislators to author and pass the Steve Gleason Act," he says. In July 2015, President Obama signed it into effect, assuring that patients with ALS are given life-sustaining speech-generating devices. A feature-length documentary directed by J. Clay Tweel, Gleason, was recently accepted into the prestigious Sundance Film Festival and will premiere in Park City, Utah, on Jan. 23. It features several video journals that the Gleasons recorded, starting when Rivers, now 4, was in utero.
"It's not the life either of us envisioned for ourselves," says Michel. "But it's still a good life. We've lost our privacy, but in return we've received a lot of love and support from people who really care about us."
She's also not surprised by what they have accomplished. "He's a force. I never doubted [the foundation's] success. Our family and friends who got on board early are still working as tirelessly as they did in the beginning … we've done a good job staying true to our original mission: to support new technology that improves the quality of life for people with ALS and to get that technology to people who need it most."
Concludes Steve: "If a person is able to see meaning within their struggle, the frustration can be looked at as motivation and fuel, for a person's purpose."
by Sarah Ravits
photograph by Michael C. Hebert
---
Matt Stuller
Founder and Chairman of Stuller, Inc.; Philanthropist, Lafayette
"I am so blessed to live in America and to be able to do things you could have never imagined and to have the freedom to be able to do it," says 64-year-old Matt Stuller, the founder and chairman of Stuller, Inc., the largest jewelry manufacturing and distribution facility in North America, headquartered in Lafayette.
Revered as an industry and philanthropic icon, Stuller credits his company's 46 years of success to the quality and dynamics of his Acadiana employees. "They are loving, friendly, respect each other and work hard, yet love to have a good time. This is what really makes Stuller, Inc. stand out from the rest in the country."
At Stuller's core is his Christian faith and respect for people. "I've always worked so hard to be fair and kind, and to look at every individual as a miracle because they are special in God's eyes."
Those same characteristics run deep in The Stuller Family Foundation, which has granted Acadiana schools and nonprofit organizations tens of millions of dollars in an effort to, as Stuller says, pay it forward. "There is a never-ending need to help society be better, and that is why we love helping churches, schools and the pro-active side of our society."
Although Stuller holds an endless list of prestigious appointments and titles on state, national and international levels, close to this Lafayette native's heart is his involvement in One Acadiana, the University of Louisiana at Lafayette, and Project Front Yard, a Lafayette anti-litter campaign. "We live near the Gulf, the [Atchafalaya] Basin and the beautiful marshes. We have an incredible abundance of life created by God, yet we see no respect for where we live. We have a long way to go."
And behind it all is the intangible and emotional business of precious metals and precious stones. "Jewelry is about touching the senses. I wouldn't want to be in any other business, because it is always very positive and special. We're taking the most beautiful things that God has ever created on this earth and celebrating life's events with those things. It's probably one of the greatest industries. I love the business."
His is a story of humble beginnings. Stuller started by selling jewelry out of the trunk of his car throughout south Louisiana at the age of 18. Stuller was bitten hard by entrepeneurship bug even as he worked at a Lafayette jewelry store during high school.
The same perseverance and powerful passion overflows today at Stuller, Inc., which thrives on staying ahead of the curve in the rapidly changing industry which is in the midst of a new digital era.
An Eagle Scout, Stuller says his life mottos include "Don't be blinded in the future by your successes in the past" and "Be prepared: No matter what happens in life, you always need to be prepared."
As for the future, Stuller doesn't plan on slowing down. "I hope that I have built a business that [offers] careers that will be everlasting for multi-generations and families," he says.
by Suzanne Ferrara
---
Bishop Fernand J. Cheri III, OMF
Auxiliary Bishop, New Orleans
My grace is enough for you, for in weakness power reaches perfection." The scripture is pulled from 2 Corinthians 12:9, and while few may recognize the scripture itself, many will recognize the man for whom it has been a beacon: Bishop Fernand J. Cheri III.
Bishop Cheri, a Franciscan Friar of the Sacred Heart Province (St. Louis), has spent a lifetime in service as not only a priest, but also an educator and an archivist – a path that has taken him from one parish to another here in Louisiana, and beyond to his most recent appointment as campus minister at Quincy University in Quincy, Illinois. But that three-year stay has come to a close. Recently, his decades of work in service to others – some focusing on Black Catholic worship and liturgy and others in education – resulted in a papal call for him to return home.
In early 2015, the Vatican announced that Pope Francis had chosen Cheri to serve in a greater capacity as the new auxiliary bishop of New Orleans, a milestone in a 36-year career that he began in 1979 as a parochial vicar at Our Lady of Lourdes. He continued his career at St. Francis de Sales in New Orleans, St. Joseph the Worker in Marrero and St. Vincent de Paul in Nashville.
Cheri, a graduate of St. Joseph Seminary College who holds a Master's of Divinity from Notre Dame Seminary and a Master's of Theology from Xavier University, has also left his mark in the world of education. He spent years teaching at St. Augustine High School in New Orleans, Hales Franciscan High School in Chicago and Althoff Catholic High School in Belleville, Illinois, and served as an assistant campus minister at Xavier University in New Orleans before becoming Director of Campus Ministry at the aforementioned Quincy University.
Cheri is also an audiophile in his own right. Nationally renowned as an archivist of Black Catholic religious music, he has built a collection of 4,000 recordings of gospel music – including vinyls and tapes – and files of gospel sheet music and books. In addition to his work as the editor and compiler of the seven-volume 1994 Gospel Music Discography and the 9-volume 1997 Gospel Music Discography, Cheri is the author of several articles and books about black Catholic liturgy and worship including "Mass of Thanksgiving" (1979) "Black Catholic Liturgy" in Tell It Like It Is (1982), and "Sweet, Sweet Spirit: Prayer Services from the Black Catholic Church" (2006). In addition to his archival work, Cheri is a convener and facilitator of "Go Down Moses" Retreats for African American Catholic Young Men and has worked with KUJENGA Youth Leadership Programs in Chicago and St. Louis/Belleville area.
In 1984, he began the Black Saints Celebration, an annual celebration highlighting the contributions of the Black Catholic community to the Catholic church and society as a whole, which he directed until 1991.
Now that Cheri has returned to New Orleans, though he is humbled by his new post, he is also excited about the possibilities and hopes to continue to make an impact on New Orleans' Black Catholic community and the city as a whole using the Pope himself as an example: "He's awakening some significant aspects that people need to address," Cheri said. "He's calling us to be more reflective of the Christ we worship."
by David T. Baker
photograph by Romero & Romero Photography
---
John Bel Edwards
Governor of Louisiana, Amite
tanding before the election night crowd in New Orleans' Hotel Monteleone, Governor-elect John Bel Edward began his victory remarks by saying, "Is this a great state, or what?!" After acknowledging his hometown pastor who had just offered a prayer, Edwards continued, "We are supposed to glorify God in all that we do, so I will say it right now: To God be the glory."
We're not sure, but some sources say that God might have been on Edwards' side all along, beginning way back when he had the inspiration to include his family name Bel in his official moniker which would have the advantage of separating him from another Louisiana politician named Edwards. Divinity may have also helped the campaign, which was viewed from the beginning as a long shot, though circumstances would break right.
There was both tenderness and political messaging in Edwards' next statement: "I want to thank my beautiful wife. Yes she is a public school teacher and she is the last person I talk to every night.
A native of Tangipahoa Parish whose most famous native prior to his election was Britney Spears, Edwards is from a political clan that traces back to a grandfather who was elected sheriff in 1927. The Governor-elect's brother is the current sheriff. John Bel represented the town of Amite and surroundings in the state house of representatives.
His politics is a synthesis of the state's political profile. He is a registered Democrat, which is what the state used to be, but a conservative at heart, which is what the state is. Shortly after his election he told a business group that he will govern "from the middle" which is where the economically and ethically cleavaged state needs him to be. He is a lone Democrat who will have to dance with Republicans. That might not always be pretty sight, but it might make politics a little less partisan.
On the night of his election JBE (as we will come to know him) included in his list of thanks his mom who he said had been a "Charity Hospital nurse who taught us all about compassion for our fellow human beings."
That a son of a former Charity Hospital nurse is the state's new governor touches the heart of classic Louisiana populism. With a state government in need of repair he should be not only the dispenser of compassion but a recipient as well.
by Errol Laborde
photograph by Patrick Dennis, courtesy The Advocate
---
Jon Batiste
Bandleader, the late show with stephen colbert, New York City via kenner
The Kenner native jazz musician, Jon Batiste, earned his chops thanks to a large musical family that served as inspiration for the HBO series Treme. He attended the prestigious New Orleans Center for Creative Arts and went onto Juilliard School in New York City, creating and honing his hybrid style of jazz that draws on his geographical exposure and flare for contemporary sounds.
Most well-known for playing the melodica – a mash-up between a harmonica and a keyboard – Batiste's musical style encompasses kinetic performance, public space and bringing people together through song.
It was that kind of hodge-podge nature and the passion it naturally involves that attracted TV host Stephen Colbert's attention. The newly appointed host of CBS's The Late Show invited Batiste to be his bandleader. Speaking with Katie Couric, Batiste explained how the collaboration actually began when he and his band, Stay Human, appeared on Colbert's former show The Colbert Report. "That was the first time we knew there was an energy," Batiste said about the spark between himself and the host. "I felt there was a very, very fun, kind of weird, but awkward-in-a-good way interview."
In recent years, a shifting late-night TV landscape has removed the staid and, at times, stuffy house bands and replaced them with a modern sensibility. Between The Roots on The Tonight Show and comedy musician Reggie Watts on The Late Late Show, Batiste was yet another breath of fresh air intended to shake up what could be done with music in the late-night hour. Yet, it wasn't entirely clear how jazz would fare.
But so far it's been well-received by the television host and his audience. Batiste's energetic performances, which always feature him jumping up from the piano to grab his melodica and interact with the audience, bring a refreshing physicality to a job where most musicians stay in place. It certainly has Colbert dancing.
Batiste and Stay Human promote social music, drawing from traditional New Orleans street music. "The culture in Louisiana is a unique confluence of many different things that are inspiring to me," Batiste tells Louisiana Life. "When you hear me speak, the clothes that I wear, music that I play – [it's] all influenced by Louisiana – I don't plan on changing anything about who I am in this new spotlight."
Nor has his ambition stopped. The newfound celebrity says, "The challenge is to maintain a sense of hunger and desire to get better. You can easily coast on this for the rest of your career, so you must maintain a sense of tenacity of the craft. The reward is a huge platform to develop music, reach mass audiences and still have other creative outlets outside of the show."
by Amanda Wicks photograph by William Hereford
---
Nicole Vasquez
Teacher of the year, Shreveport
hirty-year-old Nicole Vasquez lights up and smiles broadly when she talks about her students. And it's not surprising: Vasquez is notorious for her smile at Captain Shreve High School, especially when she's in the classroom.
The Bossier City resident was recently named Louisiana's 2016 High School Teacher of the Year, through an awards program co-sponsored by the Louisiana Department of Education, Dream Teachers and the Louisiana Association of Principals. Vasquez, who teaches English, Liberal Arts, Philosophy and Multi-Cultural Perspective, was chosen from dozens of nominees.
The program honors exceptional teachers who guide and motivate their students to higher levels of academic achievement. While she's humbled by her selection, Vasquez thinks her profession includes a number of people equally qualified. "There is nothing that makes me special or different from all the rest of the teachers in public schools across the country because we are all working to the same end," she says. "We are all trying to get the same results and get students prepared for life, but I might do it with a bigger smile on my face."
As you talk to Vasquez, her deep love for teaching is instantly apparent. "I think I am very passionate about working with teenagers, and I adore my students. I believe when I get excited teaching, it gets them excited too. I love it!" Vasquez says her genuine smile also serves as a valuable teaching tool. "I smile the whole time, and they don't realize the material is so hard, and at the end of the year they're amazed at all they have learned."
Vasquez puts herself in their shoes by remembering what it was like when she was in high school, and she values the rapport she has with her students. She says her students particularly love classroom discussions that sometimes get a bit intense. "I argue with them all the time and push them and try to get them to understand things in a new way. Not everything is right and wrong and black and white."
She credits her parents for instilling in her the love of learning. "My parents emphasized education and made learning so much fun. I could ask them questions. My dad would bring home tons of books from the library, and I realized early on that I enjoyed the process of teaching people and sharing information." Now she hopes to pass on the same love for learning to her students.
Vasquez thinks the sky's the limit for her students. "They're the next big thing," she says. "They are the ones that are going to be making policy decisions that will affect my income. They matter and will have to deal with the world at large."
Nicole Vasquez has never considered any other career, and says she has no intentions of ever leaving the classroom. "Yes, there is stress being a teacher but the happy, positive moments outweigh the paperwork and the stress. And as long as that is happening, I am staying. I love what I do."
by Suzanne Ferrara
photograph by Romero & Romero Photography