Louisiana that was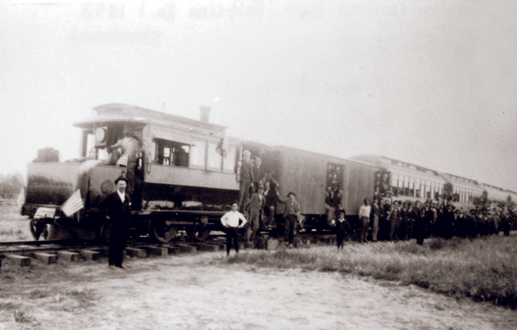 So you've learned by browsing back issues that this Louisiana travel column has been around awhile –– ever since we got our first "attractions" to publicize, like Driskill Mountain and the Kisatchie Wold –– but it turns out it's not the oldest.
Martha R. Field, a young widow who wrote weekday news stories and weekend features for New Orleans newspapers in the 1880s and '90s, used a nom de plume, as the gentler gender was required by convention to do in those days, and hers was Catharine Cole.
Catharine Cole's book, a collection of her favorite features and bits of fiction, compiled and published shortly before her untimely death, has been around for a century and gives ample examples of her European travel stories, with all the depth of insight and heights of skillful expression that make her travel writing so riveting, but there's not a word about her home-state adventures.
Only now do we learn, thanks to Louisiana Voyages: The Travel Writings of Catharine Cole, presented by the University Press of Mississippi, that she roamed Louisiana from top to bottom during the 1880s and early '90s, publishing almost all of her impressions of our cities, small towns and virtual wilderness areas in the Daily Picayune. There, at the newspaper known for nurturing the talents of such promising writers as Lafcadio Hearn and Mollie Moore Davis (later, even William Faulkner), she worked for a boss who had an eye for greatness: Eliza Jane Nicholson, the only female owner-manager of a major paper in the world at that time and herself a writer of poetry under the great pen name Pearl Rivers.
Catharine Cole, it seems, was endowed with double vision of sorts, the eye of an artist to see beauty in a tangled swamp or dense virgin forest but also a no-nonsense eye for the cold realities of land prices, farm-yield statistics and board-foot timber estimates. With two such eyes and a true gift of verbal artistry, she was uniquely qualified to explore and present her largely unknown state to the public. That public was not only Orleanians and not just the statewide audience of the Picayune's weekly mail-out editions but also –– by virtue of article-exchange agreements among all major papers –– literate adults throughout the South.
And she had another qualification: true wanderlust. The young writer actually yearned for the rhythms of rails and paddle wheels beneath a Pullman bed or steamboat-cabin cot. Despite an innate fear of woodland critters and even of horses, she was gleeful at the prospect of logging a 35-mile day by carriage or buckboard through the utter unknown, there to find –– despite the sophistication and sensibilities of a seasoned European traveler –– poetry in the solitude, beauty in the quaintest cabin and joy in a simple supper shared with hosts who perhaps had never seen a city.
Imagine traveling through a practically unpopulated district, miles from a train station, where a rainstorm could turn a road to mush in minutes, through a parish that had no telephone or telegraph service. To imagine such isolation is to comprehend not only the challenges faced daily by the writer but also the magnitude of her service to readers and subjects. Consider that a parish beset with those travel conditions was virtually as remote from its next-door parish as it was from Orleans, so that value of her gift of "armchair access" to readers around the state was exceeded only by the exquisite sensation she gave to citizens of the subject place, realizing that their little world was no longer utterly unknown, no longer quite so remote.
Consider for instance the pleasure and pride of Sabine Parish, with its population of fewer than 50 per square mile, when this big-city newcomer paints an idyllic scene of the comfort and thrift of a typical Sabine farmhouse –– its fields, orchard, melon patch and peaches drying in the sun –– when she recognizes the beauty and value of Sabine's enormous trees; the "easy and comfortable living" provided by its farms; the "cultured, wealthy and most hospitable people" in the parish seat; the grand school for boys and girls at Fort Jesup, staffed by graduates of Sewanee's University of the South.
In all, Louisiana Voyages takes us with Catharine Cole through 18 parishes, where crossroad towns and parish seats are lovingly but frankly described, interspersed with views of life in woodlands, swamps, even islands.
Even in a city (she refers to Shreveport as Louisiana's only other true city of that era), she has an eye and affection for countrymen-come-to-town, such as the rosy-cheeked lady met at the state fair, "smelling of honest soap and water and sweet as country air could make her," gushing with pride that she has recently earned enough with her butter and eggs and Jersey pigs to buy a piano. This pleases the scribe to no end, and, with her eyes ever peeled for evidences of culture, that column goes on to boast (nay, gloat) that her state's second city has a grander opera house than any other to be found in the South outside of New Orleans.
That was in November of 1888, a year she largely dedicated to train trips around the state, filing her stories mostly on such sizable towns as Morgan City, Lafayette, the Capital and Natchitoches but also on Timbalier Island and Isle Derniere. In St. Mary Parish she described a dreamlike scene of white-shirted Acadian oarsmen converging with their families for a wedding at Grand Lake.
She would return to St. Mary in 1892 for a visit to Franklin –– the entire town but especially its Main Street clustered with Greek Revival homes –– visiting the plantation of newly elected Gov. Murphy Foster a mile below on Bayou Teche.
Here as ever, beyond the beauty, she seeks and reports data on crops and prices, admires the progressiveness and inspects Donaldson Caffery's year-old million-dollar sugar refinery.
A trip to Lafayette gives our adventurer time for some R & R at the small hotels and already-famous dining rooms of the region, including St. Martinville, New Iberia and Abbeville, and in Natchitoches she revels in the handsome Catholic cathedral and substantial Episcopal, Methodist and Baptist churches, in the beautiful and progressive Normal College (today's Northwestern State) and in such social and cultural pursuits as the town's frequent concerts and Shakespeare Society performances.
Catharine's next and final period of frequent travel took place through 1891 and '92, once again visiting the far corners of the state, praising the good and chiding the shortcomings as appropriate, sometimes glorying in the pleasures and comforts of her carriage rides and accommodations, sometimes facing hardships of travel that would have turned back many a man.
On her visit to the northeastern parish of Morehouse, she is at one moment luxuriating in the "dainty" Campbell House inn of Bastrop, in the next scene enjoying a lighthearted buggy ride through meadows and cotton fields to "pretty and thrifty" Oak Ridge, and the next moment plunged into the dark and dangerous realm of the Boeuf River Swamp on a jinxed and treacherous trek to the seat (then) of West Carroll Parish (today's community of Floyd). Her subtle humor and deadpan delivery transform this most hair-raising of her adventures into the funniest column of them all.
The horrors of the Boeuf were described so beautifully that readers must have longed to go there and, with any luck, perhaps even meet a kinsman of Catharine's polecat. The terrors of the story end when she and her driver emerge from the swamp at nightfall, anxious for the lights and comforts of the parish seat, learning when they ask directions that Floyd was indeed straight ahead but that there was a real danger of missing it in the dark.
As her travels and occasional travails continue, she has another brush with fate when a panicked horse nearly capsizes her little Atchafalaya ferry on a trip to Marksville; buys a beautiful quilt in the "golden-green wonder-world" of Vernon; finds and falls in love with "old France" at New Roads; follows the River Road through St. James Parish; and takes her daughter by carriage to see the cabins, palaces and sugar refineries of Bayou Lafourche.
The writer's final island trip took her down the canals and bayous of the New Orleans Westbank and out through Barataria Bay, passing the now-legendary Chinese and Filipino shrimp-drying platforms in the bay and the lonesome ramparts of abandoned Fort Livingston on Grand Terre Island, on the way to Grand Isle and its neighboring fishing village of Chenier Caminada.
The oak ridge, or chenier, called Caminada actually forms a peninsula, extending from a point on the coast and out into the waters of Caminada Pass, serving today as the Highway 1 approach to the Grand Isle bridge.
Summer was over, tourists were gone, and the men of Grand Isle and the chenier were preparing to depart for their winter fishing grounds. The Picayune articles record that the columnist visited every lady of Caminada (known in that time and place by their husbands' names –– Madame Pierre, Madame Emile, Madame Clement), enjoying coffee, breads and conversation.
The peninsula, with its population of 1,300, was a picture- postcard village of weathered but clean gray cottages, standing shoulder to shoulder and alive with zinnias and marigolds.
Orange trees shaded a bread oven in every tiny yard, and the pass was lined with schooners and luggers bearing such names as Buffalo Bill and John L. Sullivan. Each of the nine grocery/general-merchandise stores had a ballroom attached where the villagers danced and ate gumbo and boiled mullet.
Over this scene rose the Gothic spire of Our Lady of Lourdes church with its "sweet-tongued organ," and on the gate of its little cemetery hung the sexton's sign, which read, "He who is in want of a grave must come to me."
One year after that article appeared, the Picayune reprinted it as a memorial to the people of the peninsula. Death and destruction had been severe on Grand Isle during the hurricane of Oct. 1, 1893; the village of Chenier Caminada had vanished.
Catharine Cole's excursions of 1891-92 were her last in Louisiana, and, after spending most of 1893 covering the Chicago World's Fair and returning to New Orleans briefly, Martha Field left for Europe in search of a cure for the apparently Parkinson's-related disease that ended her life in 1898. She was 43.
Louisiana Voyages: The Travel Writings of Catharine Cole, its author listed appropriately as Martha R. Field, is available in hardback and trade-size softback from bookstores or from the University Press of Mississippi (www.upress.state.ms.us). The editors of these 115-year-old articles are Jack and Joan B. McLaughlin, both retired from the English Department at Clemson University. Their chapter introductions and footnotes –– explanations of the 19th-century vernacular and significance of the people and places named in the text –– add considerably to the understanding and enjoyment of these unforgettable visits to a Louisiana we never knew.