Louisiana Riverfronts: Alexandria-Pineville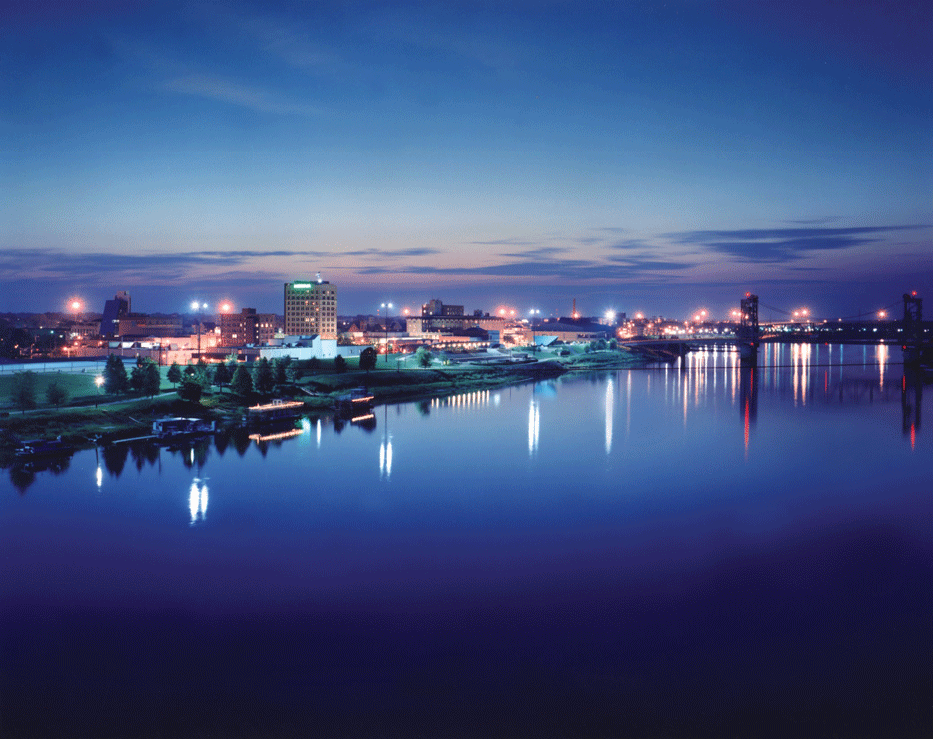 From the waterfronts of Shreveport and Bossier City, which we visited last issue, it's 125 miles southeast along Red River to another pair of river cities, Alexandria and Pineville, where you will behold the fruits of the labors of two preservation- and beautification-minded mayors. Both have been busy revitalizing and face-lifting their respective cities since taking office, and both began that work at riverside.
Along the west bank, Alexandria Mayor Jacques Roy presides over an atmosphere favorable to the renovation and reuse of vintage buildings that has Main and Third streets sparkling, while Pineville Mayor Clarence Fields is using ambitious floral and landscaping programs –– not to mention shrewd relocation of key government functions to buildings along Main Street –– to boost usage of that riverfront district.
And here's some breaking news that will double the dazzlement of both riverfronts: The gem of the west bank has always been the historic (but historically beleaguered) Hotel Bentley, but Roy has become an effective catalyst in negotiations to place that landmark, as well as an adjacent hotel and Alexandria's big riverside convention hall, into the hands of a private holding and management company that will ensure renovation, continued care and operation of all three while unburdening the city of costly management responsibilities. Across the river, Fields is paving the way (with meager funds but a wealth of energetic local volunteerism) for at least a part-time opening, of a new state historic site (ready for business but mired in state budgetary woes) that for the first time in history will provide public access to Pineville's two major Civil War landmarks, Fort Buhlow and Fort Randolph.
Alexander's Town
In 1785 Alexander Fulton of Pennsylvania received a Spanish land grant in today's Rapides Parish, facing the old Post du Rapides across Red River. In 1805 he and business partner Thomas Maddox drew up plans for Fulton's namesake town of Alexandria. It was incorporated in 1819, and it received its city charter in 1832.
Today the founder's name is also shared with the seven-story Alexander Fulton Hotel and Convention Center, which, like the adjoining Alexandria Riverfront Center, offers dramatic views of the river and marks the upper end of the riverfront's business, arts and entertainment district.
That hotel-convention complex, with a combined 83,000 square feet of event space, is also a good place to start a walking tour, so begin by heading downstream along the leveetop (or the paved path at water's edge), passing a pleasant pavilion and big Riverfront Amphitheatre.
From the Bentley (with its "Ike slept here" historical marker), Main Street leads beside the levee to the Louisiana Purchase-related murals of City Hall, the Alexandria Museum of Art in the 900 block and another attraction for art- and architecture-lovers called River Oaks Square at 1330.
The Museum of Art opened in 1977 in the handsome old Rapides Bank (1898) and then added a spacious wing in 1998 that doubled its size. In the Louisiana Purchase Bicentennial year of 2003, it became America's site for viewing art and antiquities of the visiting "Heart of Spain" exhibit, and one small gallery still displays frescos, mosaics and other artwork from that once-in-a-lifetime exhibition. Other galleries present visiting exhibits and permanent holdings of the museum, with some spaces reserved for Louisiana art (such as the Clementine Hunters in the Museum Cafe) and Louisiana folk art. The gift shop is dedicated exclusively to the contemporary art of Louisiana and the region.
Four blocks farther along Main, River Oaks Square is alive with art and artists, fulfilling the wishes of the local Bolton family who donated the home of their banker ancestor, James Wade Bolton, to the city as a center for contemporary regional arts and crafts. In that capacity, the 1899 Queen Anne mansion opened in 1984, as interesting to some for its lush woodwork, pocket doors and 15-foot-high ceiling moldings as for its display galleries of local works. Thirty resident artists are assigned personal studio space in the old home or large studio annex, and they can be observed at work by visitors during regular hours. Much of the art thus produced (such as the fanciful mobiles of Myron Clover) is available for purchase in the Gallery Gift Shop.
Adjacent to River Oaks, the home at 1327 Third St. was moved to this location from the path of Interstate 49. This circa-1890 house (on the National Register of Historic Places) was the 1902 birthplace and boyhood home of writer Arna Bontemps, a major figure in the literary, theatrical and jazz movement of New York's Harlem Renaissance in the 1920s and '30s. His essays, poetry, short stories, plays and novels eventually filled more than 20 books, and this landmark, preserved in his honor, opened in 1988 as the first African-American museum in Louisiana.
Walk a block left on Third to 1403, the children's wonderland called the T.R.E.E. House. Designed to be a model for the "authentic learning" of math, science, social studies and the humanities, it's best described as an activities center for children as well as an environment for families that "cultivates and enriches the soil for lifelong learning."
Double back on Third toward the Bentley to pass such points of interest as the Coughlin-Saunders Performing Arts Center at 1202, Fulton Mini-Park (featuring the cornerstone of the old City Hall) and the new and already-famed Diamond Grill at 924. Interspersed with these, many stores and offices on Third Street (of art deco and older vintage) still fulfill their original purposes, and the brick-paved street frequently becomes the setting for lively workday or weekend festivals and events.
The Performing Arts Center is a composite of seemingly magical stages and a 614-seat auditorium where contemporary and classical theater, music and dance entertain Rapides Parish and its visitors on a regular basis.
The Diamond Grill derives its name from Schnack's Jewelry, which occupied this art deco beauty from 1930 to 1996, and now, after a thorough restoration that won the 2006 Louisiana Preservation Honor Award, it has begun its second career as a setting for "high-end casual dining."
Landmarks of Fourth Street include St. Francis Xavier Cathedral (1898) at 626, a side view of Emmanuel Baptist Church (begun in 1898, facing Jackson Street) and the Family Playhouse children's theater at 1101 Fourth.
From Fourth, turn west on Washington Street to the building at 503, a 1907 library (on the National Register of Historic Places) that is now the home of the Louisiana Historical Museum on the first floor and the Alexandria Genealogical Library on the second. The upstairs collection houses 11,000 volumes plus electronic and vertical files filled with regional genealogical data, and the Historical Museum displays treasures of Louisiana in war and peace.
Bayou Rapides
Some of the region's first plantations sprang up along Alexandria's "other river," scenic Bayou Rapides, the oldest and best known being Kent Plantation House at 3601 Bayou Rapides Road (Louisiana 496, just off MacArthur Drive). Built on a Spanish land grant by Pierre Baillio II in the late 1790s, the West Indies-style manor rests on high brick piers and features the hipped roof and bousillage walls (a mud mixture packed between beams) typical of Louisiana colonials.
The home is filled with period furnishings, and appropriate dependencies, collected and arranged behind the big house, include the 1840s brick-between-posts kitchen, an 1820s milk house, two brick slave houses, a wonderful double-pen barn used to display agricultural implements and an 1820s carriage house with incredible 52-foot beams. Kent House offers hourly tours (but it's closed on Sundays), and from November through April, guests lucky enough to visit on Wednesdays can enjoy a bountiful lunch in the old open-hearth kitchen.
It's 5.2 miles farther along the bayou (passing the site of colonial Cedar Grove, private) to Tyrone Plantation at 6576 Bayou Rapides Road. Look reverently upon this ground, birthplace of LSU and once home of the "Father of LSU," Gen. George Mason Graham.
Tyrone offers one-hour tours by appointment but, better yet, also offers the perfect bed-and-breakfast experience.

Gen. Graham built his home in 1842 on this 3,200-acre plantation and then marched off with Zachary Taylor at the outbreak of the Mexican War, returning to find himself almost immediately involved in the movement to establish a state university.
Known as land grant colleges, all public universities of states admitted to the Union after 1803 were allowed to raise capital by selling federal lands. By 1855 Louisiana had completed the sale of 46,080 acres to finance its "seminary of learning," and in 1852 Rapides Parish was selected as the site (because, some say, of the influence of Gen. Graham). The general then spearheaded the selection of the superintendent and faculty for the school, seeking advice from old contacts in the Army and at the Virginia Military Institute and West Point, both of which he had attended. One such advisor was his half-brother, Col. R.B. Mason, who recommended a young officer he had once commanded named William Tecumseh Sherman. Maj. Sherman, selected to serve as superintendent and professor of engineering, arrived in Rapides in November 1859.
By that time war clouds were gathering, and although Gen. Graham was financially ruined by the war, he remained at Tyrone for life and now lies in Rapides Cemetery, Pineville's oldest.
Today the manor is owned by retired Judge Rae Donaldson Swent, a historian and preservationist responsible for the nominations of many local districts and landmarks for National Register status. For tours or bed-and-breakfast accommodations, call (318) 442-8528.
Pineville
The LSU story continues on the east bank, so cross Red River on the U.S. 71/165 bridge from MacArthur Drive, and, skirting Lake Buhlow and its recreational parks, fork left on 71. Pass the scenic grounds of the old VA Hospital, find the U.S. Forest Service-Kisatchie Forest headquarters on the right, and the next driveway is your entrance to the original LSU site.
These grounds were purchased in 1853; the cornerstone of the Louisiana Seminary of Learning was laid on May 12, 1856, with Gen. Graham giving the principal address; and the three-story building was completed in 1859. On Jan. 2, 1860, Sherman presided over the opening of the first session, which was successfully completed, but in the midst of the second session Louisiana seceded, with the 70 students and most faculty departing to join units in Louisiana or Virginia. Sherman resigned on Feb. 19, bid farewell to Gen. Graham, rejoined the Union Army and eventually went marching through Georgia.
The seminary reopened on Oct. 2, 1865, under the presidency of David French Boyd but fell victim to a kitchen fire in 1869. "Ghost walls" mark the perimeter of the building, and fragments of two brick walls remain, all surrounded by a pleasant walking trail lined with historic markers. When the school relocated to Baton Rouge in 1870, it acquired the name of Louisiana State University and Agricultural and Mechanical College.
From the old downtown Red River bridge (the original site of the Post du Rapides), Main Street leads through the Pineville riverfront, and within a mile, from the ancient riverside Rapides Cemetery to the National Cemetery established in 1867, it connects a total of five historic burial grounds.
One of the five can be found at old Mount Olivet Chapel, 335 Main, the little Carpenter Gothic church built in 1857 and dedicated in 1859 by the first Episcopal bishop of Louisiana, the famed former West Pointer and later Confederate general named Leonidas Polk. Several Tiffany windows grace the church, and another window presents stained-glass scenes from Polk's life, which ended at the battle of Pine Mountain, Ga. The chapel is open for 10 a.m. services on Thursdays.
Nearby at 731 Main, enjoy a free tour and a good 15-minute historic film at the Old Town Hall Museum, the only Louisiana museum dedicated solely to municipal government. Its fire station still houses a flawlessly restored fire truck and chief's car, the jail cells are still as uninviting as ever, and the old courtroom is still used for city and civic meetings.
Now drive to the giant American flag at the river end of Main Street from which Riverfront Street leads upstream to the new state historic site encompassing the remaining earthen ridges of Fort Randolph and Fort Buhlow. A big breezy deck overlooks the river at the site of Bailey's Dam, and once it's open, nature-lovers as well as history buffs will enjoy the long boardwalks surrounding the forts that were erected to withstand a second Union invasion that never came.