London Calling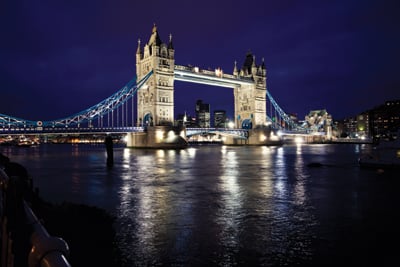 Are you stuck on the notion that a honeymoon should be comprised of white-sandy beaches and palm trees? Think again. With the announcement of British Airways' nonstop service from New Orleans to London, there's no better time to visit England's capital city. With its rich history, literary ties, exemplary cocktail programs, and fine dining — London is tailor-made for newly-married New Orleanians. Thanks to the new service, honeymooners can fly out of Louis Armstrong International Airport four days per week (increasing to five days in October of 2017). Here, your guide to the perfect honeymoon across the pond.
Where to stay: Located in the ultra-posh Mayfair area, there's no place dreamier than the iconic Claridge's Hotel. Often referred to as an "extension of Buckingham Palace" due to its connection to royalty, this hotel exudes classic British luxury with a stunning foyer and timeless suites (order breakfast in bed to allow more time behind closed doors), along with the finest afternoon tea in the city. Take it from Spencer Tracy who said, "When I die I don't want to go to heaven. I want to go to Claridge's." Just a stone's throw away is Brown's Hotel, an equally opulent property where couples can steal away to Donovan Bar's "naughty corner" and sip a gin martini. For the cool kids, scoot over to The Zetter Townhouse Marylebone. This tony 24-room Georgian townhouse was once home to poet Edward Lear (you can rent his loft complete with a private entrance and al fresco bathtub), and has eclectic interiors — think grand Victorian beds mixed with taxidermy — along with a top-notch cocktail program from molecular crackerjack Tony Conigliaro.
What to eat (and drink): Duck & Waffle is situated on the 40th floor of the Heron Tower, offering some of the best views of the city. Snag a two-top window table and take in a sunrise with a glass of bubbly and a spicy ox cheek doughnut. The restaurant is open 24-hours a day, so a sunset dinner of oysters and the namesake duck confit and waffle is just as nice.
Chiltern Firehouse is the André Balazs hotel built within a refurbished fire station, and home to the hottest restaurant in the city (keep an eye out for Kate Moss). Here lies a "love snug" with seating for two, its own fireplace and direct bar access. The tucked-away banquette is perfect for those couples who prefer to dine on their trout roe and crab-stuffed doughnuts in private. Alternatively, Toulouse Lautrec is an off-the-beaten track brasserie in Kennington that offers live music and tres romantic Parisian charm. There's also Gordon's Wine Bar, the oldest in London, which happens to be an ideal ending to a sweet stroll along the Southbank. And a trip to London wouldn't be complete without a visit to Dukes Bar. Once Sir Ian Fleming's watering hole, Dukes is said to be the very spot where he coined the phrase, "shaken not stirred." Here, the martinis are served with plenty of pomp; bar manager Alessandro Palazzi, clad in a crisp white tux, wheels out a trolley laden with ice-cold spirits for the ultimate tableside martini. But it need not be posh to impress, pick any pub — located on just about every corner of the city — and cozy in for pints in a dark corner.
What to do: New Orleanians certainly deserve a respite from the heat and humidity, and meandering through the charming streets and grassy knolls of London allows you to soak in the sights without breaking a sweat (how refreshing!). Flowering parks abound in the city, but a picnic in Hampstead Heath, a nearly 800-acre rugged woodland, offers one of the highest points in London. The swimming ponds and green meadows are ideal for a long afternoon. End the day at Keats House to peruse his love poems. New Orleanians can switch-up the brunch routine (but not too terribly much) with a Sunday Jazz Brunch cruise along the River Thames. Sip on Champagne while taking in the Houses of Parliament, London Eye, St. Paul's Cathedral and passing under the iconic London bridges. For something extra splashy, book a private capsule on the London Eye. The 30-minute rotation includes a bottle of Champagne, chocolate truffles, priority boarding, and over-the-top romance.
---