Location Spotlight: The Moxy Hotel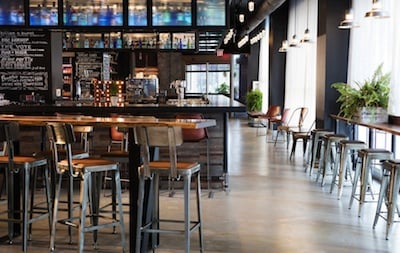 When you first enter the doors of the Moxy Hotel you'll check in not at a traditional counter, but at the bar. Before you are handed the access card to your room, you will receive a complimentary Moxy cocktail.
Though on the smaller stature of hotels found in the CBD, this boutique hotel — a new offering from the Marriot Corporation — at the corner of O'Keefe Avenue and Common Street packs a big punch. The atmosphere is light and airy with touches of modern design and homey comfort and cheeky fun at its heart. The lobby, lounge area has a quiet area that allows you to plug in electronics and tune out the noise of the day, as well as a gathering space called the "living room," equipped with board games and TVs. The center bar is always open with coffee in the morning and exciting cocktails and eats at night, as well as the 24/7 self-service fare provided by Pigeon Catering.
The Moxy is a 10-floor, 108-room hotel with single and double room options. There is one suite in the hotel and either an ironing room or ice/coffee room on each level. The color scheme of gray, black and pink complement the sleek, European minimal and modern look of each room.
For the bride and groom: The hotel itself doesn't have an event space, but the Moxy would be the perfect spot for a bachelorette weekend or rehearsal dinner after party around the bar. If you let them know you're bringing a group of people to celebrate over some late-night cocktails, the staff will accommodate your entire party.
Both the double and single room sizes offer space large enough for bridal parties to get ready the day of the wedding. A large sink and vintage medicine cart lend a hand to any makeup artist or hairstylist using the room to create wedding day magic and the subway tiled lined shower, king and queen sized beds and the bedtime story option on the rotary phone will allow for any couple to unwind after a whirlwind of a wedding day.
This hotel is not your average night stay. With bars and restaurants located within walking distance, it gives the term "staycation" a whole new meaning. Plan your next girls weekend, a city-stay getaway or just a simple cocktail night right at the Moxy.
Moxy, 210 O'Keefe Avenue, New Orleans, 504-525-6800, moxy-hotels.marriott.com.