Living the Dream
The 2022 St. Jude Dream Home marries traditional style with modern luxury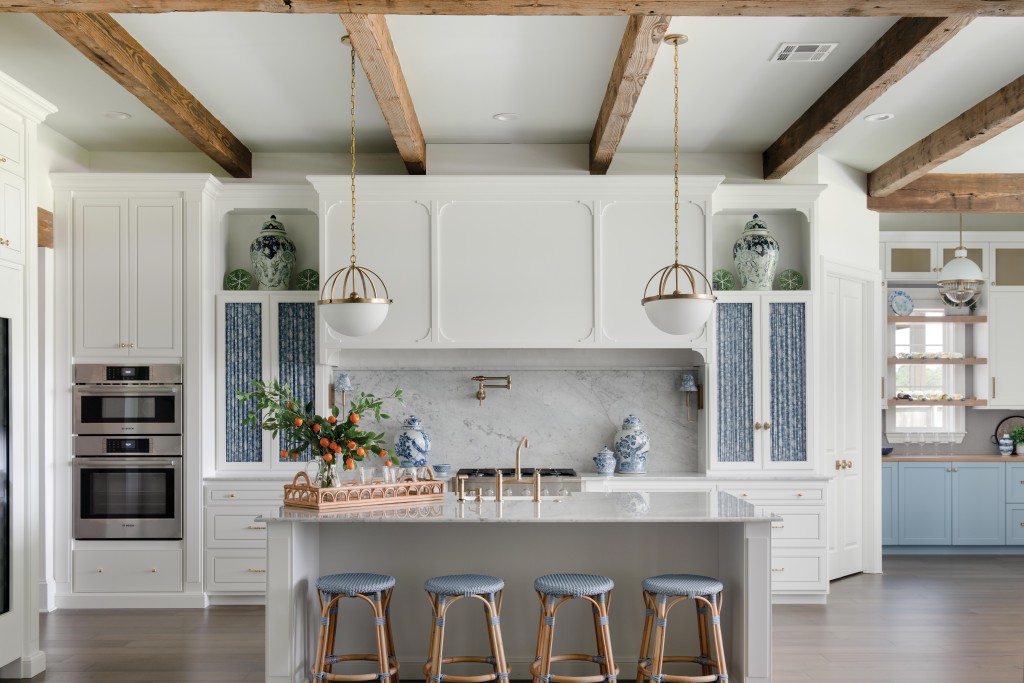 Designers
Dona Designs, Paige Gary Designs, S Clare Design, LaV Designs, Bolgiano Interiors
Builder
McLain Companies
Architect
Jarod A. Hebert
Bryan McLain had a distinct vision for this year's St. Jude Dream Home, the 12th one he has built since his company took the helm of Acadiana's mega-fundraiser for St. Jude Children's Research Hospital.
"I wanted to go back to our roots and bring a more traditional Louisiana style home with a big, wide front porch with a porch swing," says McLain.
The four-bedroom home, by architect Jarod A. Hebert, stretches comfortably on a corner lot in Broussard's Sabal Palms subdivision. McLain says the front porch is only the beginning. Classic details like brick floors and a vaulted ceiling with antique wood beams give the living space a timeless elegance.
Acadiana's Dream Home Giveaway raised more than $1 million in 2021 through ticket sales alone, and the home's month-long open house each summer serves as a local showcase of the latest design trends and innovations.
A power squad of design talent dedicates their services to the project, says McLain. This year's team leaned heavily into the traditional Southern design style, but added plenty of contemporary flair. Atmospheric wallpaper and earth-toned accents complement the warm whites and natural wood throughout the home.
The owner's suite, designed by Dona Sonnier of Dona Designs, features a serene, statement wall mural and luxury bathroom, complete with its own coffee bar. In the kitchen and scullery, designed by Paige LaVergne of LaV Designs, touches of chinoiserie and contemporary light fixtures give the space an of-the-moment feel.
"Our decorating team knocked it out of the park," says McLain.
McLain says national sponsors, such as Bosch, allow designers to hand-pick the best of their high-end appliances and equipment. This year, he's especially excited about the touch-open wine fridge in the kitchen and a whole-home, air filtration system, by Trane. Not to mention the air-conditioned garage.
"You get out of the garage in Louisiana in August it's almost like going into the sauna," says McLain.
Just one more thing the lucky winner of this year's Dream Home won't have to worry about.
Visit stjude.org/give/dream-home/lafayette.html to see the latest updates about the Acadiana St. Jude Dream Home Giveaway and future home tours.