Living in Ab-stentia: Week Three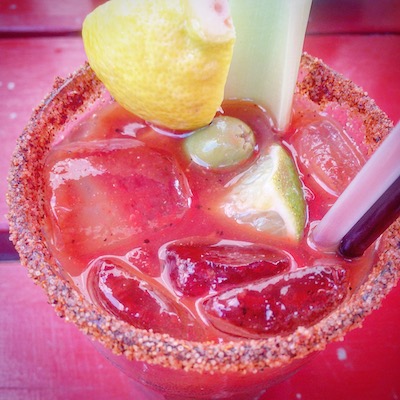 Leisure travel without a pre-flight adult beverage wasn't something I considered when I accepted the NOLA.Com #AlcoholFreeFo40 Challenge. This weekend, we attended the Houston friend's going away party I mentioned in last week's post. Our flight to Houston was early on Friday, so I had my mind on coffee that particular day, but the return flight was at 6 p.m. Sunday and normally, a beer or cocktail with Mark at the airport bar would have been a given. When I asked the bartender if they had non-alcoholic beer, he said yes, but that it would be $6. Now, normally I'll go ahead and pay airport prices for a drink at the airport, because you only live once, right? But I was not going to spend craft beer prices on an O'Doul's. The bartender had a heart however and surprised me with a delicious pineapple and grenadine concoction, free of charge. Thanks, airport Chili's bartender! This experience concluded our fun weekend in Houston, so obviously I'm getting ahead of myself. Let's start at the beginning.
Upon arrival Friday, we proceeded directly to one of our favorite Tex-Mex restaurants, as one does when in Texas, to meet friends for lunch. At more than two weeks into the challenge, forgoing the margaritas and Dos XXs my friends were sipping in favor of a non-alcoholic frozen lime concoction was a cinch. The hard part came when later that day, we walked past my favorite Houston wine bar. It's charming, casual, has an extensive wine list and the best cheese and charcuterie plates.
I longed to go in for a glass, but we kept walking. The rest of our happy hours, meals, gatherings and the party were easier than I anticipated and once again, I found myself not missing the alcohol, despite being surrounded by my most raucous circle of friends. I sipped non-alcoholic Kaliber beers at the party and danced the night away until 2:30 a.m. Brunch the next day included a delicious virgin Bloody Mary (pictured above), which tasted exactly like the alcoholic version.
The thing that surprised me most about our weekend travel was the lack of non-alcoholic beers at Houston-area bars and restaurants. It's ironic to me that the country's most notorious drinking city is more accommodating to non-drinkers than another, larger city.
As far as physical changes, my weight, the skin on my face, brightness of my eyes and energy are all the same. The only thing I noticed over the past week was that the skin on my arms and legs is way softer than usual. One of my fellow challengers providing weekly updates to NOLA.Com mentioned this in her early updates, but until this weekend, I hadn't yet experienced it. I'm always a late bloomer. I'm still requiring less sleep than usual, which has me in bed by 11 or midnight and up and at 'em at 6 a.m., instead of my usual 7 a.m. The cat — an early riser — loves this arrangement.
As promised, I did another round of non-alcoholic beverage testing. This time around it was the Ariel Chardonnay and Cabernet Sauvignon, which is available at Whole Foods and Martin Wine Cellar. To be honest, I didn't care for either one. I had one glass of each and not only found both overtly grape-y, but neither were to my taste. In fact, I didn't finish the Chardonnay. The Fre alcohol removed Red Blend is much more to my liking than the Ariel Cab. So far, my favorite is still the Fre alcohol removed sparkling wine, which is great alone, as a fauxmosa or used in a mocktail. Speaking of mocktails, my fellow MyNewOrleans.Com blogger Tim McNally took pity on we the abstainers in his Happy Hour post last week providing several exceptional mocktail recipes. Pop over for his very entertaining and informative write up. Thanks, Tim! You are a kind and generous soul.
With a third week under my belt, I'm feeling an odd sense of accomplishment. It probably shouldn't feel that way — after all, it's not as if I earned a doctorate or saved a life — but as anyone who has ever gone on the wagon for any reason knows, it's not so easy in the Big Easy, where alcohol is present at seemingly every event, gathering or establishment, both social and work-related. Also, there often is free alcohol at various events, such as the NOLA Brewing Friday brewery tour, and even in sample form at the grocery store. So technically, you can't even go grocery shopping without beer or wine being offered up by a friendly face. To the many New Orleans residents who've given up drink due to alcoholism or health reasons, you have my utmost admiration. For me, it's just an experiment. From here on out, I'll be even more mindful about offering non-alcoholic options to house and party guests, as well as people we meet out and about, because I now know what it's like when there's nothing but booze on the menu.
With three-ish weeks left in the challenge, I'm still rounding up non-alcoholic drinks to test and whipping up mocktails, so check back next week for another update and reviews. If you have a recipe to share, add it to the comments or email me at melanie@myneworleans.com. Follow along throughout the week on Twitter (@melaniespencer) and Instagram, as well as here for updates. If you decide to participate — it's not too late — use the hashtag #AlcoholFreeFor40 and share your progress in the comments. For questions about the challenge and to get the update email, you can email Kimball at eatingright@nola.com or follow her on Twitter at @mollykimballrd.