Let's Go to Lafayette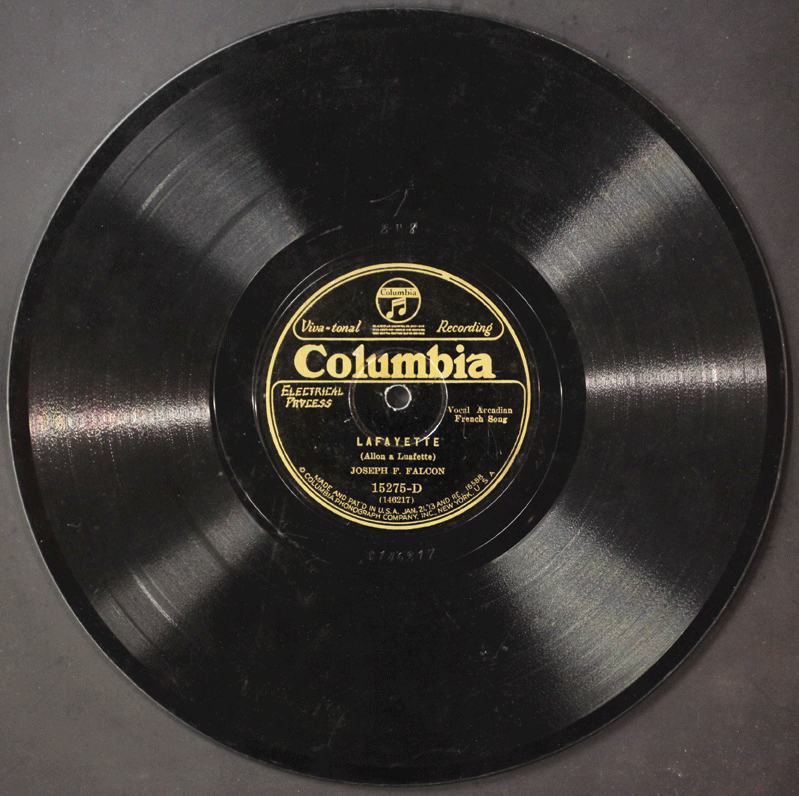 One can say to a certain extent that the modern era of Cajun music was born on April 27, 1928. It was the day Cleoma Breaux and Joe Falcon, husband and wife in life, entered a studio in New Orleans to record "La Valse qui m'a porté à ma fosse" ("The Waltz That Carried Me to My Grave"). Given the title, it is maybe a good thing that we don't hear that song much anymore. At that time, to make a record, one of course needed two songs to etch both sides of the thick vinyl of a 78 rpm. In a fortunate turn of events, instead of retaining the name of a song lamenting the death of a dearly beloved, history tells us that the first recorded Cajun song was in fact the B side. Based on "Jeunes Gens de la Campagne" ("Young Country People"), a traditional song, "Allons à Lafayette," tells the story of a young man's love for the woman he wants to marry and thus change her name to Madame Canaille Comeaux (Mrs. Mischievous Comeaux). It has become one of the most sung in the Cajun repertory.
The title foreshadowed the transformation of Lafayette, rightly named the Hub City, into the center of Cajun music. Certainly, Ville Platte played an important role with Swallow Records, founded by Floyd Soileau, as well as Eunice with its Rendez-Vous des Cajuns and Savoy Music Center's accordion manufacturing shop and jam sessions run by Marc Savoy and other towns. Nonetheless, all this activity in the surrounding area seems to emanate from Lafayette like the spokes of a wagon wheel carrying musicians for a Mardi Gras run.
Lafayette is proud to offer a variety of music on a plethora of stages for the modest price of nothing at all. Some Friday afternoons are graced by the sound of bands ranging from Cajun and zydeco to rock, swamp pop and jazz with Downtown Alive! The highlight of fall is undeniably Festivals Acadiens et Créoles. An invitation to play there is considered to be an induction into the company of Cajun and Creole musicians who matter. Yet with all of the attention that Cajun music and zydeco rightfully receive, we must not forget that these genres that introduced our culture to the rest of the world also served as an open invitation to all voyagers in search of authentic cultures. Our guests brought with them little gifts in the form of songs from the old world. Haitians, Quebeckers, Belgians and French were among the first visitors. Other regional musicians from the Appalachians, Ireland and Jamaica were pilgrims going back in time, coming from a time beyond time. Little by little, almost all of humanity has found its way to our door – not the back door but the big front door that opens us to other lands and other dates to circle in red on the calendar, like April 25-29 for the Festival International de Louisiane.
Even as a new generation of local musicians was learning "Allons à Lafayette," "Jolie Blonde," "Les Haricots sont pas salés" and other classics, at Festival International they were absorbing the cadence of music from elsewhere: the Middle East, Latin America, Central Europe as well as Francophone countries. It's this fusion of the old and the new, of the near and the far, of now and never, that one finds in many of these young bands. Not only do Feufollet, Cedric Watson or the Red Stick Ramblers owe a lot to this world mix but so do bands less identified with the movement such as Brass Bed, Vagabond Swing or certainly GIVERS, which all by itself seems to distill all of these influences in the explosion of sound and color one finds at Festival International de Louisiane.
This year, as FIL celebrates its 25th anniversary and the 200th anniversary of Louisiana statehood, we mark the 84 years that have passed since that first Cajun recording. The song does not tell us if those young lovers ever did get married or not, but, as French fairy tales end, they did have many children.