Les personnes: Of Hitting and Healing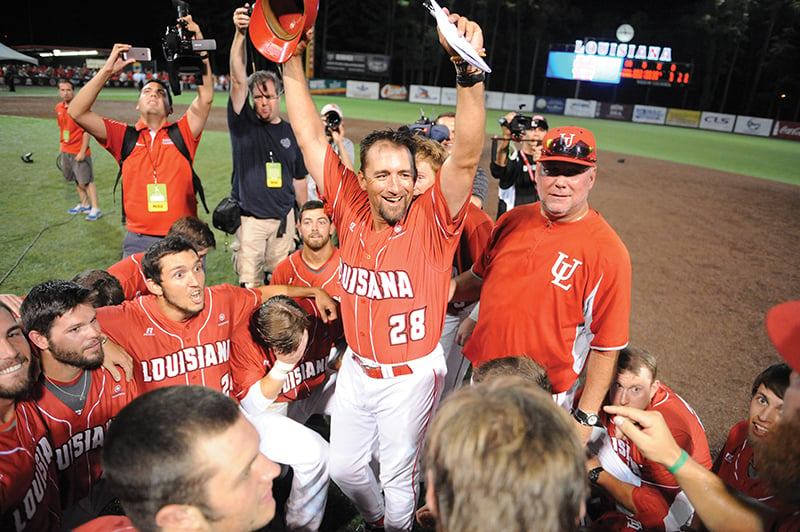 As the applause fades, a trio of hot podium microphones pick up the minutiae of the moment.
Formal introductions like these are often clunky, everyone dressed in suits and ties to announce the hiring of someone paid to coach a kids' game in a kids' uniform, so please excuse University of Louisiana at Lafayette Athletic Director Bryan Maggard and new baseball manager Matt Deggs for this under-their-breath back and forth as they position themselves for the cameras.
"We'll hold this up like that," Maggard says at this mid-July 2019 press conference, handing Deggs a jersey and fresh-out-the-box ballcap, "and do the photo op."
Deggs glances at the hat. It's pristine and perfect ­— unbefitting of a guy with a muddy-but-motivational past. This won't do.
"Lemme fix this bill," he replies, shaping a quick curve and bend to give the cap a little drink-from-the-waterhose personality.
The crowd laughs at the line, not because it's necessary funny but because it's a changeup to the reprise of pain that's persisted the last few weeks. On July 3, 2019, beloved baseball coach Tony Robichaux — the legendary and likable face of the Ragin' Cajuns program for a quarter  century who led them to their only College World Series in 2000 — died unexpectedly from complications stemming from a heart attack that happened a few days earlier.  He was 57.
To accommodate the number of people wishing to pay last respects, Robichaux's public viewing was held in the spacious Cajundome. Deggs, then still the coach at Sam Houston State, and his family were among those in attendance.
Days later, he's here, all eyes on him in a situation Deggs called "surreal" because the dictionary doesn't have a better word to describe it — officially accepting a job he couldn't turn down but desperately wishes wasn't available.  He stepped up to the plate and now takes on the daunting responsibility of carrying on a winning tradition amid uniquely difficult and heartbreaking circumstances.
There's no blueprint outlining how to handle this.
No script to follow.
And yet, as he leans in to address the media and those still mourning, Coach Deggs somehow knows exactly what to say.
This just speaks to the power of love and redemption— seven years ago, Coach Robichaux saved his life.
They met in the lobby of a San Marcos, Texas hotel room. Coach Deggs can't remember the name of it, but given the area's options, it was probably a place where the breakfast is free and tastes like it, too.
This was March 2012. Matt Deggs will tell you that back then, he was a broken man.
Once a well-paid, rising young assistant at college baseball goliath Texas A&M, Deggs' dependency on alcohol swiftly pushed him from that perch. When he finally landed, Deggs moonlighted as a laborer loading trailers at an East Texas feed mill making close to minimum wage. From there, he became a failed pharmaceutical salesman which, considering his knack for attracting elite high school baseball recruits, seems preposterous. While trying to be something he wasn't to make a buck, Deggs applied for baseball coaching jobs on various levels — frankly, places well beneath his experience and expertise.
Nothing developed.
"For a guy whose identity is soaked in baseball at that time," Deggs says, "you're not just talking about employment, you're talking about your existence. I'd been out of the game for 400 days and was pretty much near my end."
Then, a phone call. It was Coach Tony Robichaux. The two never really sat down and talked shop for any significant period of time prior to this, though Coach Robichaux was always a fan of Deggs' "The Pack" offensive philosophy. Instead, Robichaux felt inclined to reach out thanks to a recommendation from someone on UL's staff after the Cajuns' hitting coach/recruiting coordinator position unexpectedly opened midway through nonconference play.
"So, I have to sit down in front of him and tell him, 'I'm a drunk. I got fired. I lost everything,'" Deggs says.
Without much fanfare and unconcerned with prying deeper, Coach Robichaux calmly told Deggs he wasn't interested in what he's done. The only thing Coach Robichaux wanted to know is what Deggs planned to do about it.
"That's the first time anybody had said that to me, ever," Deggs says." And from that day forward, what started off as a boss and mentor ultimately became a best friend and brother. That's kind of the beginning."
Because of the abrupt nature of Deggs' hiring, Robichaux insisted the new guy not mess with installing a hitting system, but rather focus on recruiting as the Cajuns meandered through a forgettable sub-.500 season.
"The whole time," Deggs says, "I'm still living a lie."
Despite Coach Robichaux's implied suggestion that Deggs figure out a way to straighten out his alcohol addiction, the drinking didn't stop. Battling through various stages of grief, anger and bitterness for all he once lost, Deggs continued to search for solutions at the bottom of a bottle.
Things began to change that summer when Deggs' wife, Kathy, and their three kids moved to Lafayette. Deggs strengthened his relationship with God — a faith he's both forthcoming and unapologetic about — and was able to stay sober for a few weeks at a time before partaking in a drink or two. It wasn't until Deggs paused for a second and fully understood the challenges and hardships his own UL players faced — broken homes, friends in trouble with the law — and the incumbent responsibility of a coach to help them through it all that he gave up drinking entirely.
He remembers the date: Feb. 28, 2013.
Perhaps not coincidentally, that season and the next turned out to be some of the most successful in the history of Ragin' Cajuns baseball. Sparked by Deggs' lineup of feared hitters, UL racked up a school-record 58 wins in 2014 and entered the NCAA Tournament as the nation's No. 1 overall seed. Because of his success as an assistant, Deggs was offered and accepted the head job at Sam Houston State where in five years he led the Bearkats to three conference championships and two NCAA Tournament appearances.
Beyond winning a bunch of ballgames, Deggs chose outwardly to share his story of lost opportunities and unexpected second chances during speaking engagements throughout Texas.
"The only thing more agonizing than living in a prison, a place someone put you, is living in a prison of your own making," Deggs says. "And in absolute truth, there's freedom. Being vulnerable, being open, it's freedom. And what people don't think about is, on the flipside, in absolute truth there's accountability. I can't share my story one minute and then go buy a 12-pack in the store the next.
"I don't ever want people to hear my story and wonder whether I'm true to the lessons found within it."
The string of unanswered texts, get-well messages which still remain on Deggs' phone eight months after they were sent to Coach Robichaux, serve as a reminder that this somber homecoming is as much about brotherhood as it is baseball.
The Ragin Cajuns enter the 2020 season ranked in the Top 25 — a distinction listed in Coach Deggs' Twitter feed sandwiched between posts of highlighted Bible verses and quotes from Sunday's pastor reflective of Coach Robichaux's legacy.
To most, that is the ultimate challenge of this upcoming season, finding the balancing between properly mentoring those who are still mourning.
To Coach Deggs, that is the opportunity of this upcoming season. 
"When you lose a guy who literally saved your life, you can't help but feel alone. My life came full circle because of Coach Robe and his family," Deggs says. "God used that man to save another man. He stood for something bigger than himself and it's impossible to count the number of people he impacted. When you die and your viewing is at a basketball arena you've done something pretty special.
"I promise you one thing: We're not going to let Coach Robe down. It's an honor to coach this team through the discomfort of losing someone we love. This is our team — all of ours. Everybody. It's time now, more than ever, to be a competitor and let's go do something crazy."
---
SCHEDULE
Ragin'

 

Cajuns Baseball Home Games
Feb.14 vs. Southeastern Louisiana
Feb. 15-16 vs. Louisiana Tech
Feb. 19 vs. Tulane
Feb. 21-23 vs. Virginia Tech
Feb. 26 vs. Northwestern State
Feb. 28-March 1 vs. Sam Houston State
March 13-15 vs. Coastal Carolina
March 17 vs. Lamar
March 18 vs. Nicholls State
March 24 vs. Louisiana Tech
March 31 vs. McNeese State
April 3-5 vs. UT Arlington
April 14-15 vs. Houston
April 17-19 vs. Little Rock
May 1-3 vs. Georgia Southern
May 14-16 vs. Louisiana-Monroe
For game times, tickets and more information, visit ragincajuns.com/sports/baseball
---