Lafayette: Acadiana City of the Year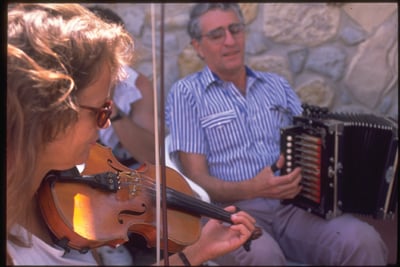 While holding onto and sharing its culture and traditions of yesterday, Lafayette's readiness to serve as Acadiana's leader in the present and future is easy to spot around town.

Lafayette is different. For starters, it looks different. It rises in the distance, the cultural capital of a borderless state, unassuming in its skyline and completely unseen from three bland exits off Interstate 10. This town doesn't make you turn your head to check out Tiger Stadium or the Riverboat Casinos like Baton Rouge to the east. Nor does it make your palms sweat like when crossing the Calcasieu River Bridge in Lake Charles to the west. Much like cracking into the spicy innards of a crawfish tail, traveling to the center and finding the soul, it requires a little bit of work. But it's entirely worth the effort.
Lafayette also smells different, too. Indigenous dishes ignite the senses at delicious destinations like Prejean's, Blue Dog Café, Jolie's Bistro, Olde Tyme Grocery and Johnson's Boucaniere, giving Southern Living Magazine more than a mouthful of reasons to dub the Hub City the "South's Tastiest Town."
Lafayette works differently. While the energy sector's influence in the job market is substantial, Lafayette's medical and financial presence has grown exponentially within the last decade, creating a local economy diversified enough to coast through recent hard times nationally.
And finally, Lafayette sounds different with its own brand of music; it celebrates with festivals for anything and everything; it moves differently; grows differently; teaches differently; creates differently, and inspires differently.
It's just different. Delightfully different.

The downtown Lafayette area is a great place for celebrating, eating and shopping. Photos by Nahoko Miyake
"This place is a special place to call home," says Ben Berthelot, executive director of the Lafayette Convention and Visitors Commission. "What you find here, you can't find anywhere else. It's why people come here, and it's a privilege to share everything Lafayette is with the rest of the world."
With that so eloquently said, Lafayette was an easy choice to be Acadiana Profile's 2014 City of The Year, as our publication joins several others in heaping praise upon the community. Since 2011, Lafayette has been named: Best Food City (USA Today/Rand McNally); a Top 20 College Town (Travel + Leisure); a Top 3 Metro Area for Manufacturing Employment (Business Facilities); a Top 10 American City of the Future (Foreign Direct Investment); a Top 10 Oil and Gas Rich Market (Southern Business and Development) ; a Top 25 Area for a Working Retirement (Forbes); a Top 5 Mid-Sized City for Jobs (Forbes); a Top 25 Best Performing City (Milken Institute); and because of all this, it's not surprising that Lafayette was deemed "The Most Optimistic City" in a March 2012 GALLUP poll.
The list goes on and on. If that's not enough to convince you, there's also page after page of impressive statistical research data validating Lafayette's battled-tested economic resolve and a catalog full of after-work and weekend activities (festivals, top-notch dining, museums and nearby wilderness for sportsmen, to name a few) that provide a rich quality of life.
Or, instead of all that, you could just simply look around town.
Ambassador Caffrey Parkway, just south of Kaliste Saloom Boulevard, 7:30 a.m.:
She's traveled this route for two years now, walked through these sliding glass doors since the summer of 2011, but even today physical therapist Hannah Miller continues to be amazed at her state-of-the-art place of employment, the new Our Lady of Lourdes Regional Medical Center.
"It's beautiful," Miller says. "A lot of hospitals have that old hospital feel. This place doesn't have that feel. It's beautiful for any building, not just a hospital and it caters to serving the patients' needs."
Sitting on 45 acres, the $211-million dollar facility employs 1,200 people, houses the only burn center in Southwest Louisiana, the latest imaging equipment, operating room advancements and patient rooms 30 percent larger than the old building. Facility upgrades at OLOL and the multiple phases of expansion at Lafayette General Medical Center are just a couple examples that reinforce the Hub City's commitment to this ever-growing sector of the local economy.
Despite its long-established roots in the oil and gas industry with close to 1,000 companies somehow related to the energy sector, the health care field remains Lafayette's single-largest employer – a sturdy economic safety net considering the volatility of commodity trades. Coupled with the surging growth in the financial industry, Lafayette's economy flourished through a national economic downturn, several national disasters and the 2010 BP oil spill.
In 2011, Lafayette ranked No. 14 among U.S. cities with its 5.5 percent growth in Real GDP, according to a Bureau of Economic Analysis report. Another report, this one by the Bureau of Labor Statistics, noted that Lafayette had the largest percentage increase in employment (an average of 9 percent per month) in the country during the final quarter of 2012.
---
What you find here,
you can't find anywhere else.
It's why people come here
and it's a privilege to share everything
Lafayette is with the rest of the world.
---
In 2013, the average value of residential construction permits rose for the fifth straight year, topping out at a record-breaking $257,551 per property. The number of commercial building permits (65) last year flirted with levels not seen since the construction boom sparked by Hurricanes Katrina and Rita. Many of sites where these construction crews swung their hammers were located near the Kaliste Saloom/Ambassador Caffery/Verot School area in the southwest part of town. Once just empty, undeveloped land, this area rivals the hustle and bustle of downtown as it features two high end retail complexes (River Ranch and Parc Lafayette), a variety of wealthy and middle class living options, plenty of nightlife destinations, and state-of-the-art medical facilities like the aforementioned Lourdes center.
"I wouldn't describe Lafayette as two epicenters. It's more of a continuum," says Gregg Gothreaux, CEO of the Lafayette Economic Development Authority. "Rather than having two, River Ranch and the residential and commercial growth in south Lafayette is simply a connection to the established areas downtown and on Johnston Street. We're talking about a lot of business, a lot of traffic and a lot of people-moving going on."

Martin Hall is one of the oldest buildings on UL's campus. It represents the beautiful history of the university. Photos by Nahoko Miyake
A somewhat new building boom has blossomed north of Interstate 10 in recent years, a domino effect of sorts after Halliburton and other industrial companies constructed new facilities nearby. Encouraged by the stability of the city and the rapid influx of skilled workers relocating from other parts of Louisiana and the United States, several other companies like Bell Helicopter, Newpark Resources, Franks International and Freeport McMoRan Oil and Gas are expanding, updating or building new facilities in Lafayette this year.
"If history teaches us anything, we just went through a national recession that was second only to The Great Depression. Combine that with a moratorium that suspended oil and gas activity for nearly a year. And that 1-2 punch slowed us down, but it didn't do significant damage," Gothreaux says. "Going through that the way we did, you really are going to be one of the more recession-proof communities.Those occurrences are the marker that shows that our economy is resilient."
East Convent Street, south of Johnston Street, 10 p.m.:
The dance floor is packed, elbow-to-elbow, boot-to-boot. Dancers can reach out and touch the band, groups dedicated to preserving a sound forever attached to this region and this way of life. It's Saturday night at the Blue Moon Saloon – one of Lafayette's last true dancehalls – and the tiny house near the corner is rocking.
"One of the main ways, if not the main way, a lot of people hold onto the past and the tradition is through the music," says Herman Fuselier, music and culture writer for The Daily Advertiser. "You can't find it anywhere else in the world, and it's been altered slightly, but still maintains its core essence. You can't say that about the language; you can't say that about other aspects of that culture. It's not a common thing anymore to go to the post office and see people speaking French. But it is a common thing to turn on the radio, flip through the dial and find that sound.
"It's multi-generational, something passed down to the next in line, so it's been our link to the past. Throughout all this change, and Lafayette gradually becoming like the rest of the places, the music belongs to us. It's ours, ours alone."
As it has for decades, Lafayette's cultural trinity of music, food and unrivaled hospitality continues to spark the curiosity of tourists. Festival Acadiens et Creoles – one of the longest-running music events in Louisiana — celebrates its 40th anniversary with a star-studded Cajun/Zydeco lineup including Geno Delafose, Feufollet, Steve Riley and The Pine Leaf Boys.
Last year, Festival International de Louisiane drew estimated crowds exceeding 400,000 during its five-day span and showcased several dozen world music groups. Beyond generating a $30 million impact in the local economy, About.com readers crowned Festival International the "Best World Music Festival" for the second year in a row.

Dancers at Festival International de Louisiane. Photo by David Simpson
"Those awards and recognition start to snowball and serve as a vehicle to get our message out to a national audience," Berthelot says. "You look at things like our festivals, which have always been popular with locals, rapidly catching the attention of out-of-towners and out-of-state tourists. That rise in level has enabled some of our older attractions to keep things fresh and keep things new. So it all feeds off one another in a positive manner."
Vermilionville, for example, has begun new monthly series that allow visitors to learn craft making from master artisans and explore the alternative, natural healing practices used by Cajun settlers centuries ago. Not to be outdone, Acadian Village recently spruced up its already-fascinating group tours by adding Cajun Cooking legend Mama Redell Miller to its fleet of guides. In addition to touring the 19th-century village structures, visitors can now engage in Mama-run workshops on Cajun Mardi Gras, Fais Do Do and Zydeco music.
The LCVC itself has also up its game to quench the needs of today's tourist. Last April, it launched a tourism mobile app compatible with both Droid and iPhones that provides information – restaurant hours and specials, festival locations and dates, attraction details, shopping areas and more – at the touch of a finger. Then in August, LCVC e-published the first-ever tourism iMagazine, titled Allons. Unlike an online version of a travel brochure, Allons is an interactive medium in which viewers can pull up interviews with local musicians, historians or celebrities. Should, for example, one of those musicians go on a tangent and start talking about their favorite places to eat around town, Allons offers content on those establishments.
"We just experienced a year with the highest hotel/motel receipts in Lafayette Parish, but also saw the amount of unique visitors to our Tourism Center dip," Berthelot says. "So what does that tell you? This area is as popular as ever, but the way tourists digest their information has evolved. So we've just evolved to that future. It's all about bringing awareness to everything we have to offer; whether that's through campaigns or technology. Whatever it takes, we're going to make sure you have everything you need to visit Lafayette."
---