La Maison: An Engaging Endeavour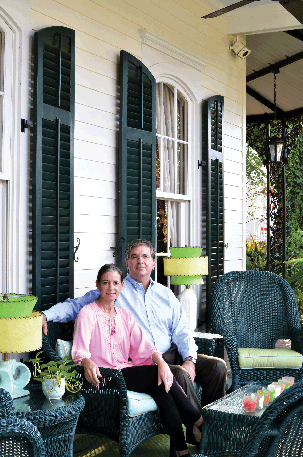 The South has seen a resurgence in the desire for front porches, a place where passersby stop to chitchat and maybe step up for refreshments and more lengthy conversation. But to José and Phyllis Mata, this social custom has prevailed since 1994, when they moved into their two-story Greek Revival-style home in downtown New Iberia on East Main Street.
"The architecture we chose is reminiscent of New Orleans, where I lived before moving here," explains José. "The classic, timeless look suited this area. It appears as if it's been here a long time and fits in with the older period homes around us."
The search for a smaller community in which to practice family medicine brought José to the area; he and Phyllis celebrated their new home the same year they came together in marriage. Today their 5,000-square-foot home reveals a journey brimming with collections at once nostalgic and nouveau, displayed in a way that visually expresses the Matas' personal touch.
"I started collecting when I was young," Phyllis says, "shopping at antique and vintage stores after I had dropped my children off at school. It was not intimidating as I purchased affordable items that I found interesting."
Depression glass from the 1930s and jadeite dating to the 1950s are just a couple of the types of glassware she collects. The artwork, though, could be considered the framework that enriches and enlivens the furnishings in this elegant home.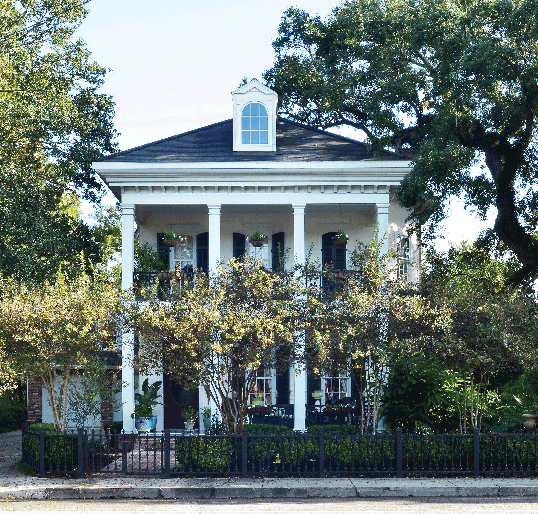 "We were recently married and visiting New Orleans when we discovered an original impressionist oil by Eddie Mormon, a Southern artist, which I purchased as a surprise birthday present for Phyllis," José says. "It was the first of many that we have added since, with a good portion having been painted by regional artists."
Included in this prestigious circle are fellow Iberians and friends, among them Wayne Peltier, Jerome Weber, Carl Groh, Dan Spiller Jr., Hannah Lane and Jeanne Wattigny, just to name a few. Their timeless renditions, along with other pieces, blend well with the dramatic style of the rest of the home.
"I wanted a formal living and dining room that reminded me of old New Iberia, when Sunday dinner was an impressive occasion done in an elaborate setting," Phyllis says.
Michele Skinner Broussard of Jolie Mur in New Iberia helped the Matas achieve their goal with her creative faux finishing. The two marble columns that herald entry to the living room show her expertise, as does the nearby mantel that she painted to give an "old Paris" feel. Ceiling medallions in both dining and living rooms are also examples of her work.
Although formal, a bit of whimsy can be detected here and there throughout the home. Pictures in the hall from José's mom hang above the stand that was used as a ticket drop in the Essanee movie theater that opened in 1937 and closed in 1980 (and has now reopened as the home of the Iberia Performing Arts League). This New Iberia keepsake acts as a reminder of a youthful Phyllis. So does the Mount Carmel Gym sign above the arched opening in the kitchen.
"My father retrieved the sign as they were tearing down the gym around the 1980s," Phyllis says. "He knew I would want it as my mother was coach during that period." Some of the artwork throughout the home depicts its affiliated school, which Phyllis attended.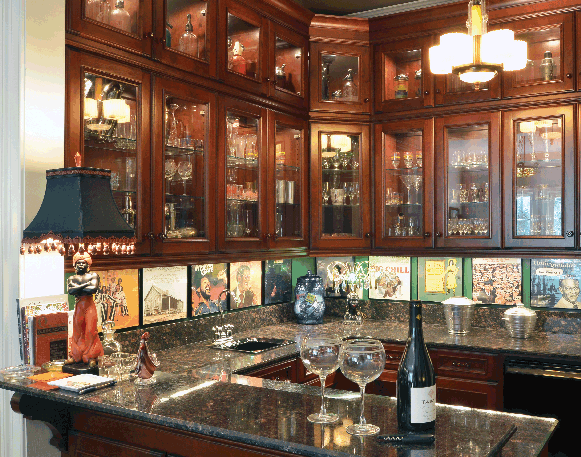 Everything in this home seems to have a story behind it. There is a timeless appeal in the blending of family moments with interesting artifacts, high-end or not. It's the Matas' way of sharing their life in a decorative sense.
Phyllis is the catering coordinator for Clementine, a local popular eatery, yet this active couple still finds time for involvement in their community. This generous spirit is reflected in the home the Matas share.