inspired kitchens & baths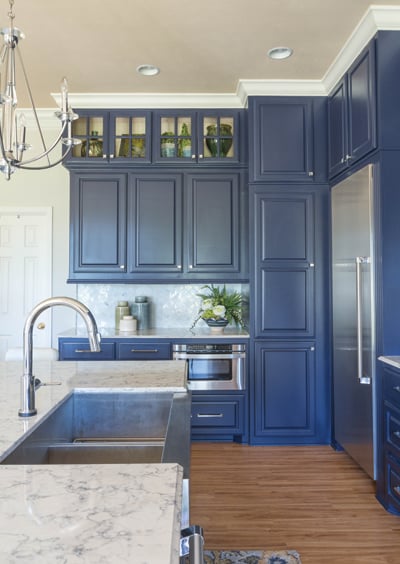 It all starts with a dream. From a palatial lakefront mansion to a country equestrian estate, a new beach-inspired dream home and a charming renovated Victorian, these highly personalized kitchen and bath designs can serve to inspire a range of spring remodeling projects.

Instead of taking long drives to restaurants from Plaucheville, gifted chef Eve Quirk and her husband, Troy, enjoy cozy date night suppers relaxing in their luxurious navy velvet banquette, beneath shimmering navy crystals.

Cheryl Scurlock of Decorating Den Interiors designed the Quirk's sleek new kitchen. She began the expansion by removing a wall to create a larger space for a kitchen that opens onto a dining area. The new oversized island accommodates six counter stools customized with Swarovski crystal accents. While the new layout of cabinets and placement of Thermador professional appliances provide improved functionality, drama was created with the Benjamin Moore Old Navy color palette, complemented by Carrara quartz countertops, marble arabesque backsplash tiles and a pair of chrome and crystal chandeliers.
---
Ken Delavergne's architectural vision was the genesis of this spacious custom kitchen and elegant keeping room in the Carencro home of Carl and Jenny Comeaux. He removed multiple walls, opening up the kitchen, dining and living rooms with sliding glass doors for views of the surrounding ponds, pool, orchards, horses and trails. The kitchen floors of antique brick reflect the home's exterior, while the ceiling's antique cypress beams mirror the floor beams. A custom rounded hood with hand-carved scrolls tops a hand-made Italian tile backsplash above a six-burner Wolfe stove and grill.



Simple elegance was Jenny's objective for the kitchen. She selected chandeliers encased within spheres of rustic distressed wood from Paul Michael Company, leathered granite counter tops and custom cabinets by Keith Hall.
---
A rooster chandelier from Lafayette Electric illuminates an L-shaped island in the Lafayette kitchen of Dr. William Barrois and his wife, Brenda. She created lush gardens on display outside the keeping room.
"Ken calls this our Inglenook fireplace," says Brenda of their cozy seating area in the keeping room surrounded by windows and a porch. Their historic circa 1902 Victorian home needed updating, so architect Ken Delavergne considerably expanded the original kitchen, adding myriad period details true to the era. "His design was brilliant, he really nailed it," Brenda notes. Jeff Gueno of Le Chateau Interiors orchestrated the décor. The surfaces of kitchen appliances are paneled, like the custom sinker cypress cabinets, while two Sub-Zero refrigerators are covered with art by Peggy Lagroue Derby.
---
Inspired by the coastal feel of Alys Beach, the interior design of the Venable's new 2,500-square-foot dream home in River Ranch is by Crissy Greene, proprietor of Elle Design & Décor. Vessel bowls with Brizo faucets adorn cabinetry patterned with upholstery nail-head tacks (Artisan Cabinet Shop). Mirrors with whimsical sconces made of driftwood in silver leaf provide a look that's both rustic and refined.
A large branch in polished nickel adorns Brett and Stephanie Venable's free-standing Kohler tub, framed by tiny glass mosaic tiles. A barn door lends a rustic element to the master suite.
---
Ken Delavergne redesigned the original Barrois master bath in their historic Victorian dwelling, with antique pine flooring and added windows. Using the sloping roof, he installed mirrored closets with sliding glass doors that conceal a convenient laundry chute. This leads to the expanded bathing area and balconette, which overlooks a pool and opulent gardens ablaze with camellias, hydrangeas and trees abundant with figs, cherries and satsumas. "I leave the balconette doors open and feel as though I'm in the tropics," Bill says.

A master bath upgrade was created by adding a cozy alcove and raised whirlpool tub with Victorian Collection Delta Faucets, within a small space that was doubled to a length of 35 feet.
---
The 2,500-square-foot master bedroom and bath, which features a Tuscan tile mural inside the glass-enclosed shower, overlooks the lake through 26-feet of seamless glass. It's located on the second, main floor of the 13,900-square-foot, three-story home by Bryan Galley Builders and architect John "Ike" Capdeville. Designed with concrete and steel for possible flooding, the ground floor features a commercial elevator, a drive-through portico, a morning kitchen, home theatre and a wine tasting room near an outdoor kitchen and three-car garage.

Chuck Kuehn of Southern Marble and Granite created seating ledges for the oversized shower, a curved tub deck and sleek vanities with Taj Mahal quartzite in Allen Devall's Lake Charles waterfront manse.
---