Indie Pop With A Cajun Twist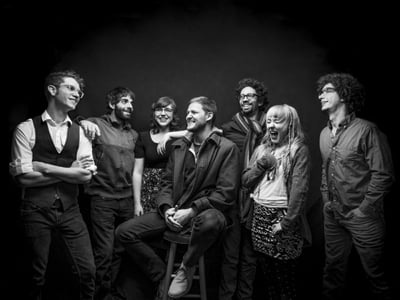 2015 will see the release of the much anticipated first album from the French-leaning, seven-member indie pop group, Sweet Crude.
The group's first EP, Super Vilaine (2012), laid the groundwork for the group's sound, which features sparse melodic instrumentation – analog keyboards, violin, bass guitar but no six-string – over a thick bed of drums, played simultaneously by four drummers. In this way, Sweet Crude sounds similar to other popular bands of the day, such as Arcade Fire and Imagine Dragons.
"The songwriting has evolved a lot," says bandleader Sam Craft. "We've been incorporating a wider range of elements and gotten darker on some levels – we've explored some more sinister timbres. We've explored what it would be like to write a three-minute pop song, straight up, no fooling around – still decorated in all the Sweet Crude filigree. We have also been playing with transitional pieces: soundscapes that connect the new songs together."
One thing that will remain is the band's penchant for singing many of their lyrics in Louisiana French. "[Our singer] Alexis [Marceaux] grew up hearing traditional Louisiana music all the time with her family, who is from Morgan City. Then my mom's family is from Opelousas. My great grandfather was monolingual French, so it was something that was heard at family gatherings. It was sort of a curiosity that I was too young to really care about or be passionate about."
But around 2011, Craft's curiosity blossomed into a mission to help keep Louisiana French alive. "I've seen how the last generation of people who've grown up speaking it are getting to a point where they're passing on," says Craft. "We're at a critical point; when our grandparents' generation dies, that will be the last of the people really raised speaking [Louisiana French]."
And so he set about learning this regional dialect. "I wanted to be able to sing in it," Craft admits. "I wanted to be able to learn traditional Cajun music and know what I was singing about, and what all those old guys were singing about."
But grabbing onto what was fading away proved a bit of a challenge. "I had to build my own immersion program," he says. "But there are lots of meet-up groups and discussion groups. There are different French Tables, and I try to go to those so I can use the language."
Craft has spearheaded a French movement within his own band, which also includes his brother Jack Craft on keyboards and backing vocals. The other members are learning Cajun French by singing it. "I am showing them the ropes on a lot of this stuff," says Craft. "It has a lot more to do with the song we're working on at the time, and learning those words and what they mean … We all want to buckle down and make it a more formal thing."
Either way, within three years, Craft had started his hybridized new band, which is now headlining big clubs and rocking Louisiana festivals. "We were concerned at first how the reaction would be," Craft admits of his band's music which, other than Marceaux, belting out her words like a French Ann Wilson, does not resemble traditional Louisiana music. At times Sweet Crude's tunes almost sound like Cajun vocal tracks over instrumentals remixed by Vampire Weekend. "We worried, for one, will this alienate young people who don't know French? And two, would it alienate an earlier generation that think they're coming to hear zydeco music, something they can two-step to?"
Several gigs in Acadiana area put their fears to rest. "We were surprised at the great reaction," says Craft. "We were playing in a dancehall tent, everyone's there to jitterbug waltz and two-step. We were afraid we were gonna get crucified. But we've since been invited to play Festival International, and Festival Acadie [in New Brunswick, Canada] – where like, you gotta play two-step and waltz music. It's strictly a zydeco and Cajun swamp pop festival, but we were invited to play it, and that was a huge vote of confidence."
---
---
To hear more from Sweet Crude
---
ON THE UPBEAT
T-BOIS BLUES FESTIVAL
What began off as an annual family-and-friends crawfish boil / reunion on an alligator farm has blossomed into a full-blown camping festival in Larose. If you're into getting down and dirty, rain or shine, while dancing to the likes of Cedric Burnside, Colin Lake, Eric Lindell, Honey Island Swamp Band and a bevy of other blues and swamp-pop artists, check out the website for more information: tboisbluesfestival.com.
Another sweet bonus: Beer from NOLA Brewing is included in the ticket price.
– Sarah Ravits
---