In a Festive Mood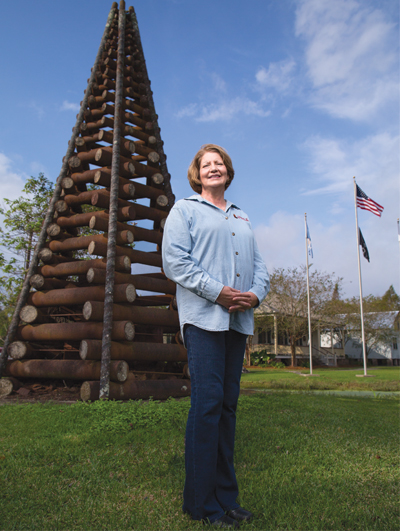 By the time you read this, Rhonda Lee's life will resemble a tinsel whirlwind wrapped in Christmas ribbon, a nonstop holiday hustle so complex, so heated and so jam-packed with so many deadlines that even Frosty the Snowman would melt under the pressure.
But don't you dare feel sorry, Lee pleads.
---
"Sweetie, it's always crazy in my life," Lee says, that punchline chased by an uproarious but genuine laugh that makes you wanna laugh, too. "So this isn't nothing new. It's is crazy, but it's fun-crazy."
This is chaos by choice – a taxing labor of love that blossoms into two of the most captivating and truly Cajun celebrations: The Festival of The Bonfires and the Christmas Eve Lighting Along The Levee.
From the sky, it's a sight unlike any other, an illuminated row of bursting oranges and reds stretching along the Mississippi River, from one bridge to another. From the ground, the flames cast a warm rush upon cold cheeks, reflected in wide eyes and dropped jaws as the crowd stares at the immensity of the bonfire.
Either way – whether your vantage point is high above or down below – it's inspiration enough to bring grown-ups to tears.
"I've known friends who fly overhead in private planes, and they say it's awe-inspiring," Lee says, pausing to collect her own emotions. "I'd like to see that one day, to see what it's like looking from way up there. But even on the ground, it's just incredible and it's ours. It's our own tradition."
On its silver anniversary, the 2015 Festival of the Bonfires will be held Dec. 11-13 at Lutcher Recreational Park. With attractions and crowds growing every year, Lee expects attendance to once again exceed 8,000 and possibly flirt with five figures. Thankfully, Lee will once again lean on her trusty team of 60 volunteers to accommodate the swelling crowds.
"The beauty is, everyone knows their role inside and out," Lee says. "The crafters person takes care of the crafters. The setting-up people take care of setting up. The food vendors – which mostly I take care of – know the person they are dealing with. So everyone has a job to do, and we do it well.
"That trust and that familiarity helps make this event run so smoothly. I don't have to worry about things getting done."
Never was that more evident than a couple years back. On Thanksgiving Day, Lee lost her mother and then within a week, her father suffered a massive stroke. The Festival – a community event Lee's been involved even when she didn't live in the community – was less than two weeks away.
"My team just took over," Lee says. "Everything was taken care of. They let me take care of my things. This team was so amazing. They weren't a team, they were and are a family. Loyal like a family. My core group is awesome."
Because of the lack of volunteer turnover, Lee claims her group can set up the entire festival within 2.5 days. Though she's always busy and running around, Lee permits herself a few precious moments to enjoy the surrounding splendor.
The music and food-filled weekend celebration is the perfect primer for the spectacle that is the Christmas Eve bonfire lightings along the Mississippi River levee – a tradition with an unknown exact origin but dates back more than a century. The most commonly accepted reason behind the blazes concludes they were set by German and French settlers in St. James Parish to light a clear path for "Papa Noel."
Lee handles much of the publicity and sponsorships tied to the pre-Christmas lightings, even appearing on local TV morning shows to encourage those from neighboring parishes to come witness this one-of-a-kind tradition.
"The festival and the lighting are two different things, but they are certainly connected," Lee says. "I wouldn't recommend choosing one over the other, or you'll miss out."
Especially during the opening Friday of the festival. Yes, Saturday features a ton of live music and a bonfire on the levee, and Sunday is when the ever-popular 5K walk/run is held, but Friday is the date of the annual Gumbo Cook-Off – a delight for just about every human sense. Last year, dozens of chefs – some formally trained, some trial-and-error trained – whipped up their special batches, all vying for top honors (or at least a crown in specific gumbo sub-categories). The best part? Festival-goers are permitted to sample the entries.
"There's just so much to enjoy," Lee says, in a reminiscing mood. "I've been a part of this for a long, long time – back when it started in a small pavilion. But every year is different, every year there's something new to see and do, and something that just keeps me coming back every year and so many other people, too.
"I still get that itch to be out there," Lee continues. "I've been doing it too long to sweat the little details and not enjoy it. You want it to be perfect, you want it to all run smoothly, but no matter what, it's going to be perfect in its own way.
Lee pauses to laugh, before delivering a classic funny line that's like topping a tree with a star.
"Plus, we tell each other, if we mess up, it's not like anyone is going to know."