Hit the Road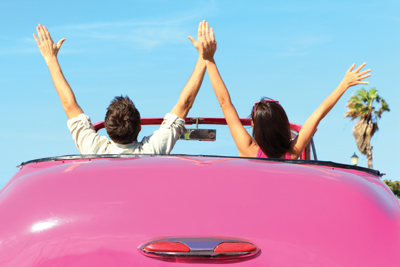 Start the New Year off with a bang! Hit the road this winter and experience some of the state's hidden and not-so-hidden gems. While Mardi Gras tends to take center stage during this time of year, other events and attractions abound as well. Plan your Mardi Gras among one of the many celebrations listed here, but don't forget to visit the chosen parish's numerous cultural destinations, museums and more. Find a fais-do-do and do some dancing, stroll a small-town main street for antique and boutique shopping, or explore the great outdoors across Louisiana's diverse landscape. Let your travels take you beyond state lines as well, and see what Louisiana's neighbors are up to this winter!
---
LOUISIANA PARISHES, CITIES AND TOWNS
---
St. Tammany Parish, aka "Louisiana's Northshore," is full of family-friendly fun for Mardi Gras. Those looking for a tamer version of The Big Easy will find it just 45 minutes from the French Quarter. The Northshore's Mardi Gras celebrations are quirky, unforgettable, and full of positive energy while exhibiting that safe, small-town feel.
The Krewe of Bilge in Slidell and the Krewe of Tchefuncte in Madisonville are floating parades, where Krewe members decorate their boats and throw beads to parade-goers on the bank.
Open to all, Mystic Krewe of Mardi Paws is a family affair held on the Mandeville Lakefront walking path along Lake Pontchartrain. Entire families traditionally "escort" their pets along the walking parade route in costume, congregating and celebrating under the 100-year-old mossy oaks.
The Krewe of Push Mow decorates dozens of humorously themed homemade floats, many based on lawn equipment, for a funky and rousing cruise through the heart of Abita Springs. Meanwhile, the Northshore Krewes of Eve, Olympia, Selene, and Dionysis offer handcrafted floats and large-scale parades in the typical New Orleans tradition.
For more information on the Northshore's family-friendly carnivals, visit LouisianaNorthshore.com.
---
This Mardi Gras season, take the family to Houma for a Carnival experience unlike any other. Houma offers a safe, family-friendly atmosphere without the noise, traffic and high cost of New Orleans and is less than an hour away. A great alternative for families, seniors and foreign travelers, Houma boasts the second-largest Mardi Gras celebration with seemingly countless parades rolling from Feb. 21 through this year's Fat Tuesday, March 4. Parade floats are designed and built by renowned New Orleans artist Blaine Kern and average about 30 per parade with over 600 riders, so watch for endless "throws" headed your way! Every year, thousands of people travel to Houma for Mardi Gras, including those from Greater New Orleans.
For a unique springtime adventure, head outdoors to experience the Houma area's rich and rare blend of nature and wildlife. With thrilling swamp tours, a wildlife park and alligator farm, as well as world-class charter fishing and more, there's always something fun to do. Call (985) 868-2732 or visit online at houmatravel.com.
---
Proudly distinguished as "The Most Cajun Place on Earth," Vermilion Parish in South Louisiana is alive with the food, music, language and scenery that define the Cajun cultural heritage. Located minutes south of Lafayette and just west of New Iberia, the towns of Delcambre, Erath, Abbeville, Kaplan, Gueydan and others all bring a little lagniappe to the enchanting region.
Music lovers are invited to jam this January with jam sessions alternating every Saturday between Maurice and Erath. Beginning Jan. 4, Touchet's Bar hosts in Maurice from 2 p.m.-till, and beginning Jan. 11, Museum Café in Erath will host from 2 p.m.-6 p.m. All are invited to enjoy the music and dancing!
Mardi Gras kicks into high gear this February with Le Krewe du le Originales et les Enfants Mardi Gras Run in Gueydan. The traditional run is followed by a parade and fais-do-do. Check MostCajun.com for dates and details and for other destinations, events and travel ideas in Vermilion Parish.
---

Sabine National Wildlife Refuge in Lake Charles
Courtesy Louisiana Office of Tourism
Just off I-10 and west of Lafayette lies the "Cajun Prairie," Acadia Parish, an area known for its unique attractions, numerous year-round festivals and rich history and folklore. In Crowley, home of the International Rice Festival, tour the Rice Interpretive Center, the Historic Crowley Ford Motor Company, built in 1920, as well as the J.D. Miller Recording Studio. Travel the Zydeco Cajun Prairie Byway and visit Kelly's Landing Agricultural Museum to take an informative walk through the past while viewing the farming equipment of yesteryear and learning the importance of crawfish and rice to the region.

Rayne Annual Frog Festival
Courtesy Louisiana Office of Tourism
See why Rayne, home of the annual Frog Festival, is both "The Frog Capital of the World" and the "Louisiana City of Murals." Similarly, check out the Buggy Festival at "The Buggy Capital of the World," also known as Church Point, and visit the Le Vieux Presbytere Museum with bousillage mud walls. Roberts Cove is home to the German Heritage Museum and the popular Germanfest.
For more information, events, destinations and festival dates check out AcadiaTourism.org or call (877) 783-2109.
Spring means festivals in Central Louisiana. The festival season kicks off with the state's biggest party – Mardi Gras. Festivities in the Alexandria/Pineville area are family-friendly and fun with parades, a Taste of Mardi Gras, and the Mardi Gras Madness 5K.
---
The party continues into the month of March with the Central Louisiana Outdoor Adventure Festival. This new festival highlights the varied outdoor adventures and events in the Alexandria/Pineville area. Visitors and locals alike can experience Civil War re-enactments, downtown walking and musical tours, the Louisiana Nursery Festival, a day in Kisatchie National Forest, a car show, golf tournament, ArtWalk, Cotile Trade Days and more!
Discover the great events this spring, and throughout the year, in the Alexandria/Pineville area by visiting AlexandriaPinevilleLa.com.
---
Come to Avoyelles Parish and view or purchase marvelous works of talented local artists exhibited in the 4th Annual Les Peintres des Avoyelles Art Show at Kilpatrick's Rose-Neath FH Community Room. Oil, water color, acrylics, pen and ink are some of the media used to showcase awe-inspiring cypress and swamp scenes, weathered old cabins, wildlife, florals, children at play, and historic buildings and photography. The works will be on display from Jan. 11-24.
Celebrate Mardi Gras this year at the Krewe of Cyllenius Parade on Jan. 26 and the Krewe of Cronus on Feb. 1 in Bunkie.
Easter in Avoyelles begins on Easter Saturday (April 20) in Cottonport and in Effie (on Red River) with egg knocking. Easter décor contests and egg hunts complete the festivities. On Easter Sunday morning at 9 a.m., the Avoyelles Parish Courthouse in Downtown Marksville is the place to be for more "egg pacquing." Come experience "Joie de Vivre" in Avoyelles Parish, the Egg Knocking Capital of Louisiana.
---
For a serene escape into a place of beauty, visit Iberville Parish, a historical Louisiana gem tucked between the quiet swamps of the Atchafalaya Basin and the bustling capital of Baton Rouge. Step through time and elegance at one of the many magnificent antebellum homes like Nottoway Plantation, the South's largest remaining antebellum mansion located in White Castle. Other historical attractions include The Plaquemine Lock State Historic Site, The Hansen's Disease Museum in Carville, The Iberville Museum and the majestic St. John the Evangelist Catholic Church, the purest example of Italian Romanesque architecture in the South.
With so many beautiful diverse waterways, fishing and bird watching opportunities are endless, making it a premier outdoor getaway in the heart of the Atchafalaya National Heritage Area. Enjoy a relaxing golf outing at one of Louisiana's most popular courses, The Island, located in Plaquemine. End your day by dining along the mighty Mississippi and enjoying fresh seafood with a Louisiana sunset at Roberto's River Road Restaurant located in Sunshine.
For more destinations and events, go to VisitIberville.com.
---
Experience the southern charm of North Louisiana by visiting Ruston & Lincoln Parish. Home to the Louisiana Tech Bulldogs and Grambling State University Tigers, the area is fired up with sports excitement. Fans come from all across Louisiana for the variety of events at the universities.
Meanwhile, history and art buffs flock to the beautiful historic downtown district of Ruston offering specialties shops and boutiques, delectable restaurants, art galleries and unique architectural wonders.
Area destinations include the Lincoln Parish Museum, Louisiana Military Museum, Autrey House and the Eddie G. Robinson Museum. Those looking for an adventure can tackle the best mountain bike trail in the south at Lincoln Parish Park, also a great place for hiking, fishing, camping and more.
The Dixie Center for the Arts has also kicked off the New Year with many events planned.
For more information on Ruston and Lincoln Parish and upcoming events visit experienceruston.com.
---
Drivng into Lake Charles/Southwest Louisiana, you'll notice that there is a true myriad of experiences near at hand. How many other places have the diverse combination of casino gaming and big city living so close to Mother Nature's gems found along the Creole Nature Trail All-American Road? Luxurious accommodations, top entertainment and a variety of dining experiences are always in full swing at Delta Downs Racetrack Casino & Hotel, the Isle of Capri Casino Hotel and L'Auberge Casino Resort, complete with spa and golf facilities.
Golf links and boudin links are hot in Calcasieu Parish, with many public courses to explore. Plus, the Southwest Louisiana Boudin Trail aims to please your Cajun cravings. Not only is it time to gear up for Mardi Gras, but the area also has 75 other annual festivals, museum and gallery exhibits, including the Mardi Gras Museum, which houses the most Mardi Gras costumes in the world so you can experience Mardi Gras year-round!
Check out VisitLakeCharles.org/Magic for this year's Mardi Gras schedule, or call (800) 456-7952.
---
St. Martin Parish draws visitors year round with its welcoming hospitality, world-class music and famous local cuisine. Accommodations offerings include beautiful B&B's, cabins, campgrounds and chain hotels. Breaux Bridge offers an array of shopping, antiquing and world-renowned hot spots like the famous Zydeco Breakfast at Cafe des Amis or Cajun music and dancing nightly at Pont Breaux's Cajun Restaurant. The Henderson area, at the edge of the Atchafalaya Basin, offers airboat and swamp tours and great family-owned restaurants such as Robins Restaurant and Crawfish Town USA. On Sundays, Dancing on the Levee starts at McGee's Landing at noon, ventures to Whiskey River for Zydeco and ends the night at Pat's Atchafalaya Club. St. Martinville plays host to countless festivals and quaint cafes in the beautiful downtown district. Take heritage tours at Acadian Memorial, African American Museum and Longfellow-Evangeline State Historic Site.
Highlights of year-round festivals and events include the Newcomer's Mardi Gras Parade, the Acadiana Memorial Festival, the Parks Cracklin Cookoff, the Breaux Bridge Crawfish Festival and the Creole Zydeco Festival among many others. See "where Cajun began," and visit CajunCountry.org.
---
Surrounded by the waters of Bayou Teche, Atchafalaya River, and the Atchafalaya Swamp Basin, the Cajun Coast, in St. Mary Parish is known for its natural splendor and "road less traveled" atmosphere. There's no better way to spend a fall day than exploring the Atchafalaya National Heritage Area or winding along the Bayou Teche Scenic Byway. Cajun Jack's Swamp Tours takes visitors through the Atchafalaya Basin, the largest overflow swamp in the U.S., or you can experience the wilderness by paddling through the Bayou Teche National Wildlife Refuge. Golfers won't want to miss a chance to hit the Atchafalaya at Idlewild, which was rated the No. 1 golf course in Louisiana by Golfweek Magazine in 2008 and 2009.
This winter and spring, St. Mary Parish is alive with festivals and events including Mardi Gras, the Eagle Expo (Feb. 20–22), the Cypress Sawmill Festival (April 4-6), the Bayou Teche Black Bear Festival (April 11-13), and the Bayou Teche Wooden Boat Show (April 11-13). For more information, visit cajuncoast.com.
---
Lafayette is full of exciting year-round events, and this January and February, warm up with some dancing at any of the area's top live music venues. Enjoy both a delicious dinner and lively dancing at Randol's Restaurant and Cajun Dance Hall. For an upscale dinner with entertainment, visit Charley G's for delectable meals and music. In the morning, wake up with Sunday Brunch Live at Blue Dog Café or a Saturday Zydeco Breakfast at Café Des Amis. Unforgettable evening performances always abound at the famous Blue Moon Saloon, one of America's premier venues for roots music.

Performer at one of Lafayette's many festivals
Courtesy Louisiana Office of Tourism
The Acadiana Center for the Arts features world-class performances, community shows, affordable family events, music, dance, theater and film in its visually stunning James D. Moncus Theater. The premier event is Louisiana Crossroads, an award-winning concert series now in its 14th season.
Visit the calendar online ( acadianacenterforthearts.org) to see what's coming up this season!
For more information on all the Lafayette area has to offer, visit LafayetteTravel.com.
---
Bossier is a launch pad for progress and a parish on the go. "Bossier Innovates" through combined community resources such as technology, education, workforce and economic development, and, most importantly, partnerships; the community is leading the region and state to a brighter future.
One example of innovation is the announcement of Benteler Steel's 675-job manufacturing plant at the Port of Caddo-Bossier. Bossier Parish Community College (BPCC) recently broke ground on a $22 million training facility that, after meeting the needs of Benteler Steel, will focus on the broader needs of manufacturing companies throughout the region.
Bossier Parish School System is ranked among the top 10 school systems in the state. Higher education institutions such as BPCC are leading the way in educating and equipping future leaders to fill critical workforce demands.
In 2007, Bossier City, Bossier Parish, and the State of Louisiana made a strategic investment of $107 million in the creation of the National Cyber Research Park and Cyber Innovation Center, demonstrating a commitment to growth by building the necessary critical infrastructure to support and attract 21st-century jobs.
To see how "Bossier Innovates," visit bossierchamber.com.
---
EVENTS AND DESTINATIONS
---
Coushatta Casino Resort in Kinder is Louisiana's premier gaming and entertainment destination. Enjoy 2,800 newest and hottest slots, over 70 thrill-a-minute table games including live poker plus bingo and off-track betting, free live entertainment every weekend in Mikko Live!, deluxe overnight accommodations in 900 luxurious rooms, a supervised childcare facility and teen arcade, an RV resort with 100 cozy chalets, and nine dining options to satisfy any palate. You'll feel like a kid in a candy store on their immense 100,000-square-foot gaming floor, and non-smokers will love their enormous 12,000-square-foot non-smoking slot area. Play your favorite slots and table games to rack up points and comps in Coushatta's Advantage Players Club.
Golfers! Koasati Pines at Coushatta championship golf course is rated 4 1/2 stars by Golf Digest's readers – it's the top casino course in Louisiana.
See for yourself why this is "Louisiana's Best Bet!" Visit CoushattaCasinoResort.com.
---
Enjoy warm, indoor family fun this winter season with a trip to Thibodaux's newest family destination, the Bayou Country Children's Museum. An educational museum disguised in fun and adventure, the Bayou Country Children's Museum offers signature exhibits that include a Sugar Cane Harvester climbing structure and Sugar Cane Maze, an Alligator Mardi Gras Float, The Grand Old Oak (toddler reading area), a Duck Blind for spotting local water fowl, and plenty more. The Cajun Cottage restaurant exhibit features regional fare while the Bayou Boogie exhibit provides a hands-on opportunity to play Cajun musical instruments.
Full of Cajun flair, the museum offers visitors increased knowledge of bayou country and the Cajun way of life. The museum is designed for children ages 2-12 and offers a unique learning environment outside the classroom. Open year round, the Bayou Country Children's Museum offers party rooms that can be booked for birthdays and other celebrations..
For more information, visit BayouCountryChildrensMuseum.org.
---
Enjoy Louisiana's mild winter weather with a stroll around LSU's historic campus, home of the LSU Fundation The 2,000-acre property, nestled in South Baton Rouge, is defined by an Italian Renaissance character marked by red pan tile, overhanging eaves and honey-colored stucco. Dedicated in 1926, the current campus includes 46 buildings that are listed on the National Register of Historic Places.
Recently named a Tree Campus USA by the Arbor Day Foundation, and one of the 20 best campuses in America in Thomas Gaines' The Campus as a Work of Art, LSU's enviable landscape history began in the 1930s when landscape artist Steele Burden planted many of the live oaks and magnolia trees. The roughly 1,200 towering oaks have been valued at $50 million and are supported through the LSU Foundation's Endow an Oak program.
With a myriad of architectural and natural beauties, several museums and year-round theater, art and athletic events, opportunities abound to experience Louisiana's flagship university.
Visit lsufoundation.org to learn more about what the school and campus have to offer.
---
In Bossier City, located along the picturesque banks of the Red River is a shopping, dining and entertainment mecca full of stores, tasty dining options and family-friendly entertainment. Host to dozens of retailers, The Outlets at Louisiana Boardwalk has brand-name stores for everyone, offering rustic outdoorwear, clothing specialties for the little ones, and the hottest styles and brands for teens. The Outlets at Louisiana Boardwalk brim with activity year-round. With special events, an IMAX stadium-seating movie theater, arcade and carousel, kids can play while adults enjoy the decadent dining, peaceful shopping or a romantic evening stroll along the river and fountains.
This winter, stock up on all the latest fashions, gifts and gadgets. From salon and spa treatments to clothing and sporting goods, The Outlets at Louisiana Boardwalk's numerous retailers cover every need. Nestled conveniently near Shreveport-Bossier's vibrant downtown, it is the perfect destination for shopping and fun in north Louisiana.
Visit LouisianaBoardwalk.com for more information, event listings and a store directory.
---
For a season filled with food and beverages, what better place to satisfy all your Mardi Gras needs than your local grocery store? Especially one that is Louisiana owned and operated. Family owned Rouses Markets is now in its third generation.
Having served Southeast Louisiana for more than 50 Mardi Gras seasons, Rouses knows king cakes and uses gourmet cinnamon dough that entices you from the moment you walk through the doors. Pick up a traditional king cake or any of your favorite flavors for a tasty Mardi Gras treat (visit rouses.com for shipping), but don't forget their famous fried chicken, party trays and platters, as well as supplies for your crawfish boil. For those wanting crawfish pre-prepared, the Rouses Bayou Boys will be boiling through the season with their time-honored South Louisiana recipe. Take everything home with you in one of the Rouses reusable green grocery bags and you'll see just how convenient they are for holding beads at every party and parade.
Rouses now boasts 43 stores with the newest located in downtown New Orleans, Mardi Gras central, at 701 Baronne St. For more information, visit Rouses.com.
---
REGIONAL TRAVEL
---
Situated high on the bluffs above the Mississippi River, Vicksburg, Miss., prides itself on its perfect location as a midway point between Memphis and New Orleans as well as Dallas and Atlanta. This strategic location made it a focus point during the struggle to unite our nation during the War Between the States. On July 4, 1863, Gen. Ulysses S. Grant and Gen. John Pemberton negotiated Vicksburg's surrender giving the Union complete control of the Mississippi River and the western part of the United States.
Visitors can relive that history by visiting Vicksburg's historic homes, churches, museums and the Vicksburg National Military Park, Mississippi's Attraction of the Year. From four world-class casinos to some of the most fascinating historic sites, Vicksburg offers an authentic Southern experience you don't want to miss. Just be sure to leave some time to eat at one of its signature restaurants and browse the many boutiques and antique shops.
For more information, visit visitvicksburg.com or call 1 (800) 221-3536.