High Cotton at Frogmore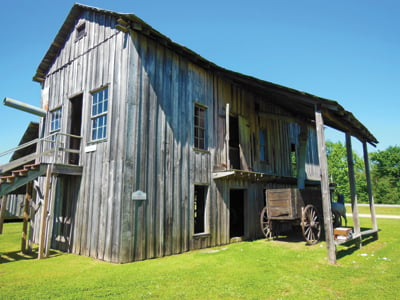 America is now three-quarters into its Civil War Sesquicentennial, and faithful fellow "Travelers" have battled through the commemorations of every event of major consequence that occurred in Louisiana a century and a half ago. With the Union campaign to take Shreveport and invade Texas abandoned after the Confederate victory at Mansfield, and with Union control of the Mississippi secured at Vicksburg and Port Hudson, the major armies of the North departed to participate in Gen. Grant's multi-pronged campaign in the east (Virginia, Tennessee, Georgia and Carolinas) that would end the war.
By mid-1864, however, sufficient units remained to hold major cities and waterways in Louisiana, as did a 4,500-man contingent at Fort McPherson in Natchez.
The "Natchez District" spilled over into the river parishes of Louisiana, where an interesting and little-known string of battles occurred involving Union supply raids on the plantations of Southern sympathizers and Confederate raids on so-called Union properties (cotton plantations owned by Union sympathizers or commandeered by Union forces and put into production overseen by their agents and worked by freed slaves). Thus 150 years ago the big war came to little Concordia Parish and, in particular, on Aug. 4-6, 1864, to Frogmore Plantation – an agricultural empire then and now, which preserves on its grounds an incomparable collection of buildings and apparatus representing the colonial-to-current history of American cotton farming, all shared with the public through its lengthy menu of guided tours.
Named for a royal estate in England, Frogmore had been established as a small plantation in the first decade of the 1800s by Daniel Morris, between Vidalia and Jonesville on the wagon-rutted Natchez-Natchitoches trail (roughly the route of today's U.S.84), destined to become an early Interstate for westbound settlers from the Natchez Trace heading for the Texas-bound Camino Real. But Frogmore wasn't small for long. By the early 1840s it had been acquired by John Gillespie (his eighth plantation hereabouts) and enlarged by wartime to 2,640 acres.
Many of the area's major cotton growers were relative newcomers, attracted by soaring cotton prices, who despite depending on slave labor were opposed to secession. Gillespie was one of those, and, whether motivated by nationalism or by handwriting on the wall, he was a ready source of provisions for Union forces and made his properties available for bivouacs during the endless Yank-versus-Reb chases across the raid zone (roughly bounded by Lake Concordia and the Mississippi, Ouachita, Black and Tensas rivers).
---

Lynette Tanner at 1884 Munger gin
---
So it was that on Aug. 4 detachments from Natchez and Vidalia, including infantry and artillery units comprised of recently recruited freedmen, set out on various routes to join forces at the "Gillespie Plantation" with plans to strike a Confederate force camped on the Tensas. After crossing from Natchez to Whitehall Plantation below Vidalia about 8 p.m., Col. Bernard Farrar's force undertook an all-night march through swamplands in total darkness, often moving single-file by torchlight, following a rumor that the estimated 800 grays were camped at a plantation called Stacy. Arriving at 7 a.m. on the 5th and learning that he had surprised no one (for no one was there), Farrar proceeded to his appointed meeting with the cavalry of Lt. Col. Hubert McCaleb and then to join the units from Vidalia encamped at Frogmore. At 2 p.m., however, a report arrived of 350 Confederates spotted at the Tensas, so Farrar was off again, leading his still-unrested cavalry to attack the Southern battle line strung out through Gilbert Plantation and along the Tensas levee. After a fierce exchange of gunfire the gray army withdrew and, after a brief chase, Farrar returned to Vidalia arriving at 7 a.m. on the 6th.
That same morning Frogmore saw the arrival of Col. Martin Wallace's Union cavalry, followed by yet another sighting of rebs, this time a stone's throw from the plantation on the Tensas Road, which of course prompted another chase launched from war-weary Frogmore. The result was several clashes as the Confederates repeatedly dropped back to form new lines of defense, ending about five miles west of the plantation when they finally called it a day.
---

Frogmore manor, 1815

Volunteer pickers and row-bags
---
A special Civil War tour is being offered at Frogmore during these Sesquicentennial years, describing Union and Confederate activities in the region, reliving the wartime conditions of plantation folk and including a PowerPoint documentary on the local, national and international causes and consequences of the war.
At war's end, Frogmore was purchased by the Weis family of Mississippi and New Orleans (cotton growers and brokers), at first managed and later acquired by a young Mississippian named Benjamin Wade. It remained in the Wade family until George "Buddy" Tanner leased half the estate in the 1960s and, in the 1970s, with his new bride Lynette Ater Tanner, purchased that half upon the death of owner Anna Wade Godbold (age 101). The Tanners have made the1815 Frogmore "big house" their home for the past four decades, raising five children and swelling the estate to 1,900 acres by acquisition of other original Frogmore properties.
The Tanners are cotton to the core, Lynette reared on Ater family plantations in northeast Louisiana and Buddy hailing from the Mississippi River cotton town of St. Joseph in Tensas Parish. Influenced by his cotton grower uncle and born with a gift for management and a yen for gins, he managed the Frogmore Gin until purchasing it and then building a new one, which developed through his study and application of new technologies into a 900-bale-a-day marvel regarded as the most fully computerized gin in the nation. Named Ginner of the Year by the Southern Cotton Ginners Association in 1990 and National Ginners Association in 1991, he's also served as representative to the National Cotton Council and trustee of the Mid-South Cotton Foundation.
The family has always cared for the historic structures on the property (including the 14-foot, American Indian mound carbon-dated to 1020-1260 A.D.), but the impetus for saving vintage buildings began with a gift of two slave cabins by Lynette's mother LaVonne Ater. Soon Buddy and Lynette were actively searching for appropriate additions to their historic plantation complex, 18th– and 19th–century dwellings and dependencies such as the 1850s gin building and its 1884 steam-powered Munger gin found on a plantation near Rodney, Mississippi. They've restored 18 structures in all (some original to Frogmore, some donated), and, although each of Frogmore's tours is totally different, every structure is accessible on every tour except two cabins not yet furnished.
---

1850 church and quarters
---
Lynette conceives, researches and writes all tours (including the widely praised PowerPoint Civil War presentation), earning for Frogmore great public acclaim and prestigious listings like Rand McNally's "Must See Sites in the South," AAA's "Top Three Sites" in this three-state area, and the State of Louisiana's Rural Tourism Award. Besides hosting the tours (with tour manager Melissa Powell and vocalist/guide Bethani Goodman), she's past-chairman of the Louisiana Attractions Association and serves as a member of the board of the Louisiana Travel Promotion Association as well as the tourism advisory boards of the Lt. Governor and Louisiana Secretary of Agriculture. Her compilation of WPA-era interviews with former slaves, Chained to the Land, was published in June (available at the Frogmore General Store or blairpub.com).
Tours begin, depending on group size, with an orientation in the mid-1800s church or film presentation in a 1790s log cabin (with its vintage regional maps and gallery of Frogmore families). One slave cabin displays the accoutrements of a laundry/weaving house, another serves as a "cooking cabin" and an 1840 double cabin is furnished to depict a slave family's quarters on one side and a post-bellum sharecropper's house on the other. The smokehouse that once cured 100 hogs a year is still standing, and a pegged-cypress dogtrot cottage built in 1810 serves as an overseer's cottage.
The big "Seed Cotton" House was first used for holding cotton from neighboring farms waiting to be ginned – that is, "de-seeded" – and its storage stalls now house fascinating old farm tools as well as cotton samples of varying quality, displayed and labeled to illustrate the complexities of cotton "grading": spotted middling, good middling, strict middling, strict low middling and such. Larger agricultural implements are housed in a huge 1840 barn, and a former plantation commissary (comparable to the "company stores" of early mining and sawmilling communities) displays cotton sacks, baskets, scales and the like.
Pick a little cotton yourself in the field adjacent to the historic complex, and then it's time to visit the 1850s gin house, whose first machinery was operated by mule-power. As Eli Whitney's cotton enGINe had revolutionized cotton production in 1793, Robert Munger's steam-powered gin revolutionized Whitney's, introducing a fan-driven pneumatic system (still used in modern gins) to suction cotton into a gin building and then through piping from station to station in the ginning process. The 1884 Munger in Frogmore's complex is a Smithsonian-quality treasure, but never could even that great institution present it as dramatically as Frogmore displays it here in its original structure. To double the impact, make this your last stop before driving past a mile or so of cotton to Frogmore's ultra-modern gins for a tour, oftentimes with Buddy Tanner on hand himself to explain the intricacies of an operation capable transforming huge circular modules of cotton straight from the fields into tons of purest cotton for the markets of the world.
The standard tour at Frogmore, available any time of day, is the "Historical Cotton and Plantation Culture" tour, and those available by appointment include "Plantation Civil War, Challenges and Changes," a "Delta Music" tour, and a fun revue of old-time marriage customs called "Music, Mistresses and Marriages." School-group tours come with lots of information packaged in an entertaining production that includes cotton picking, plantation songs and even games of plantation origin like sack races, horseshoes, blind man's bluff, musical chairs and jump-rope. Contact Frogmore at (318) 757-3333 or frogmoreplantation.com.
The cotton blooms red and white in July and August, and the fields are at their whitest on toward September when fall brings the age-old ritual and spectacle of harvesting and ginning.