Hearth and Soul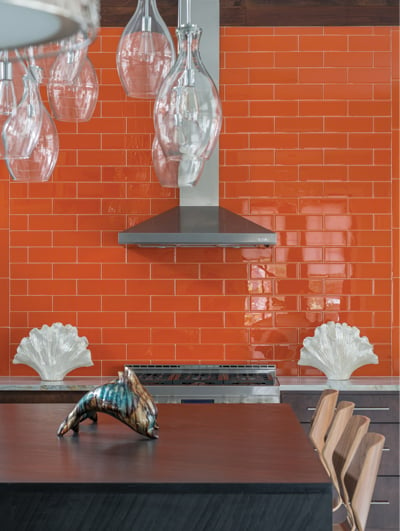 Foodies who love to entertain inevitably opine that everyone ends up in their kitchen during parties. Some of the most inspired kitchen remodels and grand estates designed for entertaining have developed from such observant epiphanies.
When creating an expanded entertainment area and a more efficient "work triangle" for functionality and beauty, a cleverly orchestrated custom kitchen island is an essential component for revolutionizing your work and party space.
Equally important are the little personalized details for the frequent foodie host. Extra touches can ease your tasks, such as adding a lower countertop for those who bake (a 30-inch height for rolling out pastry), under-lit counters and cabinets in the prep zone, a double oven with an integrated rotisserie, a dishwasher drawer near the sink to manage all the dirty glassware (great for wine-pairing dinners), plus such items as a digital electric smoker (for cold smoking), a sous-vide machine, warming drawers and a convection microwave. I've found all of these items invaluable for gourmet dinner parties (available online), along with such essentials as my hand-made Japanese chef's knives in the Samurai sword technique (gleaned from a weapons shop).
In the realm of smart design, a great kitchen island optimally functions as the most alluring social hub in the home. A second refrigerator in the pantry for large parties and holiday feasts is also worth consideration. Since I'm the only French-trained gourmet in the family, and prepare all our holiday feasts, frequently cater wine dinners as a personal chef and teach Cajun-French cooking classes, I use the kitchen island as both a hands-on learning center and also as a stage for entertaining. Guests settle around the kitchen island to sip cocktails, watch, graze and eventually engage in the latest gossip, political debates, disclose illicit romances and win over family feuds. Tip: Always display the most elaborate, visually appealing hors d'oeuvres on the kitchen island as bait.
While the kitchen island serves as the heart of the home, and a stage for entertaining, a luxurious spa-like bath nourishes the soul. It's the icing on the cake after the feast. A devoted host deserves to recuperate and hibernate in the luxury of a soaking tub. What follows is our compilation of homes selected for their diverse kitchens and baths that reflect the joie de vivre and spirit of Acadiana.

Sleek and Chic
"I've been told that our kitchen island, which is definitely the focal point of the open area, is the largest one in Lafayette Parish," says Steven Hebert, COO of Coldwell Banker Pelican Real Estate. He collaborated with his wife, Cindy (who fashions the interior décor of their various residential properties) for two years before their "California modern" River Ranch (Lafayette) house was built in 2014. The open gourmet kitchen was inspired by a modern kitchen in Austin that the couple "fell in love with" while touring Texas homes.
"The island is a 5 1/2-foot by 8-foot wide piece of slate that comes down on one side all the way to the floor, so you get the contrast in colors," Steven explains. "It was designed without a cooking element or a vegetable sink. Our kitchen island is always the main place where everyone gathers as we entertain while cooking, which we love to do." Steven's duck hunting and fishing trips result in big gumbo parties and spring barbecues highlighted by fresh seafood on the outdoor grill.
Large glass globes in various sizes from Teche Electric Supply are spaced out randomly over the kitchen island, adding a whimsical element to the Hebert's busy entertainment hub. Metallic paint was applied to the upper kitchen cabinets above dark stained cabinets to render a modern effect.
The minimalistic, streamlined indoor kitchen is distinguished by a bold, eye-catching pop of color: A wall of 12-by-4-inch orange glass tiles that was designed to be devoid of cabinetry; it is centered by a large stainless steel hood. The dramatic wall is topped with a sleek border of Brazilian Ipe. "It was a bold choice, but worth it," says Steven. The dark, durable hardwood reflects the same material used for the fence surrounding the outdoor kitchen. It is flanked by a second island, a gas fire pit and an outdoor living room that can be viewed from the interior living and dining areas surrounded by sliding glass doors topped by glass transoms.
"One of the primary design elements was to wrap the kitchen, dining and living rooms around the courtyard and make it an extension of the living areas," Steven point out. "It's all very open, and there are great views from one area to the other."

---

When designing the kitchen for their new house with architect Patrick Touchet, Denise Minvielle came up with the idea of installing a dishwasher two feet above the floor to alleviate back strain.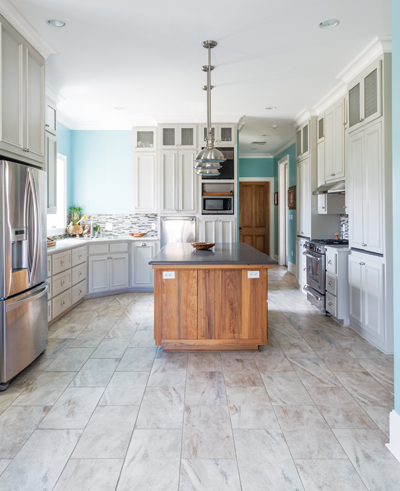 The roomy kitchen, centered by a large island that is ground zero for parties, features splashes of teal in the color palette for a Caribbean vibe. The materials used give the room a classic, clean feel.
---
Caribbean-Inspired
The lovely new Abbeville home of Eugene and Denise Minvielle, completed in August of 2014 was designed with entertaining in mind. A cypress island with a dark gray quartz countertop is the focal point of the spacious kitchen, where generous appetizer platters attract guests who linger and visit. Owners of Minvielle Lumber Company, the gourmet couple enjoys hosting game-day soirées and informal dinner parties.
Friends arrive for casual gatherings via a charming stone pathway that leads past the garage and up a large screen porch adorned with a swing that is conveniently positioned near the kitchen door. A second story was added over the adjacent garage to accommodate a game room, a work-out room and an office. Otherwise, the 4,500-square-foot house, constructed by Prejean Builders, is a one-story dwelling that was inspired by the colors of the Caribbean.
"Since the kitchen is spacious and opens onto a breakfast area, we needed a large island," states Denise, who explains that the drawers are situated to provide easy access to cookbooks, bowls and baking dishes. "The island was designed for ease while working and hosting get-togethers."
The dark gray island is illuminated by industrial lighting from Abbeville Electric Supply, rendering a contemporary effect. "The glass backsplash and quartz countertops remind me of sea shells on the beach," she adds. "I wanted a gray and teal kitchen to complement the Caribbean-influenced architectural style of the house. It had a Louisiana look but was different from the majority of homes that people were building."
One of the custom features Denise insisted on adding in the kitchen was a raised dishwasher. "It's about two feet off the ground, so I don't have to bend over to unload the dishes. It's fabulous!" Denise exclaims.
"We had 38 people around the kitchen island for the last ball game, and the flow was great," she points out. When invited to the Minvielle home, friends and family look forward to Denise's legendary shrimp sauce piquant, gumbo and crawfish etouffée. The Minvielle's moveable feast starts with appetizers and cocktails around the island, and often moves into the formal dining room, depending on the occasion. "We just love to cook. This is the perfect house for entertaining," she concludes.

---

The gourmet kitchen, with marble flooring inset with walnut, features two islands that showcase chefs preparing elaborate dinners as guests mingle around the adjoining keeping room and living and dining rooms connected by stone archways. A large pantry with extra freezers and an extensive wine room equip this 10,000 square-foot European-style house designed for entertaining. Interior designer Monique delaHoussaye Breaux created the elegant, lavish interiors.
Photo by Chipper Hatter
---
Gourmet Party Palace
Located in the heart of St. Martin Parish, this sprawling estate was built seven years ago to accommodate the owners' love of hosting multi-course dinner parties that showcase the wines sampled during their travels to various vineyards. As passionate oenophiles and gourmets, they are equally devoted to wild game, and enjoy hunting locally and on various continents.
Top chefs from around the world are hired for their gourmet soirées that include sophisticated wine pairings and chef demonstrations.
A pair of intricately designed custom islands was created as the central focus of the open kitchen. One is for the chefs as a cooking and demo station, while the second island is designed for dinner guests who like to participate, complete with seating.
The lavish European-style kitchen extends to a spacious great room, living and dining rooms that are connected to an elaborate wine cellar. It is all one large area designed around the kitchen islands as the central entertainment hubs.
The spacious pantry just off the kitchen is appointed with a second set of appliances to accommodate the staff during large parties. Exotic animals mounted in a nearby trophy room showcase the couple's hunting trips and enjoyment of wild game.
"They actually created their entire house around entertaining," says Monique delaHoussaye Breaux, president and principal designer of Posh Exclusive Interiors in Lafayette; her distinguished client roster includes residents of South Louisiana, New York, Texas and Florida. Breaux conceptualized the interior design for the vast estate from concept to completion, from the opulent colors and design details to the elegant furnishings and fabrics, collectibles and various Old World architectural elements.
"The gourmet kitchen, which overlooks a large, formal garden, reflects the formality found throughout the home, including the hand-burnished applications and decorative moldings of bronze and gold, the jeweled knobs on the cabinets, and the backsplash that was done in France," she remarks. A hand-painted picture of the 10,000-square-foot main house surrounded by a vineyard is depicted in the backsplash tile design. "The kitchen with double islands was very much front and center of how they designed the estate."

Master Bath Bliss
Just as foodies are particular about their kitchens, those who work hard and play hard want all the creature comforts they can look forward to after the sun goes down over the rivers and bayous of Acadiana.

Spa-like Glamour
The serene master bath was designed by Monique Breaux for a glamorous young Lafayette couple with a new transitional home that was recently completed. "The client wanted a spa-like feel complete with a floating tub," Breaux explains. "She also wanted natural light, so we incorporated a transom into the window." The designer decided that putting a floating tub wouldn't do the room justice, so for added depth, she created a curved wall that incorporated iridescent glass tiles, which were carried over into the marble flooring's unique medallion.
"We needed to have an artisan come in to get all those tiny glass squares perfect in creating the medallion," she points out. "The Venetian plaster walls blend beautifully with the glass tiles." His-and-her walk-in closets are situated beyond the doors on either side of the floating tub. A textured vinyl ottoman adds a dressy touch to the room.
An oval crystal light fixture with a sheer shade softens the feel of the master bath designed with creamy, soothing colors. "Within the oval topper are little spots that throw a star pattern on the ceiling, so in the tub at night, she can turn off the lights and have a celestial feel," Breaux remarks. Jeweled hardware with gem designs was added to the pulls on the drawers. "I use my hardware as sort of my signature jewelry," says Breaux, who specializes in couture-inspired interiors and is now designing and manufacturing her own line of products (poshinteriors.com).

---

The iridescent glass tiles Breaux implemented when designing a curved wall behind the soaking tub cast a shimmering glow when the lights are dimmed and the crystal chandelier throws a star pattern on the ceiling for a celestial effect.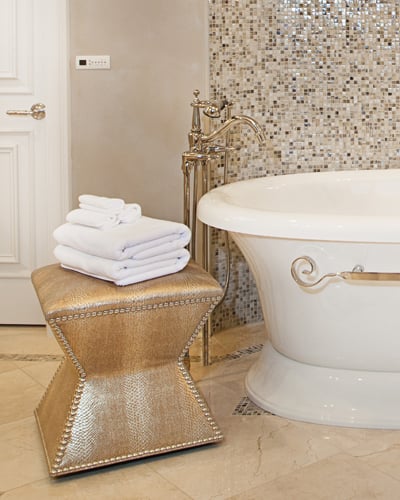 Breaux selected a textured vinyl ottoman. The award-winning designer's extensive experience with textiles and soft-goods construction enhances her creation of innovative, glamorous accents.
Photos by Scott Richard
---
Luxurious Escape
Breaux designed her own personal master bath as a restful environment, and as respite from her busy schedule which includes frequently flying back and forth to New York. "The idea was to leave it open, but I wanted to have dark overtones. The marble floor looks like wood grain; it's a very unique marble," she states. "The walls have a suede texture, which blends in with the marble flooring."
Various shades of bronze tones serve as the color scheme. Bisazza glass tile was utilized for the wall behind the floating tub. Mirrored walls add dimension to the room. "I like the textural elements of the rocks I placed under my tub," the designer comments. Beside the tub is a large glassed-in shower flanked by his-and-her vanities and spacious closets.
"About a month ago, I began a bath remodel. It started around a Christmas gift that my husband gave me," Breaux recalls. "It was a large, salon-grade paraffin wax device for the hands that I kept in my closet since it took up too much counter space," she reflects. "I decided to finally rip out the entire linen cabinet and the TV area and redesign the space, so now the device is handy." The new master bath remodel is still underway.

---

This spa-like master bath was created as a luxurious getaway for a busy interior designer who travels frequently. The contemporary paintings on concave metal, eye-catching chandelier and wall of Bisazza glass tiles in shades of bronze complement a floating tub anchored with dark rocks for added dimension. "I'd see colors all day long, so when I designed my own bath, I wanted to keep it all the same colors," says Breaux, whose philosophy of couture design for clients of Posh Exclusive Interiors extends to her own residence, which is continually being upgraded. Breaux has launched her own line of furniture and fully designed rooms that are sold via the internet (buyposhrooms.com) and are delivered to the client's door, with a turn-key option.
Photo by Melissa Oivanki
---
Soothing Serenity
While designing their new home, Cindy and Steven Hebert decided to create a serene escape for a spa-like experience. "The master bath design started with us wanting a cool, free-standing tub and an open shower without a door, and the rest evolved around that," Steven notes.
The walls were painted in Sherwin Williams Repose Gray for a soothing effect. Les Gomez of Gomez Design Group, Inc. conceptualized the T-stack of "Reed Glass" opaque windows that were installed as a focal point near the shower and a "Jazz" model tub from Maax Tubs, purchased at LCR Plumbing Warehouse. "The windows bring in plenty of natural light, yet they don't require shades for privacy," Steven points out. Floor-to-ceiling black porcelain tile was installed on the walls to contrast with the white porcelain floor tiles. Multi-colored vertical glass mosaic tiles adorn the rear shower wall.
"The shower is by far my favorite because it's just one open space that you just walk into and relax," says Steven. "The faucet has a rainfall showerhead and the floor slopes to the back wall where there is a stainless steel liner drain that runs the width of the shower. The outside wall is a large 4-by-8-foot piece of glass that you walk around to enter the shower."
A European Amba towel rack was installed over the tub. It not only warms the towels, but also radiates heat. "To keep Cindy all warm and cozy, we installed a Toe Kick Heater under her vanity that blows warm air over the floor at her feet," Steven adds. "Due to it being a relatively small space, we recessed a large vanity into the wall that's situated to the side of Cindy's vanity, which is wired for all her 'implements of beauty,' not that she needs them!" he exclaims. "But it makes a great and handy, wide-open access for all of her sundries."

---

Maax Jazz soaker tub, Hansgrohe faucets, a European Amba towel-warming rack, quartzite countertops with mirrors that are sunken into a 6-inch niche above the vanities, custom wood cabinets with Amerock Bar Pulls hardware (also used in the kitchen) and a large, frameless glass wall on the shower complement the modern, serene master bath in Steven and Cindy Hebert's River Ranch residence. "We've been married 31 years and this is our 11th house," says Steven. "We're already thinking about the next design."
Photos by Sara Essex Bradley
---