Halloween and All Saints' Day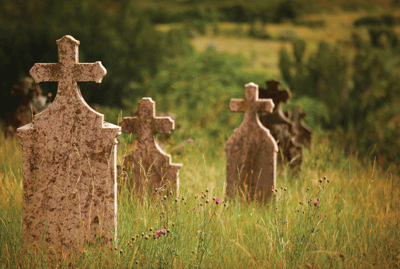 A few years ago, Steve Riley and the Mamou Playboys came out with an album, La Toussaint. In the title song, David Greely sings in French, "The first of November/ All Saints' Day/ We all get together/ To put flowers on the graves/ To remember, to honor our ancestors/ To honor their work and their wisdom." Strictly speaking, it's the next day, All Souls' Day, that we honor our ancestors. All Saints' Day is the time to honor all the Catholic saints. Today it's Nov. 1, but for a long time it was celebrated either around Easter or Pentecost Sunday. Little by little, religious holidays replaced pagan ones, and All Saints' Day is no exception.
Originally, it was a Celtic feast, Samhain, which signaled the new year and harvest time, the transition from light to darkness and from the time of hostilities between tribes to that of meetings and negotiations. Of course, these meetings were often a pretext for three days of partying. Samhain had the particularity of being an opening to the other side and a point of contact between the worlds of men and gods, between the living and the dead. Between the eighth and ninth centuries, this feast day gradually became associated with the date we know today. However, the three days that were once associated just one holiday were now divided in three: Halloween; All Saints' Day; and the often neglected All Souls' Day, also known as the Commemoration of the Faithful Departed. Given their close relationship, it is not surprising that they get confused. With our fast-paced way of life, maybe we just don't have the time to spread it out over three days anymore.

In Louisiana, like all good Americans, we dress up as vampires, werewolves and other ghosts and witches to go begging from door to door. Over the last several years, it is no longer just a children's holiday. More and more adults participate not by handing out candy but something a little stronger. It is true that this custom is not unlike the Courir du Mardi Gras of the prairies of southwest Louisiana where searching for the ingredients that go in a gumbo is also accompanied by the consumption of adult beverages.
Nonetheless, just like Ash Wednesday, the day after Halloween, All Saints' Day, is the time to gather and reflect upon the meaning of life and death, of mortality and immortality and how quickly we pass from one to the other. If our above-ground cemeteries, those Cities of the Dead, astonish outsiders with their disturbing beauty, their unshakable tranquility and their paradoxical affirmation of life, it is because we know all too well Faulkner's quote: "The past is not dead. It's not even past."
One only has to see with what care, what love and what devotion the departed's loved ones clean and whitewash their graves and replace the wilted wreaths to understand just how close we feel to them. I remember the visits we used to make behind Our Lady of Prompt Succor Church when we would vigorously scrub the headstones. We brought fresh bouquets to family members who passed away years before I was born. We stopped and prayed before their graves. It seemed to me that the grownups were talking to the deceased more than anything else. Even if we made these visits fairly regularly, those on All Saints' Day had a distinct character in relationship to the night before that had been filled with costumes and phantoms, fright and sweetness.

All Saints' Day is so important to our mindset that our beloved football team, the New Orleans Saints, was born on Nov. 1, 1966. We may have believed for a long time the players were wearing costumes rather than uniforms and were only pretending to be professional athletes, but since our Super Bowl victory, we hold them in our highest esteem, very close to holiness. It is true that for the true fans, we live and die by each game.