Good Numbers for Airport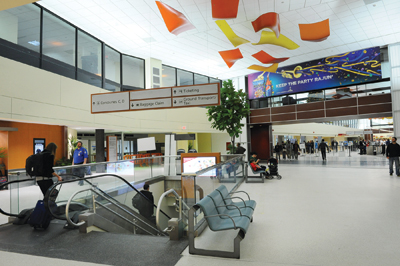 For the fourth year in a row, Louis Armstrong International Airport continues to experience an astounding increase in passenger volume. At the end of 2013, airport statistics reported moving over 9.2 million passengers through its terminals, making an 18 percent increase over '09, which saw 7.8 million passengers fly through the facility. New Orleans continues to be a top flight destination for leisure, conventions and business.
Further cementing this and the city's continued growth was the March presentation of the "Fastest Growing Airport Award" to Louis Armstrong International Airport at the fourth annual U.S. Annie Awards on March 27, 2014. Made annually to airports that have made remarkable air service achievements, Armstrong International was awarded due to the great percentage increase in passenger volume for the year '13.
"The importance of this award is that it highlights the renaissance New Orleans has been going through," says Director of Aviation at Armstrong, Iftikhar Ahmed. "We continue to focus on air service, not only maintaining our present service but growing with new airlines and new routes. Our latest achievements have been the arrival of Alaska Airlines with direct service to Seattle, beginning in June 2014, a direct flight to San Diego via Southwest Airlines beginning in April and the return of VacationExpress.com with their seasonal non-stop service to Cancun, Mexico and new service to Montego Bay, Jamaica."
Armstrong International also set a passenger ranking record in March, having been ranked in 2013 as No. 37 among 812 U.S. airports in domestic enplanements and deplanements, increasing at a growing rate of 4 percent per calendar year. Before Hurricane Katrina, New Orleans was ranked at No. 40 among the nation's busiest airports. After the storm, the ranking dropped to No. 56. Available carriers at Louis Armstrong International Airport include Air Tran Airways, American Airlines, Delta Air Lines, Frontier Airlines, JetBlue Airways, Southwest Airlines, Spirit Airlines, US Airways, United Airlines, Air Canada, Air Alaska and Aero Mexico.