French Country Charm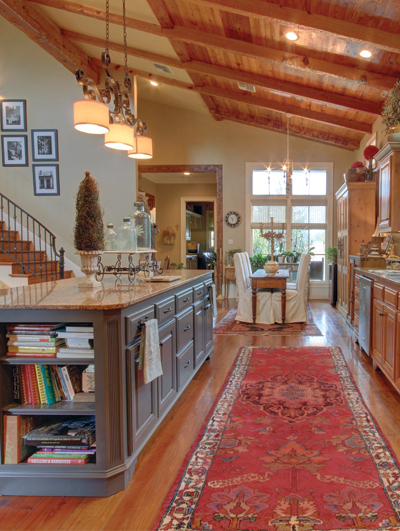 When Mitch and Sandy Landry came across a French country manor with a sprawling great room overlooking a French Quarter-style courtyard in Lafayette's River Ranch, it reminded them of the grand, historic residences in their beloved home town. The house was reminiscent of the Provence region of France, known for its charming Old World architecture, fine antiques and seemingly endless fields of lavender that would later inspire the vibrant seasonal blooms surrounding their reimagined outdoor living room.
"While growing up in New Orleans, I loved the high ceilings and crown moldings, and all the natural light in the Uptown homes," Sandy says. One of nine children, and the daughter of a New Orleans judge, she grew up near Audubon Boulevard. Mitch moved to New Orleans in eighth grade. They met 33 years ago in Slidell while performing as actors in a musical at the former Minacapelli Dinner Theatre, which was destroyed in a 2011 fire.
"We both sing and dance," she says. "Mitch even took classical ballet."
With a shared devotion to music and the arts, the couple fell in love. They were married a year and a half later in Kauai, Hawaii, where they decided to live for the next three years.
"Mitch was in banking at the time," Sandy says. "We ended up opening a gallery in Kauai featuring paintings and objects d'art. Within six months, we opened a second shop, also in Hawaii. We returned for Mitch to go to law school. The oil industry had bottomed out by then."

---

TOP LEFT, The serene master bedroom spills onto a courtyard and features an early 1800s French armoire with brass hinges from Revival Antiques, a late 1800s English burled walnut high chest and a carved mahogany Mallard-inspired headboard. TOP RIGHT, A downstairs guest bedroom, situated beside a cascading vessel fountain in the front garden, is adorned with an Italianate iron bed with bronze finials and two French antique marble-top side tables with iron fretwork. BOTTOM LEFT, The great room features triple windows overlooking the courtyard. BOTTOM RIGHT, Architectural details such as tongue and groove cypress beams supporting a ceiling peaking at 30 feet, and wide plank antique pine flooring complement myriad French antiques, including a Louis XIV burled walnut black marble-top table with serpentine drawers that showcases sculptural Burts-Cason lamps designed for Flambeau Lighting.
---
The Landrys eventually planted roots in a substantial house located one block from Lake Pontchartrain in Mandeville. They enjoyed hosting fundraisers for the arts at their Northshore residence while continuing to star in theatre productions, including Tulane's Summer Lyric Theatre. Then Hurricane Katrina descended upon Louisiana, flooding their property and taking 100 trees with it.
"We evacuated to Baton Rouge before the storm, and later decided to live in Lafayette, where Mitch set up his law practice," Sandy says. "He recently opened a second office in Metairie. So now, we get to spend more time visiting our two grandchildren in New Orleans. We also have nieces, nephews and grandchildren in Lafayette."
Married at age 19, Sandy had five children prior to marrying Mitch in 1985. Three of her adult children are now doctors residing in south Louisiana and Florida.
"We love to have the family over and we also frequently entertain friends," Sandy says. "That's why this four-bedroom, two-story home in River Ranch was a perfect choice. We felt it provided a clean slate, so that we could put our personal touch into the house. It has a feeling of warmth and elegant charm, and it's ideal for entertaining."
A fabulous cook who has catered numerous large parties for arts organizations at their homes on the Northshore and in Lafayette, Sandy enjoys their gourmet kitchen that opens onto a spacious great room with cathedral-height ceilings. The kitchen has a custom island with seating, in addition to a dining table for casual family meals. The spacious dining room is formal, in contrast.

---

LEFT, A dining area in the courtyard is embellished with a French stone wall fountain with a baroque crest top and copper spigot, and topiaries atop antique cast iron urns. It is one of five outdoor fountains, including one just outside a kitchen window. "We love the soothing sound of water," Sandy says. "We enjoy entertaining and having breakfast out here." A mahogany table with a French iron base was converted into the outdoor dining table by replacing the wood with glass. RIGHT, Sandy and Mitch are seated beside a cozy fire glass hexagonal pit that's situated beneath a dome gazebo with a crystal chandelier in their expanded outdoor living room.
---
Aside from the open floor plan throughout the first floor, the beauty of the house is how three of the rooms are situated around the verdant courtyard, each with splendid views through matching triple windows. This includes the formal dining room, the great room and the master bedroom suite, which opens onto the courtyard.
The dramatic and expansive great room extends from the kitchen, with its cozy fireplace and beamed ceilings that rise to 30 feet.
"We wanted to create an extended outdoor living room in the courtyard," Sandy says. "So we removed all the grass and put down travertine to expand the area." A canopy in the courtyard creates an intimate living area flanked by other seating groups and an outdoor kitchen. "We also wanted a feeling of Provence, which is ablaze with lavender, so we incorporated purple and pink seasonal blooms into the landscape."
With a natural flair for interior design and an eye for art, Sandy decorated their River Ranch home with a mix of fine French antiques, modern pieces and art ranging from period paintings to tribal masks.
"We like to mix antiques with new acquisitions," she says. "I like the French style of furniture, but I also like the primitive."

---

TOP LEFT, The Landrys were intrigued by an antique Scottish table from a boys' school that was riddled with names and date carvings, including one at the top that says "Mitch, law" dated 1875. It's located in the great room. TOP RIGHT, An 1890s French mahogany double pedestal dining table with carved rope edging from Top Drawer Antiques is illuminated by a beaded wood chandelier from Red Door. BOTTOM LEFT, The oil on canvas depicting a whimsical heron above the fireplace; the leather-topped coffee table with brass lion heads at each quadrant is from Fischer Gambino. BOTTOM RIGHT, An alcove with an early 1800s French pastry table is guarded by an angel.

---
The three beautifully appointed bedrooms on the second floor open onto a second great room adorned in a more contemporary fashion.
"It's perfect for teenagers and for our overnight guests, so that they can enjoy their own living and entertainment area," Sandy says.
The Landrys remain active in various arts organizations and musical productions in Lafayette. They enjoy participating in events surrounding the Acadiana Symphony's cultural season, and have recently donated their beloved baby grand piano for a fundraiser to benefit the music department at ULL.
"I've really enjoyed the house, with all the natural light that streams in through large windows from the courtyard, the antique long leaf pine floors, and the tall ceilings in the great room," says Sandy. "We always want our home to feel warm and relaxing to everyone who visits."