Free-Lancing: Mike Wallace, Hugh Thompson and the Mission to My Lai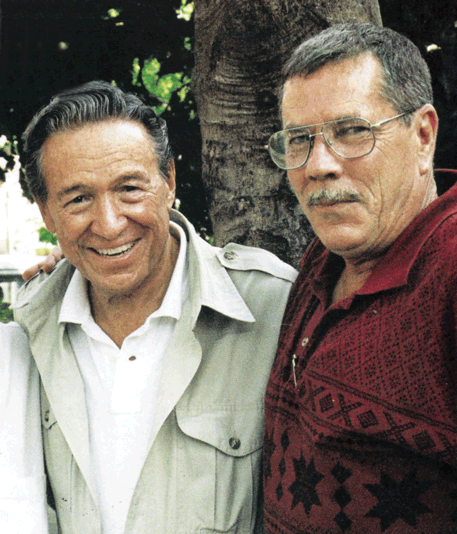 The recent passing of Mike Wallace of CBS News brought back a flood of memories of the time I spent working with him in Vietnam in March of 1998, some 14 years ago.
Only a month earlier, I had contracted with Vietnam War hero Hugh Thompson to write his biography, titled The Forgotten Hero of My Lai: The Hugh Thompson Story.
Thompson, who lived in Broussard, is the U.S. Army helicopter pilot credited with stopping the My Lai Massacre in March of 1968. It took 30 years, but the Army finally got around to awarding him the Soldier's Medal for his bravery in saving 11 unarmed Vietnamese women, children and old men from being killed by rampaging U.S. troops. Hundreds more would have been killed had Thompson and his helicopter crew not intervened.
Wallace, who covered the Vietnam War in the 1960s and '70s, knew a good story when he got wind of one. He and his TV crew were in Vietnam for the 30th anniversary of the massacre. They were there to witness the reunion of Thompson and some of the women and children he'd saved from a sure death.
I was there for the same purpose.
I was asked by 60 Minutes producer Tom Anderson to help with the TV documentary effort, to be sort of an "assistant producer." Translated: Help CBS maintain the exclusivity of their story by steering Thompson away from any on-camera interviews with TV media other than CBS. French, German, Canadian and Vietnamese TV crews were in My Lai to cover the anniversary ceremonies and speeches. They learned that Thompson would be attending, and they all hoped to get an interview with him.
One of the highlights of CBS's story was a long interview Wallace did with Thompson and his door gunner, Larry Colburn, seated at an outdoor table next to two of the women they had saved. One of them was 6 years old when the massacre occurred; the other was 43 at the time. This interview, arranged in advance by the CBS producers, was a once-in-a-lifetime opportunity for Wallace to talk, up close and personal, to some of the people who were alive that day because of Thompson's courage.

The interview was very emotional. Wallace teared up on more than one occasion as the older woman, now 73, related the horror of seeing her friends and family slaughtered by U.S. soldiers. Some of the villagers were shot or blown up in their homes; others were marched to the edge of an irrigation ditch and executed as mothers begged the gunmen to spare their children. But the soldiers – under orders from Lt. William Calley and other high-ranking officers – showed no mercy. They felt they were avenging the deaths of their fellow soldiers killed in the area by booby traps, land mines and sniper fire. U.S. military intelligence had it that My Lai was an enemy stronghold, a base for the Viet Cong and Viet Cong sympathizers.
After this interview, Wallace and crew headed for the My Lai Memorial, a 2-acre park that included the infamous irrigation ditch, a museum and various sculptures commemorating the 504 Vietnamese who died in the massacre.
With cameras rolling, Wallace was interviewing Thompson and Colburn near the edge of the ditch. I was standing nearby in a group of media people and local villagers. An elderly woman recognized me as being a member of Thompson's party.
She approached me timidly and mumbled something in her native tongue. I didn't understand. I looked at her in a welcoming manner, trying to indicate through my body language and gestures that I wanted to understand. She spoke again and this time I understood her to say "Thompson."
Observing our effort to communicate, another villager went to get the director of the museum, who was bilingual. She came over to us and listened to what the elderly woman had to say.
"She wants to meet Mr. Thompson and thank him," she said to me in English.
I was reluctant to interrupt Wallace's interview, so I hesitated while the interpreter continued talking.
"She was there, in the ditch," she said.
The interpreter explained that this woman, named Pham Thi Thuan, was with her mother and eldest daughter when they were machine-gunned to death on the bank of the irrigation ditch. Thuan wasn't struck by bullets but was knocked into the ditch by the body of someone who was. She managed to survive by remaining still so the soldiers would think she was dead.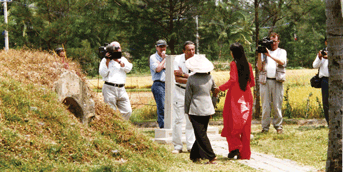 A survivor of the My Lai Massacre, Pham Thi Thuan (in coolie hat),
escorted by an interpreter, approaches the spot at the My Lai Memorial
where war heroes Hugh Thompson and Larry Colburn were being
interviewed by Mike Wallace (third from left).
Next to Wallace (in the cap) is 60 Minutes producer Tom Anderson.
Thuan met and thanked the war heroes for what they did for her people.
Amazed by what I had just heard, I told the interpreter to wait for a minute, that I'd be right back. So I hustled down the sidewalk to where Wallace was interviewing Thompson and Colburn. I sort of interrupted the interview when I told Tom Anderson, the producer, that I'd found another survivor. He looked at me askance, as if to say, "No one interrupts Mike Wallace when he's interviewing!"
"Tom, get your guys ready; I'm sending her down the sidewalk," I said.
Wallace put his interview on hold, and the two cameramen got into position.
Thuan was escorted by the interpreter down the sidewalk to meet Thompson and Colburn. They met and they talked and they cried. The cameras were rolling and the crew was getting some priceless footage of the powerful, emotionally charged moment. Wallace had tears in his eyes as the old woman poured out her heart to the men who saved her neighbors.
Later that day, Wallace thanked me for "discovering" this third victim of the massacre and for facilitating the interview with her.
"If there's ever anything I can do for you, please let me know," he said.
How can I count the ways? I was thinking.
"Well, Mike, there are a few things."
"Okay, let's hear 'em."
"Well, first, would you write the introduction to my book?"
"I'd love to," he said.
"Would you help me try to get Hugh on the Oprah Winfrey show?"
"Yes, I know her, and I'll ask."
"And, one last thing: I hope to have a big-screen movie made on the Hugh Thompson story, based on my book. Would you be willing to help with this, maybe open some doors I can't get through on my own?"
"Yes, consider it done. I know some people who might be willing to help…"
Mike kept his word, as I thought he would. He wrote a great introduction to my book. And he made an earnest effort to help us with the movie deal and the Oprah show, though these things didn't pan out – yet.
The 60 Minutes segment, titled "Back to My Lai," aired on March 29, 1998. Wallace felt it was one of the strongest stories he'd ever had the honor of covering. He was pleased with the segment. Thompson cried when he saw it.
The TV ratings were through the roof. Americans tuned in by the millions to learn of the latest episode of this little-known story from U.S. military history. The older generations knew all too well of the horrible things that happened at My Lai three decades earlier.
Now they were learning – many for the first time – that this dark cloud over our country did indeed have a silver lining in the person of Hugh Thompson, a man of courage who respected the uniform of the American soldier and served his country with honor.
The segment of 60 Minutes, titled "Back to My Lai" can be viewed at www.cbsnews.com/video/watch/?id=7380121n&tag=mncol;lst;1.
Signed copies of the book, The Forgotten Hero of My Lai, can be obtained online at www.acadianhouse.com.