Free-Lancing: I Love a Good Success Story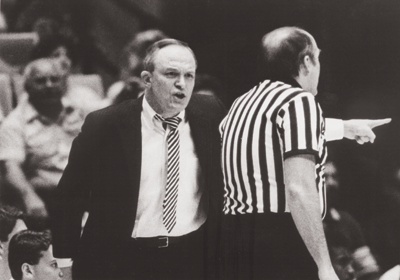 I recently finished editing coach Dale Brown's new book, which is coming out this fall. It's called Getting Over The 4 Hurdles of Life (Acadian House, $16.95). It's a motivational book by one of the top motivational speakers in the country.
Since retiring as LSU's head basketball coach, Brown has been giving inspiring talks not only throughout the U.S. but also internationally. He was good at this while at LSU (1972 to 1997), and he's good at it now, even at age 75. (Where he gets the energy, I'll never know.) His talks and his writings are very much in the same tradition as the greatest motivators in our country's history – Norman Vincent Peale, Robert Schuller, Og Mandino and Napoleon Hill.
The thrust of his upcoming book is that as we journey through life, many of us encounter obstacles, or hurdles, that block our paths to success, happiness and peace of mind. He discusses four of the most common hurdles: past failures or fear of failure; handicaps, including physical, psychological and financial; discouraging messages from ourselves and/or others (I can't/you can't); and lack of self-knowledge. The book offers ways of getting over these hurdles.
To validate his thesis, coach Brown tells a dozen stories of well-known people who got over life's hurdles and went on to enjoy notable success and renown.

For instance:
• Albert Einstein, branded "the dopey one" early in life, wasn't expected to contribute much to society.
• Elvis Presley was told he didn't have the voice to be a singer.
• Rudy Ruettiger, the subject of the movie Rudy, was told he was too small to play football for Notre Dame.
• Steven Spielberg was refused entry to California's top film schools.
• J.K. Rowling wrote the wildly popular Harry Potter series of books, but her first manuscript was rejected multiple times by book publishers.
I love all these stories, but one of my favorites is about Shaquille O'Neal, the great LSU basketball player who moved on to super-stardom in the pros. (Shaq wrote the introduction to the book, by the way.)
Shaq and Brown met in 1985 in Germany, where Shaq's dad was stationed in the U.S. Army. Coach mistook Shaq for a soldier. He was 6-foot-9, 250 pounds and broad-shouldered, but he was only 13 years old at the time.
(Imagine Coach's surprise, as visions of championships must have danced in his head as he looked in amazement at this prospective college basketball player!)
Coach was in Germany to give a talk to the soldiers, and while there he also put on a basketball clinic for them and other interested parties.
Young Shaq asked for and received some tips from coach Brown, who also promised to send Shaq the team's weight-training program when he returned to Baton Rouge.
Shaq felt like he was destined to be a great basketball player, but he got cut from his high school team a few months after Coach's visit. Very upset, he wrote to his new friend back in the States: "Coach, I did everything you told me to do. The coach cut me from the team. He told me I'm too clumsy, I'm too slow, my feet are too big. He told me I could never play basketball; I should try out for goalie on the soccer team. Coach, what should I do?"
Coach wrote back: "Dear Shaquille, I'm sorry about what happened with the basketball team. But I sincerely believe that if you try to do your very best, if you never give up, God will take care of the rest."
Four years later, in 1989, Shaq was a freshman at LSU, and he made the team – despite the cold water his high school coach threw on him. And, as we all know, Shaq went on to be a star not only at LSU but throughout his NBA career.
In 1995, at the LSU Summer Basketball Camp, Shaq touched the hearts and imaginations of the young people in attendance when he said: "People used to always tell me when I was young, 'You're not going to be anything.' But I never gave up. If you work hard, stay out of trouble and follow your dreams, you can be anyone you want. I promise you."
Shaq's message – and coach Brown's message – confirms yet again the profound truth of the writings of Norman Vincent Peale – that there is an undeniable power in positive thinking.
More about coach Brown's book can be found on the publisher's Web site, www.acadianhouse.com.