Flour Power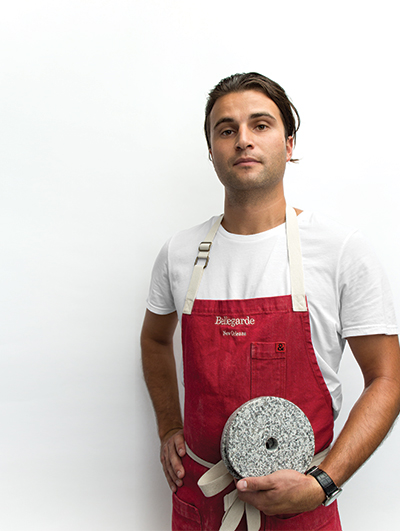 If there is magic, it lies not in the recipe, but in the raw materials and the mighty movement of the maker's hand. These ingredients are fundamental forces harnessed for an acute, time-honored process, even as myriad results can feel — and taste — infinite.
From only flour and water and salt, the baker calls forth bread.
"It's very zen that there's this beautiful variety in a constant exercise you do every day," says Graison Gill, the 30-year-old owner of Bellegarde Bakery.
Bread is often the first thing we eat in the morning, or at night after a long day. It's likely the initial offering placed on a table at a restaurant. Unforunately, this regularity can foster a lack of intentional thought about the food that serves as the foundation for "companion," deriving from the Latin term for "someone you break bread with."
"If you're served wine, you'll be told who grew the grapes, where, when it was made and a little about the flavor," Gill says, "But get served bread, and it's just 'here's bread.' The thing is, it's really shitty for restaurants to serve mediocre bread."
Though the Redondo Beach, California native speaks in impassioned, almost spiritual terms when food topics are on offer, he views his work as a craft of diligence rather than an art of freeform expression. "I'm too conservative to be an artist," Gill says. "I like rules."
In four years, Gill's grains have spread through Jefferson Parish and into Orleans Parish, with a large portion of his business coming from wholesale purchases by Rouses Market, Whole Foods and area restaurants, including Bacchanal Wine, La Petite Grocery, Compère Lapin and Kenton's, among many others.
Using high-quality, regionally-sourced ingredients like Louisiana-grown wheat from Inglewood Farms near Alexandria and coastal Louisiana salt from the McIlhenny Company on Avery Island, a 40-inch stone mill custom made from solid granite, and an overnight refrigerated fermenting process of dough called retarding, loaves are baked fresh every morning. About 5,000 of them roll out of the oven and off into the city from Bellegarde Bakery every week.
"Other than the guy that drives the truck, the farmer and the baker are the only people who touch this wheat before it is eaten," Gill says.


It's late afternoon, "after hours" for the bakery that gets humming at 4 a.m. each day, and Gill is working at his desk in a small room off the main space where massive sacks of flour hang and loaves are formed at a long white table. Lunch was gumbo and crab claws, and the swampy, aromatic remains of both emanate from a stovetop next to a few slices of bread and meet the clean smooth smell of fresh flour saturating the air.
Behind Gill is the modest bread pan he baked his first loaf in at home a decade ago soon after moving to New Orleans. It's filled now with pens and office supplies, a metaphor of his evolution from bread baker at local farmer's markets and restaurants, to student at the San Francisco Baking Institute, to the founder and CEO of his own bakery. Gill leads a team of a half-dozen full-time employees and five part-time assistants, drivers and shapers at Bellegarde.
"Nature is a church, and its rhythm a prayer. The democracy of food, that most basic human right, is the stewardship of our humanity," Gill pens in the lyrically-milled manifesto anchoring his bakery's socially- and environmentally-conscious website filled with a personal travel blog, stirring poetry, food histories and mysteries and of course an order form for Bellegarde's four made-daily stock varieties:
Country Bread, Country Rye, Ciabatta and Fresh Flour.
Gill says Bellegarde has been intentionally conservative on growth so far with a fixed focus on quality. He does have his eye on expanding distribution to the North Shore and Baton Rouge soon, though, and bringing more formality and promotion to the small group baking classes he and his staff conduct to share not only their traditional bread-making methods but their passion for eating local in support of smaller regional farms, growers and Louisiana fishermen.
"We have this wonderful cuisine but hardly any of it is being made from local ingredients anymore," Gill says. "That's the hypocrisy I see. Food is a transformation of energy from where it is grown and how it is made. What goes into it is what will come out. That's why at Bellegarde, we make choices that are best for our bread and for our community."
---
Q&A
What do you enjoy doing when you're not here at the bakery or connecting with the community through Bellegarde?
I have a canoe, and I'll take that out on the North Shore. I prefer going to Bayou Manchac.
What appeals to you about paddling in the wild?
I suppose I think of nature as my church, and it's nothing but a beautiful cathedral over there. It's best place to go on a boat.
We've talked about basketball, cards and pool, but I wanted to ask you about backgammon, because that is a much rarer hobby for a young man.
I do play more basketball than backgammon these days, but I love the texture of the backgammon: the chips, the dice, the sounds of the game, the board. And I enjoy how it's a perfect balance between strategy and fate. There are infinite choices in playing the hand that's dealt you, so to speak. The key is to allow certain angles in order to deny others.
---
---
Q&A
Where in New Orleans do you live?
I'm in the Marigny and [am] very comfortable there. I love the rest of the city, but I'm one of those people that doesn't cross Canal [Street] unless there's something special going on.
What are your go-to spots in your neighborhood?
I like Faubourg Wines, Mimi's, Mariza, and Press Street Station very much.
You're well traveled. Where is the farthest you've gone to learn about the craft of bread-making?
I've spent about a month in Sweden — in some very remote parts of it — and had a most tremendous time there. It's a gorgeous country, and the people are exceptional in their uniqueness and warmth. They take some time to thaw out, but once they understand you they're incredibly humble, generous, thoughtful. I think those conservative values translate into their cuisine. Their's is very simple, salt of the earth food, made with the ingredients found close by there. Much like cuisine used to be in New Orleans.
---