Fit & Fun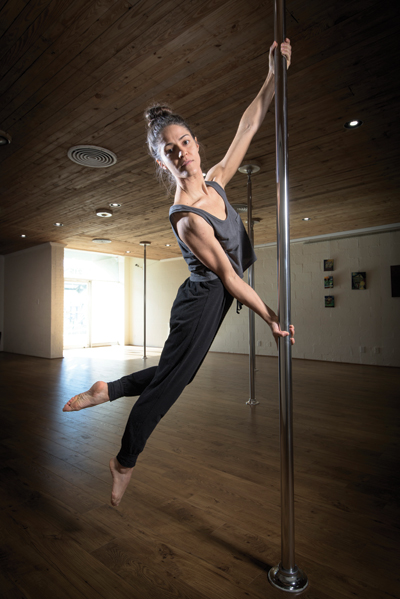 Whatever your fitness preference is, one of these 10 studios is calling you off the couch and into its proverbial arms. Answer the call so you can feel and look good this year.
---
The Vertical Barre
215 Garfield St., Lafayette, (337) 575-1121, theverticalbarre.com
Owner of the The Vertical Barre Laci Lopez describes the studio experience as "satisfying." This pole fitness studio offers workshops, potluck parties and meditation days in addition to its co-ed fitness classes. The introduction class, Vertical Fit 100, is a blend of a regular and pole workout but it also includes floor work, push-ups and crunches. It's an intense, slower-paced, 50-minute workout, which helps to build stamina for the 50 minutes of pole calisthenics in Vertical Fit 101. Lopez's background is in dance, but her first pole fitness class left her so impressed that she left the world of investment banking shortly after to start her own studio. Lopez says, "We're here to provide a space for you to look at life from a different angle, and a change in perspective. Leave your expectations at home, but don't forget your water bottle."
---
Rok Haus
109 Grand Ave., Lafayette, (337) 981-8116, rokhaus.com

This Lafayette rock climbing gym offers memberships, day-long climbing passes and classes such as Climbing 101 and LEAD climbing classes. In Climbing 101, the basic techniques of rock climbing, including body position, conserving energy, footwork balance and how to think about movement in the vertical world are taught. Owner Art Cormier, explains he intentionally makes routes to the top challenging. "Often there is an easy way to the top of the precipice and it involves hiking, but climbers are interested in finding a more challenging way up. Climbing has never been about just getting to the top, but about how you can challenge yourself," he says. The LEAD climbing class offers instruction in techniques used in outdoor climbing. Cormier enjoys the mental focus required by rock climbing. Cormier says, "For me it's about being present in the moment and connected to the rock. Climbing is intensely personal, and there's really no scoreboard. You challenge yourself and even during a short successful climb, you overcome fears and doubts many times."
---
Keyon's Fitness
1200 N. Martin Luther King Hwy Ste. 400, Lake Charles, (337) 491-1198, keyonsfitness.com
This gym operates under the MOSSA platform, a platform whose aim is to get people moving. In addition to Group Groove, the R-30 cycling class and a Group Synergy, the studio also offers Group Fight, which allows you to burn calories and build muscles at the same time. Contrary to the implications of the name, the class does not require people to go into combat with one another. Consistent attendance to the class can result in relief to the lower back and increased strength in the arms. Teacher and assistant manager Lana Bodin says, "We are focused on people's overall wellbeing, not just the exercise. We want to get more people moving. Louisiana is ranked high on the obesity ladder, so we want to promote better overall health for everyone."
---
Dailey Method
500 Settlers Trace Blvd., Suite 5, Lafayette, (337) 534-0743, thedaileymethod.com/studios/lafayette-la/overview/
The Dailey Method is based on the Lotte Berke method, which involves micromovements, which are used to strengthen and condition. Berke created the method by combining her knowledge of yoga, Pilates and alignment. The method went on to expand from New York to California and eventually down to Lafayette, where owner Stephanie Bradley runs The Dailey Method. Bradley says, "I liked the fact that I didn't know what was coming, and I never looked at the clock to see how many minutes were left in the class." Some clients have seen improvements with back and neck issues after attending classes at the studio according to Bradley. Most clients are advised to begin with the Barre Class in order to create a larger range of motion in a safe way. Throughout the class, instructors give cues to students to help keep them in alignment. Patrons have the option to buy class packages or to purchase a year-long membership. Says Bradley, "I didn't want anyone to feel like they were disloyal if they want to go from one studio to another. It was my goal to create a community atmosphere where people did not feel intimidated by taking care of themselves."
---
409 Fitness Studio
409 West Third St.,Thibodaux, (985) 855-6771, 409fitnessstudio.com
This Thibodaux Studio offers classes for people at all fitness levels. Most classes are one hour long and offer advanced or simplified modifications. The studio offers a class called P.Y.T., which stands for Pilates-Yoga-Tai Chi.The class was developed by owner, Emily Rini, who combined her training and knowledge from the three disciplines with her previous dance and teaching experience. The class is a combination of those three disciplines, set to music. It works on balance and stretching with an emphasis on core strength. According to Rini, the running joke in the class is if you come to PYT, you'll become a "Pretty, Young Thing." "We foster a spirit of happiness and community with each class," says Rini. "Our mission at 409 Fitness Studio is to help our beautiful community make healthy choices by making working out fun, welcoming and inspiring."
---
Roll Indoor Cycling
2801 Ryan St. #800, Lake Charles, (337) 429-5260, roll-indoorcycling.com
The dim lights and loud music in this Lake Charles studio make it feel as if you are working out in a club. The studio offers a whole-body workout, completed on a bike. Participants progress in class is measured over time with live performance metrics, and they receive an email tracking their ride after each class. Other classes at the studio include the Whole Body Experience, a 45-minute intense cardio workout combined with hand weights on the bike, and Roll Revolution, which consists of a 25-minute bike ride and 25-minute circuit training off the bike. The studio also offers organic cold pressed juices made every day in the studio. Owner Jackie Tabor says, "We are a fitness community for everyone from elite athletes, to fitness enthusiast, to people needing to lose weight or get in to shape. The Roll Team wants to help people achieve a motivational, fun, effective, efficient and safe workout experience to fit people's busy lifestyles."
---
Skyrobics
3814 Ambassador Caffery, Lafayette, (337) 417-8000, skyzone.com/lafayette

Sky Zone is an indoor trampoline park with locations throughout the United States. The Lafayette location offers a trampoline fitness class called Skyrobics. Jessica Arabie has been instructing aerobics classes for 15 years, but this is her first go round with Skyrobics. Arabie says, "You're jumping on the trampoline having a good time, but you're working out and you don't even realize it." Although the class is enjoyable, it still offers challenges. A typical class routine includes moves like airjacks, tuck jumps and planks and sky laps. The class borrows a lot of moves from traditional aerobics classes, but the challenge of performing them on a trampoline increases the intensity. Arabie says, "There's a lot of stretching because unlike a traditional aerobics class you're going to end up stretching your muscles further than you normally would because you're on a trampoline." Participants can choose to pay $10 per class or buy an $80 Get Fit pass, which includes 10 classes.

---
Project Fit
3814 Ryan St., Lake Charles, (337) 564-6967, projectfit.net
This studio specializes in small-group personal training, but also offers regularly scheduled classes. One group class offered by the studio is Swing Fit, which uses suspended training in which the client uses their own body weight. The moves are performed in bands suspended above the ground, which requires clients to engage their core and legs to stay balanced. Owner Allie Davis explains, "We're the only gym in Louisiana that offers this type of training. It's almost like how a gymnast would train, and it's very fun because you actually swing in the air." The class includes lots of repetition and movements such as squats, the class includes static stretches, such as splits, holding lunges, chess presses and tricep dips. Davis says, "We want to encourage people to think of fitness as a way of life. It's not seasonal; it's a way of life. Fitness shouldn't be something you have to think about, it's like brushing your teeth. It can help you overcome a lot of obstacles, and create a sense of balance and happiness you can't get anywhere else."
---
Evolution Training
407 N Hollywood Road, Suite B, Houma, (985) 226-8846, evolutiontraining.org
This Thibodaux school is run by Dr. Ernest "Waffle" Ellender, a clinical psychologist. Ellender believes that "as you become more in touch with your body, you are able to more effectively achieve all of your life goals." Evolution Training is predominantly a martial arts school, which specializes in Guerilla Jiu-Jitsu, but also offers Crossfit, MMA, kickboxing and Brazilian Jiu-Jitsu. Guerilla Jiu-Jitsu is a self-defense oriented practice, so classes focus on stand-up grappling. Training for this type of martial art involves techniques used in wrestling and judo for the purpose of blocking against attacks and being able to throw someone to the ground quickly. Ellender feels engaging in martial arts offers people a lifelong journey to fitness. "For $30 a month I could get a membership to a gym, but that's hugely different than a place where you're taking instruction," says Ellender. "Martial arts offers a lifelong development of skillsets under an instructor who walks you through it."
---
Pure Barre
4243 Ambassador Caffery, Suite 117, Lafayette, (337) 993-2454, purebarre.com/la-lafayette/
Pure Barre is a new studio in Lafayette that offers a high intensity, low impact workout which uses isometric movements to sculpt and tone all the areas of your body. The classes offered at Pure Barre are all at the same level, but every routine changes within a month, so clients are constantly getting a new workout experience. During each class participants can burn anywhere from 400 to 600 calories depending on how hard they work and their heart rate level. A typical class will begin with a warm-up and then move into floor work, including planks and pushups; next comes moves at the bar, then abdominal work and some final stretches. Owner Laura Domingue Rafferty says, "The whole point of Pure Barre is to trick your muscles and make your body change. You tone and fatigue your muscles until they're shaking and then you stretch them out. It's all about strengthening and lengthening. Pure Barre is a community, and it's all about becoming a healthier and better you."
---
The Yoga Garden
2513 Johnston St., Lafayette, (337) 232-1884, yogarden.net
The Yoga Garden offers meditation classes, yoga therapy, yoga classes and a boutique and tearoom where patrons can meet the people they practice with. Owner Gretchen Kaltenbach is a registered nurse who chose to retire from the medical profession to open The Yoga Garden. Aerial Yoga is one of the most popular studio classes, where students use a hammock as a tool to get into the traditional yoga postures. The class offers students a core workout and allows them to decompress their spine as well as achieve greater body awareness. The core workout can be a huge benefit to runners. Although the studio is located in the middle of Lafayette, the four-acre lot behind the studio offers serenity in the middle of the city. Kaltenbach explains the goal of The Yoga Garden is to meet people where they're at. "We would like to help people to maximize their health, whether that is maintaining independent living, regaining use after an injury or achieving a fitness goal. We offer classes that are basic enough for beginners and hard enough for the more advanced yoga practitioners, like Ashtanga yoga. We want to be known as a place where everyone is welcome."
---