Festivals Acadiens et Créoles Goes Virtual in 2020 for Tout le Monde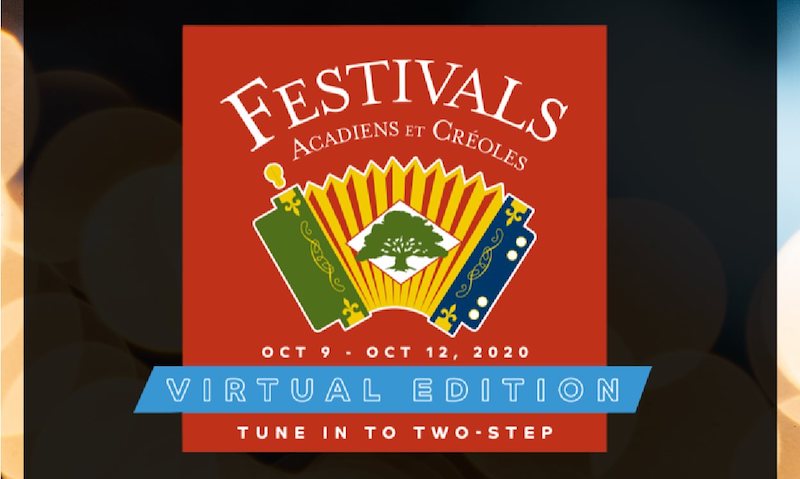 LAFAYETTE, La (press release) – For the first time in over 40 years, Festivals Acadiens et Créoles—the world's largest Cajun and Creole festival—will be hosted virtually, to the world. With the theme "Bonne Fête Tout le Monde," three days of festivities will include live and pre-recorded performances from local musicians, Festival Eats, cooking demonstrations, workshops and a virtual race. 
"While we are concerned about the ongoing pandemic, we are also committed to balancing these considerations with our cultural and social responsibilities," says Festivals Acadiens et Créoles Founder and Board President Barry Ancelet. "We recognize that musicians, restaurant owners and staffers, as well as artisans, have been among the hardest hit economically by the current pandemic, and we are committed to doing whatever we can to help these members of our community. In addition, our fans have also weathered these difficult times and deserve an occasion to celebrate. So, rather than pulling the plug and just waiting until next year, we have put together a plan to make the festival experience available virtually, so that we can all party safely this year."
Festivals Acadiens et Créoles Virtual Edition 2020 will kick off on Friday, Oct. 16, with the traditional Cutting of the Boudin at 6 p.m. at Acadiana Center for the Arts (AcA). Music by 21 bands will begin streaming at AcA immediately following and continue through Sunday at 6:30 p.m. Other stage locations include Rock'n'Bowl de Lafayette and Blue Moon Saloon.
Listeners can tune in via FESTV for HD sound on festivalsacadiens.com. Content will also stream on Facebook Live.
The Center for Louisiana Studies is producing Atelier workshops and handing out the Louisiana Tradition Bearer Award to Goldman Thibodeaux. Three cooking demonstrations will focus on classic Louisiana dishes, with recipes available for sharing on social media. Tour Des Atakapas race and paddle on Oct. 11 will go virtual as well.
Participating restaurants around Acadiana will be serving up their best festival foods and beverages. As usual, Festivals merchandise, including a pin, poster, flag, t-shirts, bandana and cups, will be available at participating merchants like Cafe 20.3.
After hosting its own highly successful virtual event in April, Festival International de Louisiane is assisting Festivals Acadiens in going virtual. "We have so much respect for the pride that their festival brings to our community, so we were eager to be a part of helping to turn this into a wonderful virtual event," says Festival International Executive Director Scott Feehan. "With all of the challenges and setbacks that 2020 has brought so far, we believe it is important for all of us to stick together to rise above and get through. It has been a real joy to work with their team so far and we can't wait to see the community's reaction when they see the magic that Virtual FAetC will be."