Fest Feast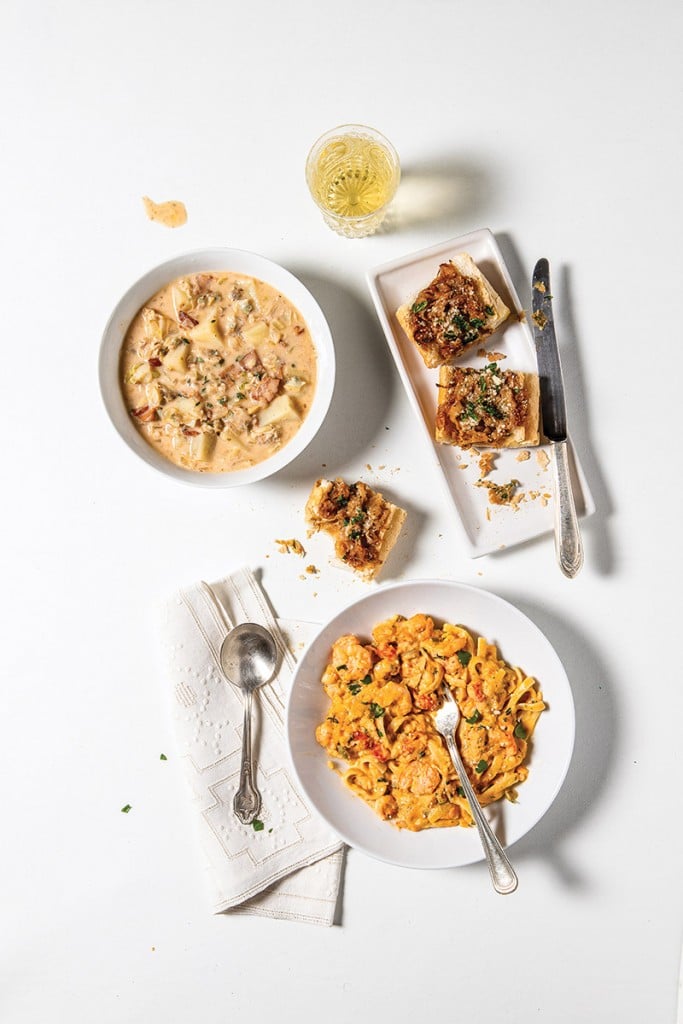 This time of the year in Louisiana is usually busy with Carnival parades, Valentine's Day, St. Patrick's Day, St. Joseph's Day and the beginning of crawfish season. 
Not so this year because of COVID-19. We are being urged to hunker down at home, avoid crowds and entertain ourselves — an enormous burden for those of us who look forward to being with friends and family. I won't be taking out the decorations for some of my favorite celebrations. I won't be making lists and planning menus for various parties. Like many of my fellow Louisianians, I miss all the hullabaloo. 
But, fear not. This too will pass.
My husband, the eternal optimist, suggested that we prepare some of our seasonal recipes and box up to-go containers and deliver them to our neighbors. Thank goodness we have not been ordered to stop cooking. I know many of us have done little else than that for the past year. My two freezers are packed with cartons of gumbos, soups, summer vegetables, red beans, and yes, even homemade bread. We are better than prepared for any catastrophe (hopefully not another hurricane season like last year's) that comes our way. We will not be hungry.
When I lived in New Orleans I hosted many post-parade parties. A pot of soup — split pea, cream of anything, vegetable and beef and white bean — was usually simmering on the stove. This year it will be a clam chowder, the recipe for which I got from the chef onboard our friends' yacht while we cruised along the coast of Maine years ago. ■
SOUP
Clam Chowder from the Adventurer
 If you can't find fresh clams, use canned. 
 

1 pound clams, chopped
¼ pound bacon, chopped
1 cup onions, chopped
1 cup celery, chopped

 

½ pound red potatoes, steamed and cubed
2 tablespoons butter

 

¼ cup all-purpose flour
½ cup clam juice (from the canned clams or purchased clam juice)
3 cups water or chicken stock or more as needed

 

salt and freshly ground black pepper
1 teaspoon chopped fresh thyme

 

Tabasco to taste

 

1 pint half-and-half
Fry bacon in a saucepan over medium heat. Add onions and celery and cook, stirring, until soft and golden, about 15 minutes. Add butter and flour and make a blond roux. 
Slowly whisk in water or chicken stock and clam juice. Season to taste. Add remaining ingredients and cook until thickened. Serve hot with oyster crackers.
ON THE SIDE
Onion Bread
❶ Slice 1 large loaf French bread lengthwise and set aside.  
❷ In a medium saucepan, melt 1 stick butter over medium-low heat. When butter is melted, increase heat to medium and add 3 garlic cloves (crushed) and 3 cups thinly sliced sweet onions (such as Vidalias). Cook, stirring often, until onions are soft, about 5 minutes.  
❸ Add ¼ teaspoon freshly ground black pepper and 2 teaspoons fresh lemon juice. Remove from heat and spread mixture over bread. Sprinkle with ½ cup grated Romano cheese and 1 tablespoon minced parsley. Place bread on a sheet pan and bake at 375 F until warmed and toasted, 10 to 12 minutes. Slice and serve immediately.
MAIN COURSE
Shrimp And Crawfish Fettuccini

 
If you can't find Louisiana crawfish tails, double the amount of shrimp.
3 sticks butter
3 cups onions, chopped
2 cups green bell peppers, chopped
1 cup celery, chopped
½ cup all-purpose flour
½ cup fresh parsley leaves, chopped
1½ pounds medium shrimp, peeled
and deveined
1½ pounds crawfish tails, peeled
2 cups half-and-half
1 pound Velveeta cheese, cubed
2 tablespoons pickled jalapeno peppers, chopped
2 teaspoons garlic, chopped
salt and cayenne

 

1 pound fettuccine, cooked and drained
1 cup grated Parmesan cheese

 
 Melt butter in a heavy, large Dutch oven on medium heat. Add onions, bell peppers, and celery and cook, stirring often, for 10 minutes, or until wilted and lightly golden.
 Add flour and stir to mix. Cook, stirring often, for 2 to 3 minutes. Add parsley, shrimp and crawfish. Cook, stirring often, for about 5 minutes, or until shrimp turn pink.  
 Add half-and-half, cheese, jalapeno peppers and garlic.  Stir until cheese is completely melted and mixture thickens, about 5 minutes.  Season to taste with salt and cayenne.
 Arrange fettuccine in a three-quart casserole and pour seafood mixture evenly over fettuccine. Sprinkle with Parmesan cheese.  
 Bake at 350 F for about 15 minutes or until bubbling.
---