Feeling the Pulse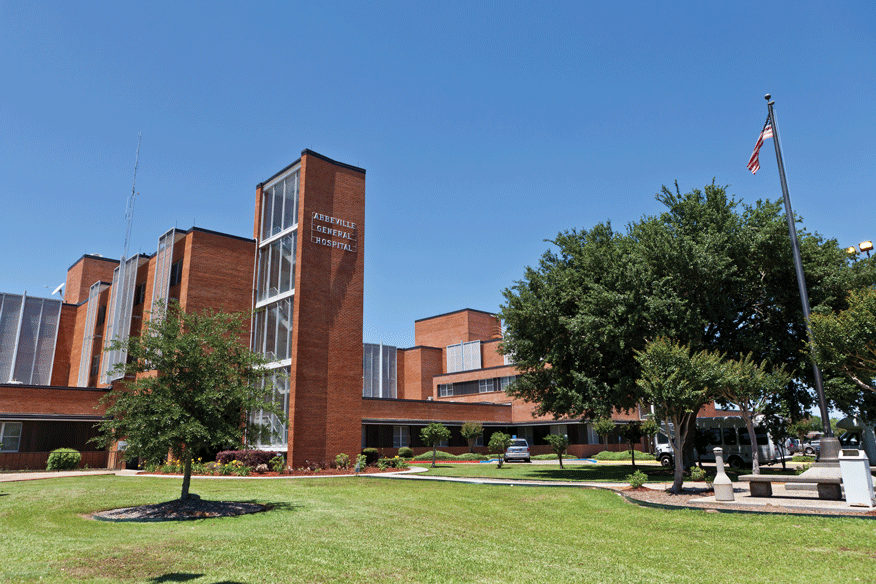 Medical services in South Louisiana have come a long way since the olden days of the early French Acadians who relied on the holy incantations and folk remedies of the deeply spiritual traiteurs who specialized in treating everything from warts to toothaches to tumors and bleeding. As years progressed, many people stricken with serious illness or disease needed to be sent off to larger cities where care could be provided. Now, however, right here in Acadiana, numerous hospitals and specialty clinics serve the medical needs of its population.
This article attempts to identify the major hospitals in the extended Acadiana area as well as the numerous specialty clinics that provide outstanding service to the people of Acadiana. In most cases, only a portion of the available serves are listed for each hospital. For a more comprehensive view, please visit each hospital's individual Web site where a complete list of services can be found.
Terrebonne General
Medical Center
Terrebonne Parish
Location: 8166 Main St., Houma
CEO: Phyllis Peoples
Year Founded: 1954
Web site: www.tgmc.com
Services: This public, nonprofit hospital on the far eastern side of Cajun Country is the largest community-based hospital in the tri-parish region of Terrebonne, Lafourche and St. Mary parishes and boasts more than 321 beds and 155 physicians. Its Women's Center has been recognized for outstanding innovation in women's health programming and service delivery. In 2007 the hospital received the Health Grades Distinguished Hospital Award for patient safety. Other services include a full emergency room, a blood donor center, a cancer center, diabetes management, urology and a sleep disorder center. In the summer of 2011, the hospital will open the Mary Bird Perkins Cancer Center.
Thibodaux Regional
Medical Center
Lafourche Parish
Location: 602 N. Acadia Road, Thibodaux
CEO: Greg Stock
Year Founded: 1967
Web site: www.thibodaux.com
Services: Formed as a Catholic hospital in 1929, this public hospital has seen many transformations through the years and is now the premier hospital in Lafourche Parish. The facility maintains 185 beds and more than 111 physicians. The Centers for Disease Control estimates that more than 2 million people annually around the nation are affected by hospital-acquired infections; therefore, one of the main goals of Thibodaux General is to eradicate on- site infections and to promote patient safety.
Women's &
Children's Hospital
Lafayette Parish
Location: 4600 Ambassador Caffery Parkway, Lafayette
CEO: Kathy J. Bobbs
Year Founded: 1983
Web site: www.womens-childrens.com
Services: Owned by the Hospital Corp. of America, this hospital is part of the Regional Medical Center of Acadiana. It specializes in the care and treatment of women and has a state-of-the-art brand-new Kids Specialty Clinic that offers a wide range of services including a children's emergency room. The Kids Specialty Clinic treats children and young adults with leukemia, lymphoma and other cancers; diabetes; and kidney issues. The hospital also offers a number of health-related education classes.
Abbeville General
Vermilion Parish
Location: 118 N. Hospital Drive, Abbeville
CEO: Ray Landry
Year Founded: 1966
Web site: www.abbgen.net
Services: This parish-owned 60-bed facility prides itself on being a smaller hospital that offers major services. In 2009, the hospital added a Millennium MG (Multi-Geometry) Nuclear Medicine System, which reduces fear in patients with claustrophobia by improving patient positioning while still meeting the demands of the daily clinical nuclear imagining requirements. Other services include a 24-hour emergency room, an intensive care unit, inpatient dialysis, speech and physical therapy, and obstetrics.
Allen Parish Hospital
Allen Parish
Location: 108 Sixth Ave., Kinder
CEO: John C. Neal
Year Founded: 1969
Web site: www.allenparishhospital.com
Services: Another smaller hospital of Acadiana, Allen Parish Hospital provides its patients with a small-town feel and quality patient care. Its services include a full-time emergency room, a psychiatric recovery center, a radiology department, respiratory care and telemedicine (interactive online medical education and research).
Jennings American Legion Hospital
Jefferson Davis Parish
Location: 1634 Elton Road, Jennings
CEO: Dana Williams
Year Founded: 1960
Web site: www.jalh.com
Services: This hospital on the west side of Cajun Country includes a 24,000-square-foot medical office and a 32,000-square-foot patient tower and features 60 beds and 20 staff physicians. It also has the only cardiac catheterization lab on the Interstate 10 corridor between Lake Charles and Lafayette. Other services include an emergency room, cardiology, surgical care, a maternity ward and radiology.
Dr. Walter Olin Moss Regional Medical Center
Calcasieu Parish
Location: 1000 Walters St., Lake Charles
CEO: Pat Robinson, M.D.
Year Founded: 1958
Web site: www.lsuhospitals.org/hospitals/WOM/WOM.htm
Services: This hospital is part of the LSU Health Care chain of charity hospitals, which has seven locations statewide, including three in Acadiana. In addition to excellent patient care and treatment, the LSU hospital system also educates and trains future health professionals. A hallmark of these hospitals is that they provide care for uninsured patients, which decreases the burden of uncompensated care for other area hospitals.
Franklin Foundation
St. Mary Parish
Location: 1097 Northwest Blvd., Franklin
CEO: Parker Templeton
Year Founded: 1953
Web site: www.franklinfoundation.org
Services: Franklin Foundation Hospital has made many renovations throughout its history. In 2005, a new 22-bed critical access unit was added to the facility. In the field of radiology, the hospital is the first in the area to include a Lightspeed 16 Computed Tomography system, which allows for highly detailed images of the body. Other services include an emergency room; an intensive care unit; inpatient and outpatient surgery; maternity and newborn services; and an innovative online health care system that can give a patient access to a doctor, a medical dictionary and a drug encyclopedia.
Iberia Medical Center
Iberia Parish
Location: 2315 E. Main St., New Iberia
CEO: John Tucker
Year Founded: 1960
Web site: www.iberiamedicalcenter.com
Services: This medical center in New Iberia offers many services for its patients, including anesthesiology, bloodless surgery without blood transfusions, cardiac and pulmonary rehabilitation, a catheterization lab, the Children's Center, an emergency room, an intensive care unit and a pediatric unit.
Mercy Regional
Medical Center
(two locations)
Evangeline Parish
Location: 3501 Highway 190 E., Eunice; 800 E. Main St., Ville Platte
CEO: Alan Daugherty
Year Founded: Merged in 2010
Web site: www.mercyregionalmedicalcenter.com
Services: These two hospitals merged in 2010 to service the towns of Eunice and Ville Platte as well as the surrounding areas. The Eunice location features private rooms and baths, a 24-hour emergency room, CT scans, nuclear medicine, physical therapy and MRI and other services. The Ville Platte location features more than 200 physicians, an emergency room with trauma rooms, intensive care services, surgical care, radiology and other services.
Oakdale Community
Hospital
Allen Parish
Location: 130 Hospital Drive, Oakdale
CEO: John Wesley Stigall I
Year Founded: 1973
Web site: www.oakdalecommunityhospital.com
Services: Special services offered at this 60-bed hospital include noninvasive cardiology, high-speed CT scans, nuclear medicine and mammography. Other services include an emergency room, an intensive care unit, nephrology, bone density testing, colon and rectal examinations and treatment, orthopedics, physical therapy, ultrasound, urology and many others.
Opelousas General
Health System
St. Landry Parish
Location: 539 E. Prudhomme St., Opelousas
CEO: Gary I. Keller
Year Founded: 1957
Web site: www.opelousasgeneral.com
Services: In addition to its 24-hour emergency room and its intensive care unit, the fully accredited Opelousas General Health System is well-known for its treatment of women's health issues at all life stages – prenatal and maternity care, postpartum depression or anxiety, menstrual disorders and menopause – in addition to the Dr. Gerald E. Posner Center for Women's Health, which offers the latest technology for women's diagnostic and imaging needs, such as digital mammography, stereotactic breast biopsy and bone density testing. Opelousas General also offers the Opelousas Cancer Center's Complete Cancer Care program, which incorporates counseling and other support services with chemotherapy to improve patients' quality of life. The 245-bed facility has a full-service pediatric treatment unit and offers a variety of outpatient services, support groups and classes.
Regional Medical Center
of Acadiana
Lafayette Parish
Location: 2810 Ambassador Caffery Parkway, Lafayette
CEO: Vicki Romero Briggs
Year Founded: 1985
Web site: www.medicalcenterofacadiana.com
Services: Regional Medical Center of Acadiana is an accredited Cycle II Chest Pain facility – the only facility in the region with this accreditation from the Society of Chest Pain Centers. The hospital is equipped to assess, diagnose and treat patients with chest pain. Other services include bariatric surgery (weight loss), general surgery, orthopedics, an emergency room, rehabilitation and outpatient surgery.
Lafayette General
Medical Center
Lafayette Parish
Location: 1214 Coolidge St., Lafayette
CEO: David Callecod
Year Founded: 1911
Web site: www.lafayettegeneral.com
Services: Lafayette General is celebrating its centennial this year; it started as Lafayette Sanitarium, a six-bed facility, and has grown over the past 100 years into a 321-bed facility that is equipped to provide severe emergency trauma care. In addition to receiving The Joint Commission's Gold Seal of Approval as a Primary Stroke Center and being named as part of HealthGrades' Top 5 Percent in the U.S. for Spine Surgery Excellence, Lafayette General boasts a heart center; a cancer center; neonatal,pediatric and adult intensive care units; and The Pavilion, its state-of-the-art birthing center. Lafayette General also offers CyberKnife robotic radiosurgery, the very latest technology for treating brain and other tumors without pain, anesthesia or an incision.
Our Lady of Lourdes
Regional Medical Center
Lafayette Parish
Location: 611 St. Landry St., Lafayette
CEO: William F. "Bud" Barrow II
Year Founded: 1949
Web site: www.lourdes.net
Services: Founded as a small, faith-based medical center by the Franciscan Missionaries of Our Lady Health System, Our Lady of Lourdes now features more than 400 physicians and has been named one of the Top 100 Hospitals in the nation for cardiovascular and orthopedic services. Other services include pediatrics, plastic surgery, dermatology, colon and rectal surgery, nuclear medicine and radiology among others. This summer, Lourdes will move into its new medical facility on Ambassador Caffery Parkway and Frem Boustany Boulevard.
Teche Regional
Medical Center
St. Mary Parish
Location: 1125 Marguerite St.,
Morgan City
CEO: Butch Frazier
Year Founded: 1949
Web site: www.techeregional.com
Services: This hospital on the east side of St. Mary Parish serves the tri-city area towns of Morgan City, Berwick, Patterson and beyond. It has just established a cardiac catheterization lab with electrocardiogram and echocardiography capabilities. Other services include a 24-hour emergency room, ambulatory services, women's services, an intensive care unit, diagnostic imaging, radiology and rehabilitation services.
Acadiana-area hospitals all strive for one common goal: to serve and treat the many people of Acadiana right in their own area, without the stress of their having to travel miles away or even out of state. The strides made in medical services and facilities in Acadiana over the years have been nothing short of amazing. No matter what the future holds for the medical field, one can be sure that Acadiana will be at the forefront, providing the necessary growth, the most-qualified physicians and staff and top-of-the-line facilities.
Source for introduction: Acadian to Cajun: Transformation of a People, 1803-1877 by Carl A. Brasseaux. University of Mississippi Press. 1992.