elements of design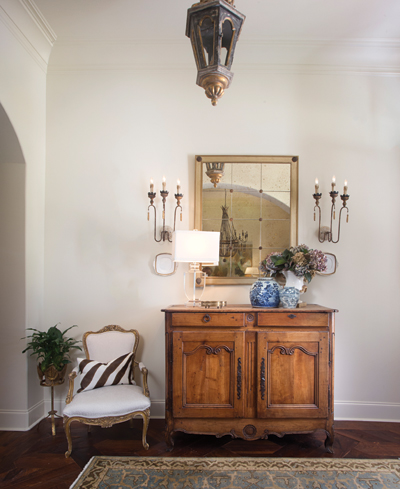 Lafayette Interior designer Mindy Gromer Bernard treasures vivid memories of childhood excursions to craft shops and furniture stores with her mother. Her fond recollection of these early forays into the colorful world of design served as the lodestar of an eventual career.
"While my mother was shopping, I would go and arrange the furniture and grab items off the shelves to decorate with," Mindy says. "I always knew that's what I wanted to do when I grew up."
Years later, after Mindy graduated from the Art Institute of Houston, she moved back home to Acadiana and worked for several acclaimed interior designers and decorators.
"When I met my husband, Matt, he began encouraging me to go out on my own," she says.
Soon after Matt and Mindy were married, they began building their new home in the heart of Lafayette. Meanwhile, Mindy was contemplating her own design firm. It wasn't until a serendipitous encounter at a beauty salon that her dreams began to materialize.
"Fate stepped in," Mindy says. "By chance, I ran into Karen Hail. I had helped her with her home a few years back. We were both getting a manicure and we just started talking."
Shortly thereafter, the two women became business partners.
As the Bernard's four-bedroom, one-story Acadian-style residence began to take shape, the partners opened Entre Nous, a full service interior design studio and retail showroom that displays furniture and accessories ranging from antique pieces to transitional, contemporary and midcentury modern collections. Design services include everything from bedding to custom window treatments, color selections and wall coverings.

---

A vibrant Brooke Hoogendoorn painting complements the serene living room. It resides above a custom limestone fireplace from Architectural Supply.

Hexagon travertine mosaic tile enhances the master bath; a soaking tub is accessorized with a gold Kohler faucet and a Calcutta marble tub surround.

"It's the coziest room in the house," says Mindy of Matt's study, with its leather and blue linen Chesterfield sofa, chenille hounds tooth ottoman and mounts gleaned from hunts.

The elegant baby's room has a linen bumper with crocheted trim, a silk dust ruffle and custom silk draperies.
---
"I discovered we were going to have a baby while we were building the house and also setting up the business. We had a lot going on," Mindy says. "They say if you surround yourself with good people, good things will happen. I couldn't ask for a better partner than Karen. She's the business side of Entre Nous, while I'm the design side. Along with Rachel Harris and Melanie Rich, we have a great team."
Thanks to the oversight of Matt's father, retired builder Bob Bernard, the young couple finally completed their custom Acadian-style dream home that borrows nuances from South Louisiana's rich past. Now three years old, it is situated on property the couple fell in love with, largely due to the massive old oak tree in the front.
"We built the entire house around that beautiful tree," Mindy says.
Designed "to look old" though it is a new construction, Mindy and Matt's handsome residence reflects a distinct architectural style that is not only beloved in Acadiana, but is also gaining popularity throughout the Gulf South.
Devoid of clutter and traditional heavy furniture, the understated, serene interior is at once inviting. The common areas and master suite strike a purposeful balance between casual and elegant.
The ambience is especially appealing during the winter months, when the fireplaces are ablaze indoors. The enticing, sweet aroma of burning, crackling wood in the outdoor fireplace on cold winter evenings draws their friends into the courtyard, beneath the stars. They enjoy gathering around the fire near the outdoor kitchen during evenings filled with football games and simmering gumbos.
Since Mindy and Matt love to entertain, they created a gourmet kitchen with two custom islands.
"He does the gumbos, while I specialize in Italian," she says. "This is the heart of our home. I usually put out the hors d'oeuvres and flowers on one island, while the other island is our work place, complete with a sink and bar stools."
The Bernard's formal dining room seats 12, to accommodate frequent dinner parties.
Aside from installing several fireplaces in the residence and adding graceful brick arches rather than doors for an open flow, Matt's father utilized a combination of antique brick flooring and Dirty-Top antique pine flooring with its original, rough-sawn marks still visible "so that it would look rustic," Mindy says. Travertine flooring lends a touch of elegance in the three-and-a-half baths.
"I would say that our overall style is traditional," Mindy says of the varied architectural nuances. "My husband, Matt, and I are definitely old souls stuck in 30-something-year-old bodies. This is reflected in the concept of our home. We designed it to appear as though it has been here for many, many years, even though it's actually new."
Such blended sensibilities reflect Mindy's decorating philosophy as well.
"I like mixing antiques with fresh new pieces and some modern elements," says Mindy. "I basically like one-of-a-kind items, whether it's a 19th-century chair or a contemporary painting by a local artist."
Indeed, Mindy's Old World sensibilities are noticeable in the new residence. But her modern approach to the décor reflects her minimalist leanings and unmistakable panache.
Clean, neutral fields of colors infused throughout the home are serene, yet rich and consonant. In the interest of simplicity, the living room walls are painted in Benjamin Moore Monterey White, thus allowing the art to emerge. This includes a bold abstract painting by Brooke Hoogendoorn that is situated above a limestone fireplace.
The more casual keeping room (a cozy space popular in the colonial era which is often near the kitchen and usually features a fireplace) is enlivened with regional abstract art, brick fireplace with an antique wooden beam, and a deep gray velvet sofa with a lone bench cushion that you can sink into.
A velvet day bed in front of the living room's fireplace is a favorite spot for the couple to cozy up on chilly winter evenings. A splendid view of the quaint courtyard is enhanced with seasonal flowers and water features.
French doors in the elegant master bedroom open onto the same courtyard, where a gurgling fountain renders soothing sounds. Painted wooden beams frame a bump-out seating area surrounded by windows. A coffee bar in the master bedroom was an essential element while designing the home.
"The first thing I do when I open my eyes is make coffee and enjoy it in the sitting area overlooking our back yard," Mindy says. "We are really enjoying the house. It is ideal for our family, we love the location, and I'm just a five minutes from the shop. It's everything we dreamed of and more."

---

Gold leaf striping and brass cap feet embellish the oval dining room table. The mixed media on canvas is by Natalie Domingue.

The master bedroom has a French king bed from Le Marché Antiques and a Jenny Jones rug.

The kitchen's quartzite countertop island and the knotty alder wood island flank an antique Turkish runner. The hand-painted Tabarka tile extends from the counters to the ceiling. Freezer and refrigerator columns on opposite sides create symmetry.

The powder room features neutral grays augmented with gold and silver accents, including the metallic wallpaper and gold leaf sconces. Mindy transformed a console into a vanity with a marble countertop and vessel sink. Embellished with an antique Turkish rug, the stately room is adorned with antique egg prints. Linen Roman shades diffuse the natural light that pours in from the grounds designed by landscape architect Michael Cullen.
---