East Texas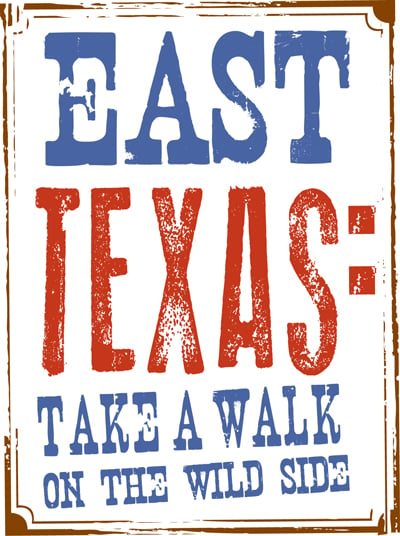 Combine the sense of adventure of Huck Finn with the romance of Gone With the Wind and what do you have? Caddo Lake, the only natural lake of any size in the state of Texas and one of many wild destinations that welcome you and your family for a weekend of outdoor fun.
This primeval lake, once the largest natural lake in the South, was named for the Caddo Indians who once inhabited this area. Today scientists know that the natural lake was formed by a massive logjam ("the Great Raft") on the Red River. In the 1870s the jam was cleared and the lake level dropped, ending the steamship business that once moved goods and passengers into East Texas. Today the lake has a man-made dam that keeps the water level fairly constant (although a look at the houses built on stilts around the lake's edge will attest to its rise every decade or so).
Located in far East Texas, this sprawling natural lake is tucked beneath a canopy of moss-draped cypress trees. Filled with the echoes of herons, the splash of 71 species of fish, and the slither of an occasional snake or alligator, Caddo Lake is like no other destination in Texas. This maze of swampland is bursting with wildlife and flora, especially at preserves like the Caddo Lake National Wildlife Refuge, an 8,500-acre park with a former railroad right of way that's now a nine-mile-long nature trail.
There's probably no better way to explore this maze of swamps and bayous than on the water, though. Ten designated paddling trails wind through the area for a day of canoe fun; check with the Marshall Convention and Visitors Bureau (visitmarshalltexas.org) for a map and information on canoe liveries in the area.
Don't imagine Caddo Lake as an open body of water; it's a twisting, turning maze of bayous and swamps where visibility is often limited to what's just around the next bend. If you'd like to boat among these waters, you will follow "boat roads," marked channels that wind through the trees. This is a lake to enjoy for relaxation, a place to listen to wildlife or toss a fishing line.
Or if you're ready for someone else to take the helm, enjoy a ride on The Graceful Ghost (gracefulghost.com). From its home base in Uncertain, this popular tourist boat welcomes travelers (and even their dogs) to explore Caddo Lake in a replica 1800s paddlewheel steamboat that's one of the last wood-burning, steam-powered stern paddle-wheelers in the world. Tours require a minimum of six guests and aren't scheduled for Sundays and Mondays. The Coast Guard-approved vessel provides a 75-minute narrated tour of this historic area.
The quaintly named town of Uncertain is also where you will find Captain Ron's Gator Park, Petting Zoo and Botanical Gardens which includes a gator observation deck overlooking the gator pond that's home to many of the 200-plus bird species that coexist with the resident alligators.
One of the most popular stops in the region is the Caddo Lake State Park, located 15 miles northeast of Marshall near the community of Karnack. Here you can explore the endless maze of watery corridors by boat or canoe or, on land, enjoy hiking trails, picnic areas, and campgrounds. Campers can spend their nights watching the evening fog envelop the cypress trees or hear the sound of creatures like raccoons, nutria, and beavers beginning their nightly prowls. And a word of warning: Keep an eye out for alligators!
Alligators are also residents of another of East Texas' wildest attractions: Big Thicket National Preserve. This dense woodland located near the town of Kountze is a paradise for birdwatchers and has been deemed "a globally important bird area" by the prestigious American Bird Conservancy. You'll have the opportunity to view shorebirds, raptors and a variety of migrating songbirds, as well as herons and egrets. Along with birding trails, don't miss the Pitcher Plant Trail, a half-mile walk through the forest for a look at some of the region's most interesting residents: carnivorous plants! Four of the five insect-eating plants found in North America are found in this preserve along with 85 species of trees, 60 species of shrubs, and nearly 1,000 other plant species. In the fall months, hunting is allowed in portions of the preserve so check with rangers before setting off on a long hike.
For all the bird and plant life of East Texas, though, four-legged creatures are also well represented. One of the most unique destinations is the Saint Francis Wolf Sanctuary
(wolvesofsaintfrancis.org) near Montgomery. Both captive-born wolves and wolf-dog hybrids call this sanctuary home. These animals, too wild to live in homes, too domesticated to survive in the wild, live out their lives here at the sanctuary. Closed Monday and Fridays, visits here are by appointment.
Fall means fall color, and one of the best places to view it in East Texas is the Ruby M. Mize Azalea Garden (sfagardens.sfasu.edu) in Nacogdoches. Although this garden is best known for its 500-plus varieties of azaleas (the largest azalea garden in Texas) that bloom in the spring, fall brings beautiful Japanese maples and camellias from October through February. Along with this garden, don't miss a stroll through the adjoining SFA Mast Arboretum and the nearby Pineywoods Native Plant Center, both located on the campus of Stephen F. Austin State University. The 18-acre SFA Mast Arboretum was the first arboretum at a university in Texas and boasts over 7,500 varieties of plants in 20 themed gardens. The 40-acre Pineywoods Native Plant Center puts local plants at center stage in a native bottomland hardwood forest on the two-mile-long Tucker Woods Trail. You can also check out the blooms of East Texas wildflowers at the nearby Lady Bird Johnson Wildflower Demonstration Garden.
The Lanana Creek Trail connects the Pineywoods Native Plant Center to the other gardens on the university campus.
Did you have something a little longer in mind for your fall hike? If so, you'll find it on the 128-mile-long Lone Star Hiking Trail. Winding through the Sam Houston National Forest, the trail – the longest wilderness footpath in the state – has numerous access points. This shady trail lies beneath towering pines; some portions of the trail have campgrounds; others don't even have drinking water. During deer hunting season (November and December), wear bright colors since hunting is permitted in the forest.
The trail travels through Huntsville State Park, a 2,000-plus-acre park that adjoins Sam Houston National Forest. Hiking, camping, canoeing on Lake Raven, and fishing are top activities. Other trails in the park great for exploration are Chinquapin Trail along Big Chinquapin Creek (with a boardwalk), Dogwood Trail and Loblolly Trail. If you'd like to travel with your horse, you'll even find equestrian trails in this expansive park.
East Texas offers a whole world of weekend fun for the active autumn traveler – however you define a great outdoor getaway, from mild to wild!
---
FOR MORE INFORMATION
To order a free Texas Travel Guide and a Texas state map, visit traveltex.com, the official Texas tourism site.
ABOUT THE AUTHORS:
Paris Permenter and John Bigley are a husband-wife team of travel writers based in the Texas Hill Country. The authors of numerous guidebooks to the Lone Star State, their next book is DogTipper's Texas with Dogs (Open Road Guides), to be published this November.