Dream Spaces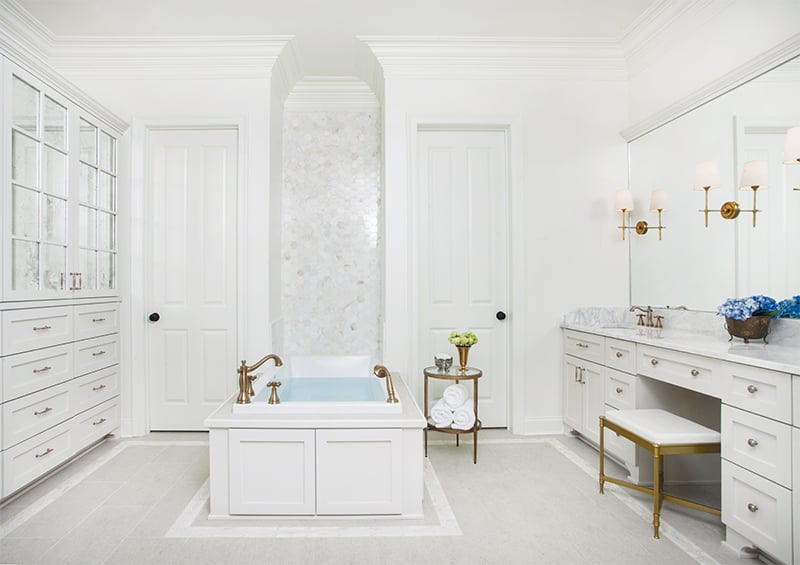 After the birth of their first daughter, and the news of another baby on the way, Broussard residents Jett and Angelle Dueitt decided they needed more space for their growing family. After all, wasn't it time to build that dream house they had longed for? But the location had to be just right.
They envisioned a home with a soft, modern vibe accented with hints of Old World influences. It would be chic and sophisticated, yet comfortable and kid-friendly. Bathed in natural light, the rooms would flow seamlessly in the open floor plan.
A busy career couple, the Dueitts wanted the new residence to be near Angelle's family in her native Breaux Bridge. A commercial real estate agent, it didn't take long for her to find seven beautiful acres bordering her home town.
Once the property was selected, their dreams began turning into reality. The design incorporated sleek lines and a neutral color palette as the backdrop for their pastel-hued paintings, so that the regional art itself would distinguish the nuance and colors of each space.
Angelle had reconnected with designer Michelle Camalo, a friend from high school, after she moved back to Lafayette in 2011.
"Angelle knew me, and she was familiar with my style, so there was already a level of trust," says Camalo, the residential design manager of Ty Larkins Interiors' Lafayette location. "We were on the same page about the vision and design elements from day one."
Their organized collaboration accelerated during the building phase. The primary goal was to create a family-friendly environment that could easily transition into an elegant, yet comfortable entertaining space.
"We had a furniture layout plan before the slab was even poured. This gave us complete control in the placement of everything from the very beginning," says Camalo. "We had already selected new furniture for the living and dining rooms, breakfast area and kitchen, so upon completion, we were ready to install."
To accommodate the owners' practice of frequent entertaining, the kitchen needed a durable countertop surface.
"We selected a beautiful, natural quartzite, which is impervious to stains," says Camalo. "Angelle wanted a light color scheme, but she still wanted the kitchen to be a touch traditional, so we antiqued the cabinetry with a gel stain, used a ledger stone backsplash and incorporated a limestone-style hood."
Since the kitchen opens onto the living room and patio, Camalo extended the limestone finish to the fireplace, then turned her attention to the foyer and dining room.
"We added depth to the foyer with a groin vault ceiling painted in a dark color with a metallic overlay," she says. "In the dining room, we added trim pieces mimicking boiserie paneling to the walls to create dimension."
Camalo implemented custom light fixtures to enhance all areas of the four-bedroom home.
"We wanted all of the spaces to be beautiful and cohesive, but above all, highly functional to meet all of their family's needs," she says.
The Dueitts now have three daughters who are enjoying the new house that borders their beloved hometown.
"I especially love that our house is so light and airy inside, even on a gloomy day," says Angelle.