Dr. Philip Gachassin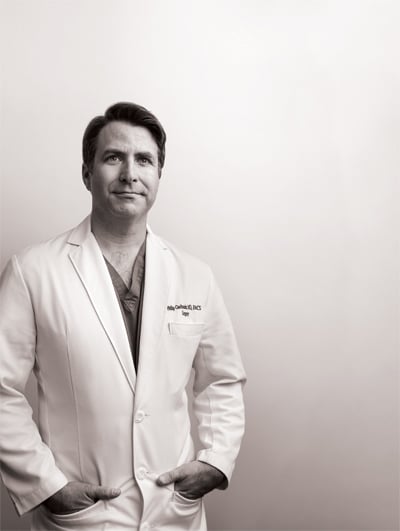 As a general and bariatric (weight loss) surgeon, Dr. Philip Gachassin, who works for Lafayette General Medical Center, has performed thousands of difficult and life-saving procedures over the course of his 19-year career.
"I was always good at science when I was younger," he says. Though he played with the idea of becoming a lawyer like his father, ultimately Gachassin chose medicine after working as an orderly in an operating room. "I was able to watch minimally invasive endoscopic operations and it inspired me, so I applied to medical school."
In the past several years, Gachassin has helped several morbidly obese patients overcome life-threatening conditions after undergoing botched procedures across the border in Tijuana, Mexico. There are other places [outside the U.S.] where the surgery is done, he warns, "but Mexico is pretty common." He says surgeons, some of whom aren't trained, hire marketing firms to identify where the market is, "and marketing is high in states with high obesity rates and poor insurance coverage." Louisiana is consistently ranked as one of those markets.
Lured by the promise of lower medical costs and minimal red tape, patients from Acadiana often return home in far worse condition than when they left.
One day last year, "[a] lady came in with a severe fever; she was in severe pain," says Gachassin. "She had a hole in her stomach where [a surgeon in Mexico] did the surgery. The woman was septic. Left alone, she would die." Adding to the chaos is the fact that the medical records from her procedure were not available.
Gachassin figured out a way to fix her with minimal surgery. He says, "We ran a CT scan, found the area of infection, stuck a needle in it under guidance from an X-Ray machine, drained the infection and gave her antibiotics."
Often, patients in a similar state can't eat for a month after he repairs the damage, and sometimes he has to do endoscopic procedures and insert tubes into their stomachs to prevent leakage.
It's an uphill battle, he admits, but one that he will continue to fight. He encourages patients to educate themselves and to be wary of testimonials about questionable, low-cost procedures that are advertised on the Internet.
---
Education: Tulane University
LSU Health Sciences (M.D.)
Specialties: General surgery and Bariatric surgery
Works at Lafayette General Medical Center
---